Lukas, a student at the University of Ottawa, covers the Toronto Maple Leafs on a part-time basis for The Hockey Writers. Contact Lukas at lukas.hardonk@gmail.com or follow him on Twitter, @LukasHardonk.

Contact Information:
---
Recent Articles by Lukas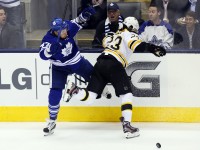 After another season-ending collapse and a relatively quiet off-season, the Toronto Maple Leafs continue to crush their own fans' hopes.