There is a lot going on in the world of hockey, but I would be remiss not to discuss one of the biggest stories of the day, and that is the P.K. Subban/Shea Trade. Reaction: [Yahoo Sports], [Sportsnet], [CBS Sports], [TSN]
It Happened. The Habs Let Subban Go
P.K Subban isn't a bad guy. Not at all in fact. He was beloved in the community, a clear fan favorite, and all in all a likable character. But hockey organizations are a different animal from the rest of society. Chemistry is a real thing, no matter how cliché it may sound. The delicate balance in a hockey dressing room isn't to be questioned. Fact is, most of us aren't on the inside. Even reporters who are in the rooms every game don't know everything.
Going to be fascinating seeing P.K. Subban in the Western Conference. Also, why was P.K. Subban traded?

— Eric Stephens (@icemancometh) June 29, 2016
Did P.K Subban's teammates like him? I'm sure many of them did, but you aren't going to get along with everyone. You'll butt heads and clash with different personalities, especially when you spend so much time together. Many will point to the fact that the Habs players didn't name P.K captain, and the team didn't nominate him for the King Clancy as evidence that there is "trouble" in the room. But unless someone comes forward and admits it, we'll never truly know. Did Subban's personality rub some people the wrong way? Perhaps, but I'd venture to suggest it's not as much about his fellow players.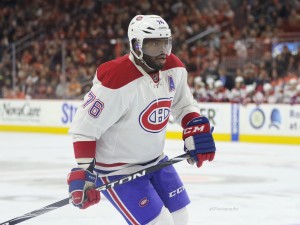 Here's what you need to understand about the Montreal Canadiens. They are a proud organization that prides itself on having a team-first focus. Putting on that jersey is a sacred thing, and the logo is to be respected. There is no room for individuals. It's all about the team. P.K Subban marches to the beat of his own drummer. He has a big personality. He can draw attention to himself. But he is who he is, and its refreshing to see players step out of the mold a little. Unfortunately, that doesn't fly in a place like Montreal. And it goes far beyond the coach. Even beyond the General Manager.
The franchise has been the same way for years, and it's not changing anytime soon, especially not for one player, no matter how big of a star he is. The Habs signed Subban to a long-term deal because their owner made sure of it. But we all wondered if P.K would fit in long-term in a culture where he clearly stood out. Marc Bergevin tried to make it seem like he wasn't going to trade Subban, but it was on his radar, especially with that no-trade clause about to kick in.
Subban was asked flat out if he felt unwanted in Montreal. Said he felt wanted by fans and community, and that Habs paid him a lot of money.

— Аrpon Basu (@ArponBasu) June 29, 2016
But even more than just personality, it was Subban's style of play that didn't seem to fit. He's a creative player. He takes risks. He can break open a game with his skill. But that's not Habs hockey. Their mantra is safe and structured, and even if Subban changed his game to make it work, how is that fair to the team or player? When you have a guy with Subban's gifting, you have to maximize it. Otherwise, what a waste of a talent. Some might argue Subban needs to change his game a little, because the Canadiens aren't the only entity that doesn't trust his game.
Right now, at this very moment, Weber is a better D than Subban, that's a fact. What kills is losing future upside for a declining Weber.

— Kristina Ashqar (@kristinaashqar) June 30, 2016
In 2014, he played one essentially meaningless game for Team Canada at the Olympics. He wasn't selected to their World Cup team later this fall. Obviously the Habs were onto something, right? Well, perhaps Subban's reputation for being "high-risk" is unfair, and it's just easier to go with what you know than stray outside the box. I'd like to believe having Subban on your team is a help, not a hindrance.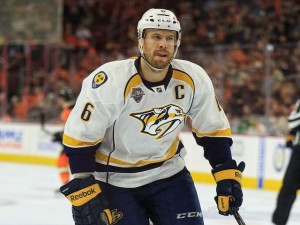 There are varying opinions, however. Not everyone believes Subban is a top defenceman in this league, and therefore feel the outrage over his trade isn't justified. They even call him a defensive liability. But you can't argue with stats, or the fact that he's won the Norris Trophy. He's got the talent, no matter how unrefined you may think it is. Some view him as an Erik Karlsson type, whose offensive abilities are far greater than his defensive play.
Shea Weber is one of the best defenceman in the NHL. His presence makes the Canadiens harder to play against. He is a shutdown guy, he can score big goals on the powerplay, and he fits in with their team philosophy. He's going to be 31 by the time the season starts, and his contract is massive. His best days might be behind him, but he's not over the hill. He's still a top-10 blueliner in this league. The Predators signed Weber thanks to an offer sheet by the Flyers. Doesn't mean they didn't want to sign him, but probably not for that much.
I would like to believe that the Preds know what they have in Subban, and will utilize his strengths rather than try to reel them in. P.K has been guilty of trying to do too much, trying to force the issue and make things happen. I'd imagine the depth of Nashville's blueline and the quality of their forward group may alleviate some of that pressure. Subban might blossom into an even bigger star, one that even Team Canada can't afford to leave off their roster.
Subban: "I feel a whole lot closer to winning a Stanley Cup after today's trade." Brutal honesty.

— Conor McKenna (@mckennaconor) June 29, 2016
Not everyone likes the celebrations, or the interviews, his obsession with clothes, or his off-ice personal marketing. Some even viewed him as a distraction. But there is a rarely a player who embraced Montreal like Subban did. The media scrutiny there is like no other. The pressure on him was immense. But he loved it. He thrived in it. He made Montreal his home. He become a hero for the city. It almost seems crazy to trade that away. Perhaps the Habs never knew what they had, or appreciated the special player and person that he is.
love you Montreal will miss you! ☝

— P.K. Subban (@PKSubban1) June 30, 2016
They didn't view him as untouchable. He never was. He isn't the kind of player they wanted moving forward. And if they thought he was a top-five defenceman, or that he could help them win the Stanley Cup, he'd still be on the team right now. The fans won't like it, but they have to accept it. Lucky for them Carey Price is soft-spoken and doesn't want the attention on him. Could you imagine? ….