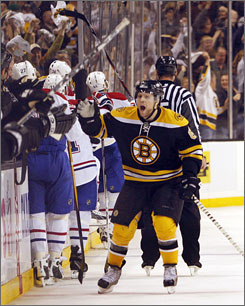 The 2008-09 regular season has been a great one for the Boston Bruins, and especially for young forward Phil Kessel.  After two medicore seasons, and health related setbacks, Kessel is finally coming into his own and showing why he was a highly regarded player that was once considered a possibility for the #1 overall pick.
Kessel, born on October 2, 1987 in Madison Wisconsin, comes from a family of athletes.  His father, Phil Kessel Sr. was a college quarterback and was drafted by the Washington Redskins of the NFL.  His mother Kathy ran track in college.  Phil's brother Blake was drafted by the New York Islanders in the 6th round of the 2007 NHL Entry Draft and sister Amanda also plays hockey and won the 2007 under-19 national girls championship as a freshman with the famed high school hockey program at Shattuck St. Mary's in Faribault, Minn.
For the majority of Phil's early days in hockey he played for the Madison Capitols, coached by Bob Suter.  If you think you recognize that name it is because Bob played for the 1980 USA "Miracle on Ice" team that won gold at the Olympics, but you may also recognize the name because of his younger brother Gary Suter who had a stellar 17 year NHL career or Bob's son Ryan Suter who is a young defensman with the Nashville Predators.
Phil has, on many occasions, credited Bob Suter as a big reason why he is in the NHL today.  Suter coached him from the time he was 7 years old up through his early teenage years and credits Phil as the big reason the Madison Capitols thought they could win every game. "They always new Phil was there and he would always come through to get a goal or two to get us back in it or to win the game, or set somebody else up to do it," said Suter. 
Suter also said, about Kessel, "He had great speed even when he was young compared to a lot of other kids and he was just a natural goal scorer."
Ask Kessel about his most memorable moments as a youth hockey player and he will tell you the year the Madison Capitols advanced all the way to the triple-A bantam national title game.  While they lost the title game to the bantam version of the L.A. Kings, it was still a great season for the team and for Phil personally. That season, 2001-02, Kessel, 14 years old at the time, would finish with 186 goals and 286 points in 86 games.  It was around this time that Phil's coach Bob Suter knew he had a future star on his hands.
The following season Kessel would play for the midget triple-a version of the Madison Capitols and finish the season with 113 goals and 158 points in 71 games.  After the season Kessel turned 16 and left Madison for Ann Arbor, Michigan to play with the U.S. national team development program.
In his first season, Kessel took the program by storm scoring 52 goals and 82 points in 62 games.  The following year he would be even better, matching his goal total of 52 from the previous season and adding more assists for 98 points, but this time in only 47 games.  Kessel would also lead Team USA to the gold medal at the 2005 World under-18 Championship with 9 goals and 16 points in only 6 games.
At this point in his early career, Kessel was being touted as a prospect comparable to Sidney Crosby and one of the future superstars of the NHL.  He was projected to be a #1 overall pick by many upon his draft eligibility in 2006.  He missed the cutoff for the 2005 draft by one month.  However, during his 2005-06 hockey season, Kessel would experience a few setbacks that would hurt his status for the draft.
In 2005, Kessel decided to enroll at the University of Minnesota and play hockey for the Golden Gophers.  The team that year was heavy on talent, including Kessel's future teammate in Boston, Blake Wheeler, and at times Kessel was playing third line minutes.  While he had a solid season for a freshman wiht 18 goals and 51 points in 39 games, and won the Western Collegiate Hockey Association's Rookie of the Year honors, it was not as spectacular of a season as many expected from him based on his domination at the World under-18 tournament that year and his career with the U.S. development program.  To add to a decrease in his status, he underwhelmed the hockey world at the 2006 World Junior Championships.  Considered the most talented player on the team, Kessel would score only one goal, although he did add 10 assists, and the team finished in 4th place.
While his status may have dropped, Kessel was still considered a top prospect and was drafted 5th overall by the Boston Bruins at the 2006 NHL Entry Draft, behind Erik Johnson, Jordan Staal, Jonathan Toews and Niklas Backstrom.
Kessel made the Bruins as a 19 year old and made his debut during the 2006-07 hockey season.  Unfortunately, not even half way through the season, Kessel would experience another setback, this time a personal one.  In December of that year, Kessel was hospitalized for testicular cancer.  It came as a shock to many in the organization and across the league that someone so young would be suffering from the disease.  After treatment to remove the cancer, Kessel would be diagnosed as cancer free and would return to the Bruins a month later in January missing only a handful of games.  Kessel would finish the season with 11 goals and 29 points in 70 games, hardly top numbers for a rookie.  He did show flashes of his ability though  at the NHL's YoungStars game in which he scored a hat trick.   He also led rookies with 4 shootout goals, of which all were game deciding.
At the end of the season, Kessel was awarded the Bill Masterson Memorial Trophy (for perseverence, sportsmanship and dedication to hockey).
Eager to put the setbacks of his past behind him, Kessel was ready to start the 2007-08 season fresh.  He improved in every category scoring 19 goals, 37 points and was a -6 compared to a -12 the year before.  The Bruins were also improving as a team and made the playoffs for the first time since the 2003-04 season.  It was in the playoffs, however, that Kessel appeared to be blossoming.  While the Bruins did not advance, Kessel would score 3 goals and 4 points in the 4 games and was one of the Bruin's best players.
Kessel carried over his success to the 2008-09 season.  Through 67 games, Kessel has scored 31 goals, 54 points and is a +19.  His Bruins have clinched the Eastern Conference title and are looking to make a serious run in this year's playoffs.  It appears that Kessel has arrived and the sky is the limit in the future.
For his career stats, refer to the Internet Hockey Database
Did You Know?
Kessel has the record for career goals and point with the U.S. National Development Program – 104 goals and 180 points
Tied for single season goal record with Patrick Kane – 52 goals
Kessel is the United States National Under-18 Team's all time leader with goals 16, assists 10 and points 26
Kessel is the first rookie to win the Bill Masterson Memorial Trophy
Tied with Ed Olczyk for the longest point streak by a U.S.-born player in NHL history (18 games). He had 14 goals and 14 assists, 28 points, on that run.
Has 9 game deciding shootout goals in his NHL career, the most of any Bruin.