If you're reading this column, you likely know that over the last 10 years, the Buffalo Sabres have:
qualified for the playoffs just once
drafted eighth overall or higher eight times
fired five head coaches
terminated three general managers
There's not much stability or success for captain Jack Eichel, coach Ralph Krueger or new general manager Kevyn Adams to build upon, but they'll have to find a competitive formula quickly. Following two regulation losses last week, the rest of the Sabres' 2020-21 schedule regularly pits them against:
five franchises that have reached or won a Stanley Cup Final in the last decade
two others that have made the playoffs at least once in the last three seasons.
As Buffalo looks to find its footing out of the gate, four questions will follow the team all season and shape the trajectory of the franchise.
Will Buffalo Improve Enough to Satisfy Eichel?
"Listen, I'm fed up with losing, and I'm fed up and I'm frustrated."
Yes, Eichel is taking home $10 million per season, but the 24-year-old American has endured more organizational turnover and disappointment than many NHL peers his age. If another season goes by without a playoff berth (or at least coming close) Elliotte Friedman's musings from last June become more relevant than ever: "There's a finite amount of time here before Eichel says, 'I've had enough.'"
Adams, Eichel's third general manager before he starts his sixth season, made several moves this offseason to make his commitment to competitiveness clear to Eichel and the Sabres fan base. As speculation mounted about an ownership-imposed ceiling below the salary cap limit, Adams traded for Stanley Cup winner Eric Staal and signed former Hart Trophy winner Taylor Hall to an $8 million deal. (After other re-signings and acquisitions, Buffalo sits less than $2 million from the cap limit on Jan. 17, 2021.)
Eichel sits two games into the third season of an eight-year, $80 million contract with a no-movement clause looming on the horizon once the 2022-23 season starts. By many measures, the frustration Eichel conveyed after Buffalo's 2019-20 campaign is justified. Now that the Sabres' 2020-21 campaign has started, he's communicated his interest in keeping that frustration in the rearview.
"This is a completely new season with new players and a fresh, clean slate," Eichel told the media on Jan. 13. "I don't speak of last years, and when I'm speaking with you guys this year, I'd prefer if you didn't, as well."
It may be a lot to ask Buffalo to end a nine-season playoff drought in a division featuring Sidney Crosby's Pittsburgh Penguins, Alex Ovechkin's Washington Capitals, Patrice Bergeron's Boston Bruins, Mat Barzal's New York Islanders and Sean Couturier's Philadelphia Flyers. But if the Sabres aren't at least in the playoff hunt come the end of this shortened regular season, don't be surprised to see Adams fielding (more) calls about the face of his franchise next offseason. (from "No reason' to trade Jack Eichel, says Sabres GM Kevyn Adams,' Buffalo News, 10/05/2020)
How Will Jeff Skinner Respond After Last Season's Regression?
Following a breakout 2018-19 season in which he netted a career-best 40 goals (earning him an eight-year, $72 million contract), Skinner's offensive production, play driving and ice time plummeted.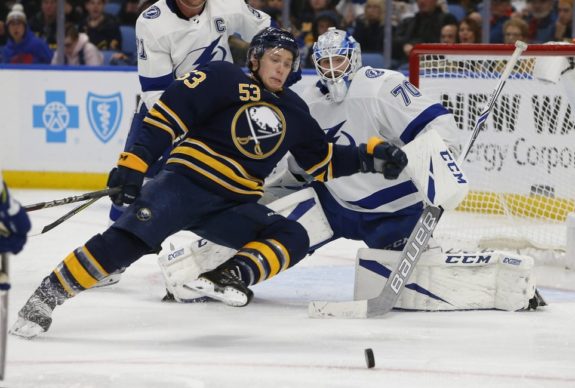 He scored just 14 goals in 59 games (translating to 19 goals over 82 games, had the pandemic and injuries not shortened his 19-20 campaign)
For the first time in his career, Skinner finished the season with an even-strength Corsi rating below 50, suggesting Buffalo controlled play less than 50 percent of the time with Skinner on the ice
And he averaged two fewer minutes of ice time per game relative to his first season in Buffalo
To be sure, Krueger and former general manager Jason Botterill bear some responsibility for those declines. After skating 845 even-strength minutes with Eichel and 644 with Sam Reinhart in 2018-19 under former coach Phil Housley:
Skinner spent just 211 minutes with Eichel at even strength in 2019-20 and 102 with Reinhart (a final reminder that injuries and pandemic cancellations shaved 23 games off Skinner's 2019-20 campaign)
Skinner's most common even-strength linemates last season were Marcus Johansson, Conor Sheary, Evan Rodrigues and Vladimir Sobotka–none of whom are on the Sabres' roster today
Linemates aside, expectations to produce and drive play follow any forward making $9 million per season. (Only 17 other forwards in the league have a cap hit north of $9 million this season.)
Skinner started Thursday and Friday's games on the fourth line with Curtis Lazar and Riley Sheahan. In Friday's loss, Skinner generated scoring chances with that fourth line and brief spells in the top six, renewing questions and calls to deploy him there more regularly.
The 28-year-old Ontario native has yet to express any displeasure in public comments or body language on the ice.
"Conversations between coaches and players, in my opinion, should be kept in the room," Skinner said after Friday's loss. "I personally feel like that's the way it should go…My job is to play hockey. His [Krueger's] job is to worry about 23 guys, making a lineup and a lot more than me. I'm focused on trying to help the team win as much as I can."
"Jeff played a good game," Krueger told the media following Friday's defeat. "He was moving a lot, creating some opportunities and made some good defensive decisions and steals…Jeff is a scorer and always a scoring threat. We'd like to see him ignite soon."
But what if, in Krueger's mind, Skinner doesn't improve within the frameworks he has laid out for him? What if he stays in the bottom six, producing limited points in limited minutes? What if the $9 million per season winger goes 22 games without scoring like he did last season? Or even 10?
While Krueger also told the media he'd institute lineup changes before Buffalo's next game against Philadelphia, Sunday's practice lines don't position Skinner any closer to the top six.
There's a very real scenario where Skinner's contract becomes an albatross. Where Buffalo eats 11% of today's cap limit every year until 2027 (thanks to Skinner's no-movement clause) for production far below his 2018-19 output.
There are other, more optimistic scenarios, too. Where Skinner's shooting percentage, which had dipped to a career-low 7.7% last season, rebounds near or above his 10.9% career average (likely translating to more goals and points per game). Where Krueger inserts him back into the top six, and he generates high danger scoring chances with former teammate Staal or occasionally spells a winger on Eichel's line.
Where he finds chemistry with World Junior Championships standout Dylan Cozens and builds genuine scoring depth in Buffalo's bottom six, enabling Krueger to roll his forward lines in a more balanced fashion.
It's not time to speculate about or manufacture a five-alarm fire. But no matter how Krueger deploys him, there's non-negligible pressure on (a) Skinner to improve his scoring output this season and (b) Krueger's staff to squeeze more out of him.
Will the Hall Experiment Make Buffalo More Competitive?
Adams' Hall signing shocked the hockey world in the opening days of unrestricted free agency. Following months of insider reporting about Hall's desire to compete with a contender, the former number one overall pick landed with a franchise in the depths of a nine-season playoff drought.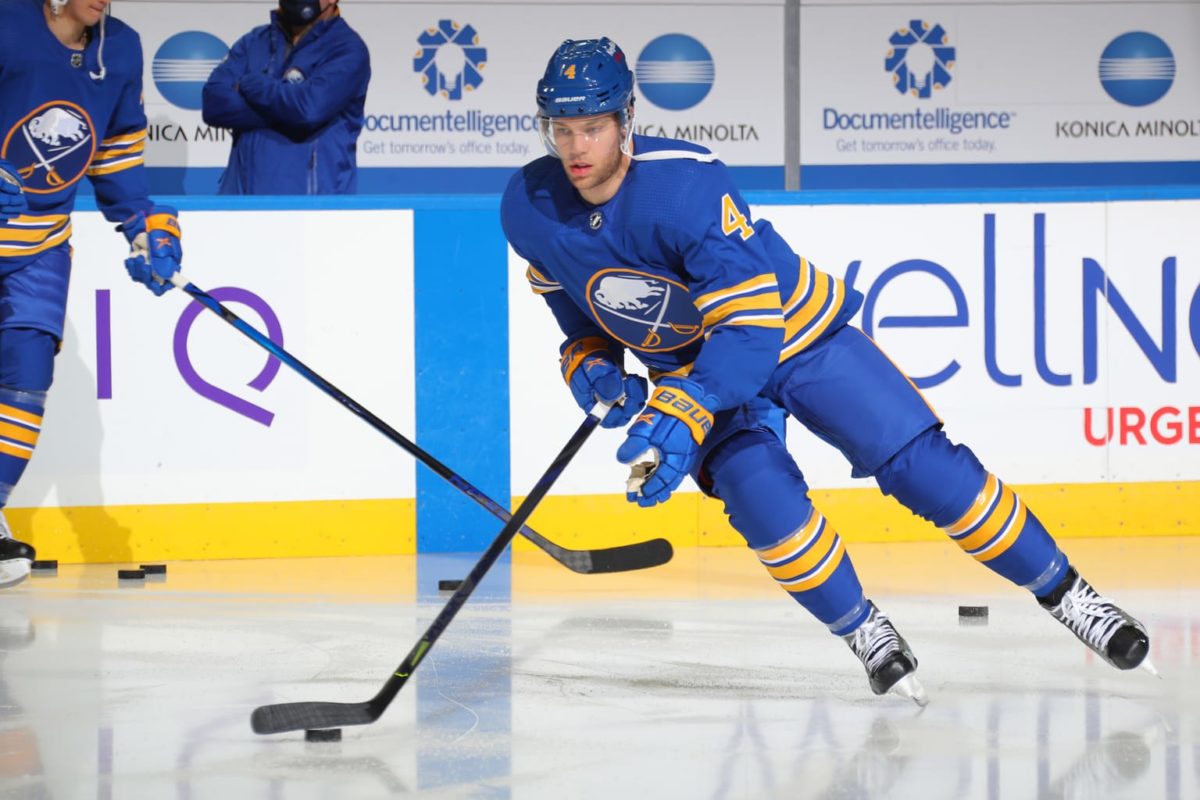 As agents and insiders see it, the move makes sense for a star forward looking to regain his shine and juice his stock price.
Hall struggled to find his MVP form last season before and after the New Jersey Devils traded him to the Arizona Coyotes; he produced at less than a point per game for the first time since 2016-17.
But Skinner's career year in 2018-19 highlighted just how significantly Eichel (and Reinhart) can boost a skilled winger's production and market value. Hall already has a goal (assisted by Eichel) and two assists through two games alongside Eichel.
If the Sabres don't contend or reach the playoffs and Hall doesn't see a viable future in Buffalo, he can find open ice once again this summer, potentially with another season of point-per-game production under his belt.
If Hall produces, the Sabres contend and Hall wants to stay in Buffalo, agent Darren Ferris will have plenty of leverage–and Adams should have some cap space with which to work (considering other contracts expiring this summer).
Keeping a productive Hall in blue and gold for several seasons could prove to be a signature accomplishment over time. Before getting too carried away, it would be foolish to assume that this signing alone makes Buffalo an immediate Stanley Cup contender, given inconsistencies elsewhere across Buffalo's roster.
While every Sabres fan and Pegula Sports & Entertainment employee would love to hoist Lord Stanley sooner rather than later, Buffalo doesn't need a Stanley Cup this season for the Hall experiment to "work." Adams and the Sabres need Hall to drive play and production in a top-six role while helping the team legitimately compete for a playoff spot.
How Will Adams Handle Rasmus Dahlin's Next Contract?
Right now, Hall isn't guaranteed to wear blue and gold any longer than Rasmus Dahlin. The 20-year-old's entry-level contract expires this summer.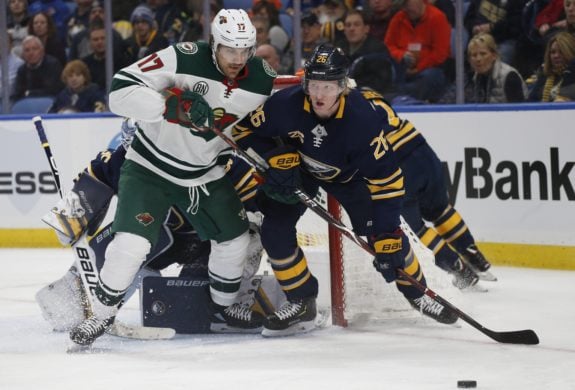 Despite his slow start this season, the former number one pick's body of NHL-level work bears all the makings of another key part of Buffalo's core, having:
finished third in Calder Trophy voting while suiting up for all 82 games in his rookie season
bumped his production up from .53 points per game to .68 in 19-20, despite losing multiple games to injury and nearly a minute of ice time per game from his rookie season
posted the best Corsi rating among Sabres defenders playing at least 55 games in 2018-19 and 2019-20.
It's not uncommon for rising stars to sign new deals before or during the final year of their ELC. Eichel and former number one pick Connor McDavid signed their current contracts before the puck dropped on their final ELC seasons.
But remember that Dahlin has endured much of the same turnover and frustration Eichel has at a time when the franchise was supposed to begin turning its fortunes around.
There's no public comment or reporting indicating Dahlin's desire to skate elsewhere. (And this isn't suggesting Buffalo would shop the young Swede, even if his performance plateaus or declines–barring a monumental decline, that seems impossible.)
Adams desperately needs some semblance of reliable blueline prowess for a franchise surrendering more than three goals per game every season since its last playoff berth in 2011. Consider Dahlin's teammates on the Buffalo defense corps:
Rasmus Ristolainen may be locked up at a tolerable $5.4 million AAV for the next two seasons, but he struggles to defend his blue line or lead breakouts relative to his peers around the league (and has deflated his trade value with his unfortunate consistency in those realms)
There's an argument to be made that Colin Miller will be overpaid in the final two seasons of his contract, as he couldn't crack the starting lineup on a regular basis last season
All other NHL-level defensemen contracts on Buffalo's roster, including Matt Irwin, Henri Jokiharju, Jake McCabe and Brandon Montour, expire at season's end
(We'll save the goaltending conversation, which carries real importance, for another day)
Though Adams and his staff will likely battle more daily distractions in this pandemic-shortened season (hello, taxi squads), cementing Dahlin's future with the Sabres should be a top, near-term priority. It would send yet another signal to Eichel and the disgruntled fan base about the franchise's commitment and competitive vision. And it would solidify a centerpiece on a blueline verging on significant transition.
Still, it's conceivable that the Sabres and Dahlin keep quiet about contract talks, don't make progress or don't announce anything until (well) after the season ends. Adams certainly hasn't displayed a Laimorello- or Sakic-esque reclusiveness in his dealings with media, but he's also experienced enough to keep his cards close to his vest.
"I don't feel it's a great idea ever to talk publicly about specific individuals and their contract status or what you're going through," said Adams in August.
Grading Day
Once the dust settles on the 2020-21 season, fans should expect the Pegulas to evaluate Adams' first full season at the helm with these key questions in mind.
Did the Sabres, as tweaked by Adams this past offseason, reach or come close to making the playoffs? If Buffalo misses out for the tenth straight season, was there enough improvement to make a legitimate case to Jack that this franchise is finally headed to more competitive pastures?
Did management work with and/or trust the coaching staff to try everything it could to maximize Skinner's production?
Given how other big-money, free-agent signings of the last decade have added inconsistent value at best (Ville Leino and Christian Ehrhoff come to mind for some reason), how much did Hall's signing help Buffalo's top six? Was he an All-Star-level difference-maker or another glittery object that lacked substance in blue and gold?
While the Sabres didn't "tank" to draft Dahlin in the way they did to improve their odds of securing McDavid or Eichel, they still spent a number one pick to acquire him. What's more, the numbers confirm his place as one of the most versatile defenders on Buffalo's blue line. Has management done all it can to lengthen his tenure in blue and gold?
---
---