The San Jose Sharks are about to miss the playoffs for the first time in over a decade. A loss to the Ottawa Senators on Monday with both the Kings and Flames winning means the Sharks playoff hopes hinge on them running the table in their final nine games. With the way the Sharks have played the last 2-3 weeks, that is as sure of a bet to not happening as Ted Cruz is to becoming the next President of the United States. A number of players haven't performed up to par but the primary blame for the end of San Jose's playoff streak lies with management. Their GM Doug Wilson is the one who cast doubt over his team during the offseason and did little to inspire confidence. Over the last 10 months the Sharks' management team has made a number of crucial mistakes. Below are the top 10 of those blunders.
10. Signing John Scott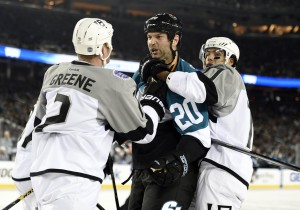 If you want to correlate the Sharks' stronger record with Scott in the lineup versus when he is out of the lineup as evidence to him being important, that is your call, Zeke. This is a classic case however of correlation not meaning causation. Scott is arguably the worst forward in the NHL. He can't skate, misses most of his hits, and doesn't even have a good stick reach despite being 6'8″. He can't shoot, he can't pass, has zero awareness, poor defensive zone coverage, you name it. He is not even a good fighter, having gotten KO'd by players over half a foot shorter. There is a reason he only averages around six minutes of ice time per game, he frankly is not a good hockey player. Most cities around the league have A-level beer leaguers with more skill. The Sharks have primarily used Scott in the lineup against teams whom they otherwise match up well against and that fluffs up the record with him in the lineup. It would be ridiculous to look at some of the losses without him and say they would have won had he played. Every time he dresses he takes away an opportunity for a younger player with real potential. More talented players like Chris Tierney, Barclay Goodrow, and others, who were at times scratched in favor of Scott, would have given the Sharks better chances to win. Evidence shows enforcers don't even deter cheap shots.
9. Re-signing Mike Brown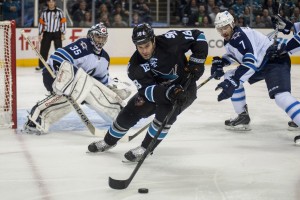 Like Scott, Brown is pretty much the same level of value, next to none. However, the injured veteran forward at least has the speed to finish his checks and because of that speed, can actually get under the skin of opposing players. We all saw the first few games of the Kings series last year when Brown drew the ire of seemingly the entire Kings roster. However, we also saw what happens when the Kings or any other team does the smart thing and ignores Brown's antics. He then becomes completely ineffective. He has terrible puck handling skills, cannot make a tape to tape pass, poor defensive zone coverage, and doesn't kill penalties. Fourth line players need to be able to eat up minutes on the penalty kill. Neither Brown nor Scott are able to do this with any regularity. Brown and Scott skating six, seven, or eight minutes per game do not help the Sharks win games. With Adam Burish already on the roster as a fourth line agitator at the start of this season, bringing in two more fourth line only wingers made zero sense in terms of trying to build a winning hockey team.
8. Vlasic over Braun on 2nd Unit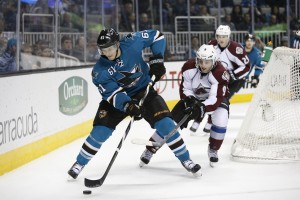 For the last couple of seasons before this one, Justin Braun rightfully saw much more power-play time than Marc-Edouard Vlasic. As awesome as Vlasic is at even strength and on the penalty kill, he is not a puck moving defenseman. He is smart when it comes to reading the play offensively at even strength and getting shots through to the net, but he is not nearly as offensively creative as Braun. For most of the season Braun has been on the bench for the entirety of power-plays while Vlasic has quarterbacked the second unit. Vlasic is the farthest thing from a power-play quarterback whereas Braun has that type of skill to lead the rush on a regular basis. San Jose's second unit has not been good this year. However, with Braun and AHL call up Matt Tennyson manning the points for a couple games, it looked as lethal as it has all year. It makes no sense why Braun has been passed over by Vlasic for power play minutes. Absolutely none. This is an indefensible mistake.
7. Keeping Hannan, Demoting Tennyson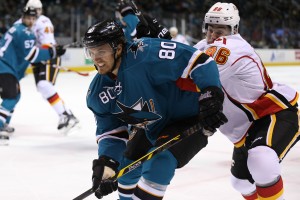 Speaking of Tennyson, the former Jr. Sharks product was arguably one of the Sharks better defensemen when he was sent back down to AHL Worcester a few weeks ago. When Braun came back from injury, Tennyson was the only one with a two-way contract but for a team making a push to the playoffs, sending him down was ridiculous. Instead the Sharks could have waived veteran Scott Hannan who isn't playing regularly anyway. As a pending unrestricted free agent this summer, it is a good bet Hannan won't receive any offers for a new contract. Tennyson had been playing on a nightly basis, had some good chemistry with Brenden Dillon, and at times was bailing out Matt Irwin on a third pair as well. Sending down one of your best defensemen to the AHL makes it seem like winning isn't the primary goal.
6. Never Giving Kennedy a Chance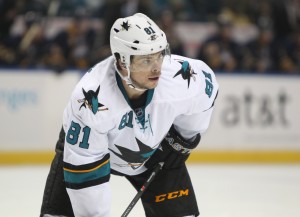 Tyler Kennedy has been a terrific depth forward for the vast majority of his career. Despite numerous injuries this season, Kennedy was picking up points at a decent rate, driving possession and helping the Sharks win games. For whatever reason though the Sharks still often made him a healthy scratch. Despite being an effective player with speed and the ability to play mostly in the offensive end, the Sharks never gave him a fair shot. After giving up a second round draft choice to acquire him, they only received a seventh round pick back at the trade deadline. It baffles many hockey analytics supporters how guys like Kennedy get put in the dog house but guys like Scott and Brown are constantly praised. Kennedy has actual hockey skills while Brown and Scott can't hit a teammate on the tape to save their lives. Kennedy has four points in six games since moving to New York, Scott has just three points all season in 33 games. And get this, his three points are a career high!
5. Not Riding Vlasic Harder at Evens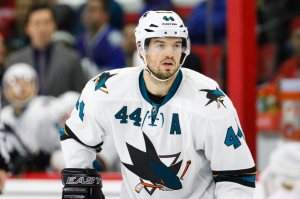 The Sharks blue-line stinks this year. Let's just admit the fact here, they have not been good defensively. Burns has been awful in his own zone, Braun has had an off year defensively, rookie Mirco Mueller has struggled, and Hannan and Matt Irwin have had major hiccups (although the latter has played better lately). Vlasic is one of the best defensemen in the world, yet he was inexplicably averaging less ice time at even strength than Dillon at the time of the Demers-Dillon trade. Right now, Jonas Brodin, Justin Faulk, Alex Pietrangelo, Kris Russell, Marc Methot, Oscar Klefbom, Erik Johnson, Justin Schultz, Francois Beauchemin, Brooks Orpik (are you kidding?) and teammate Brent Burns all average more even strength time on ice than Vlasic. This is absolutely absurd, disgraceful, and ridiculous of the Sharks organization. Vlasic should see more even strength ice time than every single one of these names. Vlasic is 48th in the league in average even strength ice time when he should, without a shadow of a doubt, be among the top 10. He is a dominant defenseman in his prime, played on the best pair for the best team in the world (Team Canada) can skate like the wind, and the team's defense depth behind him is flat out terrible this season. The fact Burns, a terrible even strength defenseman this year is averaging more time than Vlasic? Unfathomable but true.
4. Asking Too Much From Sheppard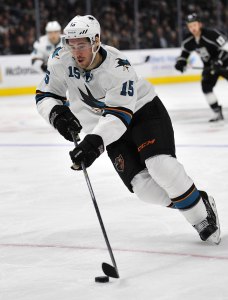 James Sheppard is a nice complementary third liner or a leader of a fourth line. However, the Sharks asked way too much out of him this year to carry their third line. For years the Sharks have had issues with getting production out of their bottom six. Overloading their top lines and leaving Sheppard out to dry on the third line is another major reason the Sharks struggled this year and are going to miss the playoffs. Not surprisingly Sheppard only scored 16 points this year as the Sharks most regular third line player. That is simply not good enough when other teams have 18 goal scorers on their third line. The Sharks have an internal option available to them to improve their third line but for some asinine reason never even tried it this season. Case in point, mistake No. 3…
3. Never trying Pavelski at 3C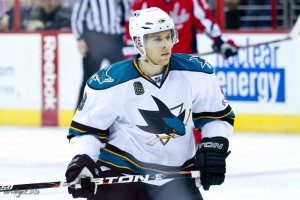 With the immense amount of success the Sharks have had with Pavelski at third line center, it is absolutely mind boggling that Pavelski has not once played there this season. Every single extended hot stretch the Sharks have had the past four years has featured Pavelski at third line center. The stretch run of 2011? Third line center. The stretch run of 2013? Third line center. The awesome start to the 2013-14 season? Third line center. The 3-0 series lead against the Kings last year? Two of those three wins at third line center. Every single significant stretch of winning has come with Pavelski at third line center. Unlike the case above with Scott, this is a case of correlation equaling causation. Pavelski plays around 19-20 minutes per night regardless of third or first line. However on the third line, it makes the Sharks attack much deeper. You need at least three quality lines to win in this league. Two strong lines and a weak bottom six gets you nowhere.
2. Failing to Acquire a Top-4 Defenseman
While a number of Sharks players have under performed this season and need to be better next year, there is not a doubt in my mind San Jose would be comfortably in the playoffs had they acquired a top-4 defenseman. During the offseason Anton Stralman signed with the Tampa Bay Lightning for just a $4.5 million dollar cap hit. For an excellent two-way top-four puck moving defenseman, this is a team friendly contract for the Lightning. The Sharks could have offered $5.5 million which would still be less than what they are paying Brent Burns to be a third pair defenseman. Teams don't like to disclose how close they were to signing players who end up elsewhere but the Sharks should have been more diligent on making sure they landed either Stralman, Matt Niskanen, or James Wisniewski who was picked up by the Ducks at the trade deadline for spare parts. The Sharks have had the cap space available all season to make this type of addition, even with signing Brown and Scott. (A waste of nearly 2 million in cap).
1. Moving Burns Back to Defense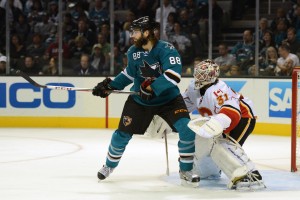 Acquiring either Stralman, Niskanen, Wisniewski, Sekera, Petry, Michalek, or any other number of top-4 defenseman and keeping Burns at forward with Pavelski at third line center would have the Sharks as one of the top contenders in the West. It is really that simple. Burns was a 64% goals for forward last year on largely the same team personnel wise. This year as a defenseman that number has fallen down to 42% most of the season, until rising to 48% in recent weeks. Even with the recent raise, that is still a huge drop off. His Corsi-for percentage has dropped off from 57.1% to 53.1%, his plus-minus gone down from plus-26 to minus-4. His even strength goal total down obviously from 20 last season to just 10 this season. Burns scores a ton of goals at evens as a forward, which has been the biggest drop off this season for the Sharks, even strength scoring. They need him up front scoring goals, any league average defenseman can put up the mundane defensive numbers that Burns has posted this year. He is average on the blue-line but he is one of the best first line wingers in the NHL.
Management Missed the Boat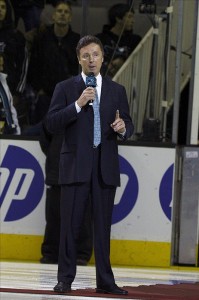 These are the mistakes that directly lowered San Jose's on ice success. However, we can't forget about the off ice stuff that also played a role. During the offseason Wilson cast doubt over the entire team by saying they "aren't good enough" and calling them a "tomorrow team." These comments clearly backfired. Furthermore, in a recent chat with season ticket holders Wilson criticized Joe Thornton for not doing a good job of handling the stress of being captain, telling attendees that Thornton lashed out at people. To which Thornton responded saying "Doug needs to shut his mouth." Now Wilson claims he and Thornton squashed their beef shortly afterward but that is hard to believe. Wilson, not head coach Todd McLellan, was the one behind the decision to remove Thornton as captain during the offseason. Wilson's comments to the season ticket holders were unprofessional and should have never become public knowledge. The GM claims he didn't say anything that he hadn't said 1,000 times previously but the comment that Thornton "lashed out at people" is a severe way of putting it that had never been heard before.
You could make a case that Sharks management deserves to be the most criticized NHL front office this season. Even the much maligned Toronto Maple Leafs at the very least found a way to fix their David Clarkson situation and made the long overdue move to fire head coach Randy Carlyle. Talking about things that are overdue, the removal of Wilson as Sharks GM is another example. He continues to fail miserably to fill his roster with adequate depth. You can't ask for a better core than the Sharks have. The top guys, particularly Thornton, are not the problem. Doug Wilson is the problem. Wilson's decision to try to start a rebuild just weeks after the franchise's most disappointing playoff exit was a huge stomach punch to his fan base. Sharks fans understand that their team still has the marquee talent required to win. After last year's collapse they deserved to see a retooled team once again contend for the Stanley Cup. They did not deserve a predictably worse team based off Wilson's incredibly awful offseason.