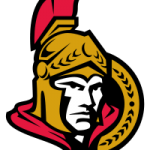 1. This years NHL All-Star game will be held in the nations capital. There is a campaign in Ottawa to have its home town captain Daniel Alfredsson in the game. You can vote for Alfie at votenhl.com
2. Milan Michalek scored his league leading 19th goal before colliding with teammate Erik Karlsson and leaving the game. Michalek has been diagnosed with a concussion and is listed as day-today.
3. The Sens are the most penalized team in the NHL with 466 PIM's, lead by Zenon Konopka with 104 PIM's. With Chris Neil, and Matt Carkner on the roster as well, they should maintain that claim.
4. After three seasons of enduring mediocrity, former first round pick Nick Foligno is beginning to pay dividends for the Sen's. In 31 games, Foligno has 10 goals, and nine assists. Last seasons 34 points are his career best. If he plays a full season, he is on pace for a career season with 49 points.
5.  The ongoing search for a second line center continues. Contenders this season have included Stephane Da Costa, Peter Regin, Mika Zibanejad, Nick Foligno, and Zack Smith. Zibanejad was sent back to Sweden, and Da Costa is currently in the minors, meaning Regin who recently returned from shoulder injury is favored for the most recent opportunity.
6. The Sens may look to trade for a second line center. Recent rumors have suggested that the Sens have expressed interest in acquiring Kyle Turris from Phoenix, Sam Gagner of the Edmonton Oilers, and Derick Brassard of Columbus.
7. Nikita Filatov was released to play in Russia for the KHL. The enigmatic Russian winger has failed to live up to expectations in the NHL. This may have been his last opportunity, although the Sens have retained his contract rights.
8. It's an old NHL cliché, but true. An injury to one player is an opportunity for another. Cue Bobby Butler for an opportunity to play on the Sens top line with Jason Spezza. In 21 games Butler has two goals (both scored in the same game against Calgary) while toiling on the third and fourth lines.
9. What ever happened to Pascal Leclaire? I am sure he is injured!
10.One of last years problem for Ottawa was poor goaltending. Former Sens goalie Brian Elliott leads the NHL with a 1.45 GAA and .974 save percentage. What a difference a year makes, or could that be the team?
11. In a scary accident, Sen's prospect Patrick Wiercioch took a puck in the throat during an AHL game. He was rushed to hospital but is in stable condition.
12. After three seasons of the Coaching revolving door in Ottawa, it looks like GM Bryan Murray finally has found his
man. Murray hired, and fired, John Paddock, Craig Hartsburg, and Cory Clouston prior to Paul MacLean. MacLean has a 13-12-4 record and is only one point out of a playoff spot. Most experts had predicted Ottawa to compete for last overall in the NHL this season.
13. Going into this season Zack Smith had played 71 games and had six goals, and six assists. In 31 games this season, he has eight goals, and eight assists. He plays physical, is good on face-offs and provides secondary scoring. Smith could be the best fourth line center in the NHL.
14. Pleasant surprises this season; Zack Smith, Jared Cowen, Milan Michalek, Jason Spezza has been healthy, Nick Foligno, Colin Greening, Filip Kuba, and the fact that the team is a playoff contender.
15. Disappointments this season; Nikita Filatov, Stephane Da Costa, Bobby Butler, David Rundblad, Brian Elliott, and the fact that the team has fallen out of lottery contention.