Eastern Conference // Western Conference
With most teams kicking off training camp this week, preseason hockey right around the corner and puck drop slightly less than a month away, you can practically smell that chill in the air that can only mean one thing — hockey season is fast approaching.
I'd assume all of you are just as excited for hockey season to kick off as we are here at The Hockey Writers, so I decided it's about the right time for some good old season predictions to get the blood pumping.
As if that's not enough, I've also thrown together my team MVP and breakout player candidates for each club.
Indulge and enjoy!
15. Ottawa Senators ('10/'11 Standings: 74 pts, 13th place)
What can we say about the Ottawa Senators? It seems like yesterday the good ol' Sens were among the NHL's elite, vying for a Stanley Cup year after year. But it turns out this year's club couldn't be any further away than the ones that featured that incredible first line of Dany Heatley, Jason Spezza and Daniel Alfredsson and came oh so close to hoisting the cup in 2007. Sure, the latter two still suit up in red and black, but Alfredsson is nowhere near the player he once was and Spezza simply can't do it all by himself.
There is no doubt this team is in the midst of a full-fledged rebuilding process, and we'll see that at it's worst (or finest, depending on your viewpoint) this season. Spezza will put up his usual numbers as the entire hockey world speculates whether he'll be traded at the deadline and the young defenseman David Rundblad should begin to come into his own and become a rare bright spot during this dismal season.
MVP: Jason Spezza Breakout Candidate: David Rundblad
14. New York Islanders ('10/'11 Standings: 73 pts, 14th place)
If two of the biggest questions your franchise has in September are how long will this team stay here and will Evgeni Nabokov actually want to play for us this year, things probably aren't looking all that great for the upcoming season.
There's no doubt the Isles have built up a nice core of young talent to begin building around. John Tavares should take a huge step forward towards NHL stardom and Nino "El Nino" Niederreiter could very well begin his ascension towards the same direction, but the ifs far outweigh the positives for the Islanders this year.
Will Rick DiPietro and Mark Streit be able to bury their injuries in the past and play respectable minutes? Can Matt Moulson and Kyle Okposo take another step forward in becoming relevant top-six forwards in the league? Can some of the young guys begin to emerge? All of these questions need to be answered first before the Islanders can begin their long-awaited return to prominence. In other words, expect another long season in Long Island.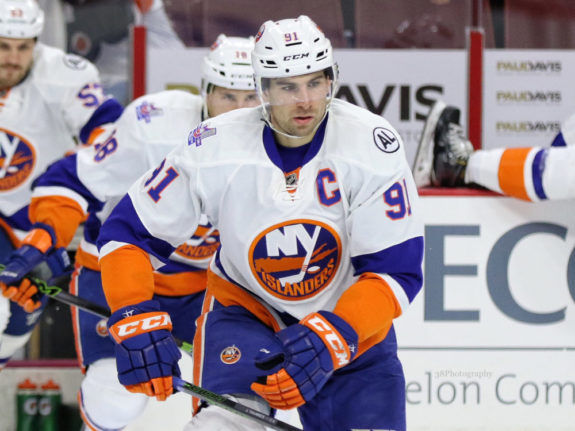 MVP: John Tavares Breakout Candidate: Nino Niederreiter
13. Winnipeg Jets ('10/'11 Standings: 80 pts, 12th place)
The Jets are almost certain to be the most exciting 13th-place team I've ever seen. NHL hockey is back in Manitoba, and folks there obviously couldn't be more pumped up for the start of this season.
It won't be long though before the luster of this brand new franchise begins to wear off this season when fans begin to realize they've acquired a 34-win hockey club headed by a rookie head coach and a roster that lacks a true impact player.
With that said, the Jets have many nice, young pieces in place to give plenty of hope for the future; after all, it was no coincidence when the same team started off so hot last season in Atlanta. Andrew Ladd and Dustin Byfuglien are the unquestioned leaders of this squad but much of the Jets' success this season will hinge on the play of goalie Ondrej Pavelec and defenseman Zach Bogosian. Guys like Evander Kane and Blake Wheeler will likely be counted upon to play important roles as well.
This club still has a lot of growing to do, so don't expect too much out of the this year. The future of hockey in Winnipeg though happens to be very bright indeed.
MVP: Andrew Ladd Breakout Candidate: Evander Kane
12. Florida Panthers ('10/'11 Standings: 72 pts, 15th place)
There will be no shortage of new faces down in South Beach this season — which seems to be the trend all of the city's pro-sports teams are partaking in recently.
Brian Campbell, Ed Jovanovski, Tomas Fleischmann, Tomas Kopecky, Marcel Goc, Sean Bergenheim, Matt Bradley, Scottie Upshall, Kris Versteeg and Jose Theodore all found their way to the Panthers in one way or another this summer, and that could mean good or bad things to come for the team that finished dead last in the conference last season.
However, you don't make additions like these ones and not improve over the off-season, even if it is a collection of misfits from around the league. Rookie head coach Kevin Dineen is a good one, and should get this team into slight over-achievement mode sometime throughout the year. Losing a goalie like Tomas Vokoun though restricts how far this team can go this season.
Expect a slight move forward in the standings, but the Panthers will still finish well out of the playoff race.
MVP: Ed Jovanovski Breakout Candidate: Erik Gudbranson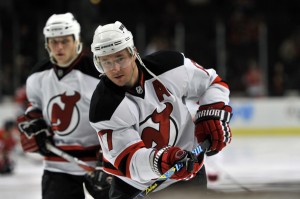 11. New Jersey Devils ('10/'11 Standings: 81 pts, 11th place)
The Devils are one of the most puzzling teams in the league. How can you have two of the most talented scoring forwards around and still finish in 11th place? New Jersey will show you how this year.
It's not their first line that will hurt the Devils, but it'll be their depth at forward that will ultimately be their downfall. They were one of the hottest teams down the home stretch last season, nearly masking the stench of their terrible winter, nearly making the playoffs.
A huge part of this season will be the play of Martin Brodeur, who is finally beginning to see his talents diminish. But the real question is can rookie head coach Peter DeBoer tame the wild animal that is Ilya Kovalchuk and harness his talents, using them for the good of the team instead of allowing them to become their crippling factor. I'm not so sure.
This year will seem all too similar to last season for Devils fans. Expect a poor start and a late surge from this team, ultimately falling short of the playoffs once again.
MVP: Zach Parise Breakout Candidate: Travis Zajac
10. Toronto Maple Leafs ('10/'11 Standings: 85 pts, 10th place)
Ah, the Toronto Maple Leafs. As much as it pains me to admit this, it finally appears as though things are beginning to look up for this franchise. GM Brian Burke has seemed to be pressing all the right buttons as of late. Acquiring Cody Franson and Matthew Lombardi for Brett Lebda — who the Predators cut a few weeks later — was a pure genius move.
The addition of Franson gives the Leafs yet another young stud blue-line prospect to build around Dion Pheneuf. The biggest factor for the Leafs this season, though, will be the play of sophomore goalie James Reimer. Can he play at a respectable level throughout the course of the season or will he fold under the immense pressure that comes along with pulling the Maple Leaf sweater over your head.
Ultimately, a team with that big of a question mark between the pipes and Tim Connolly as their number one center won't be able to string together enough wins to make the playoff cut — although they will vastly improve, and come dangerously close to relevancy.
The world must truly be coming to an end.
MVP: Dion Phaneuf Breakout Candidate: Nazem Kadri
9. Montreal Canadiens ('10/'11 Standings: 96 pts, 6th place)
The Canadiens have come so close to climbing to the top of the NHL recently, but yet they're still so far away.
Carey Price has turned into one of the most dominant goalies in all of hockey — a true workhorse. But Price is about all the Habs have as far as "dominant" goes. Brian Gionta, Tomas Plekanec and Mike Cammalleri are good, but can only get you so far, as Habs fans have found out the hard way the past few years.
It certainly doesn't help their cause losing two of their starting-six defensemen from last season and I think the loss of Roman Hamrlik will especially hurt the Canadiens this season. It is because of their losses on defense and their lack of scoring depth offensively that I think Montreal will find themselves on the outside looking in come playoff time this April.
MVP: Carey Price Breakout Candidate: Andre Kostitsyn
8. Carolina Hurricanes ('10/'11 Standings: 91 pts, 9th place)
It is often saddening so see a team with so much talent toil in a state where NASCAR and fishing come before the sport of hockey, but I digress.
The Hurricanes are without a doubt full of talent this season. Jeff Skinner has become  the NHL's newest teenage sensation and other young guns like the Sutter cousins and Zac Dalpe mean there are good things to come in Carolina. The addition of Tomas Kaberle should prove to be a good one for at least the 'Canes power play.
Ultimately, despite what looks to be a thin defense, Eric Staal will be Eric Staal and really how realistic is it the bet that a Cam Ward-led team will miss the playoffs for a third straight season? That's not a bet I'm willing to take.
MVP: Cam Ward Breakout Candidate: Brandon Sutter
7. New York Rangers ('10/'11 Standings: 93 pts, 8th place)
The Rangers went out and spent a ton of dough this off-season. Crazy, right?
Even though we all know the Blue Shirts' infamous history of blindly dishing out cash to eventual underachievers and all-out busts, this year seems to have a different feel to it. After all, they did reel in the biggest fish on the market in Brad Richards, and it's not like he received that ridiculous of a contract to go play in the Big Apple.
The re-signings of Brandon Dubinsky and Ryan Callahan were huge, giving the Rangers good depth beyond their first line. Henrik Lundqvist is almost as sure of a thing there is to find in net around the NHL. And Marion Gaborik finally has his elite play-making center in Richards, who he should gel with very nicely right out of the gate.
This spells out an abnormally successful season for the Rangers. If all goes well, don't be surprised to see them climb even higher than seventh place.
MVP: Henrik Lundqvist Breakout Candidate: Ryan Callahan
6. Tampa Bay Lightning ('10/'11 Standings: 103 pts, 5th place)
One of last seasons biggest surprises have just begun to tap into their potential success for the future.
That success should carry over nicely into this season for the Lightning. We know Steven Stamkos will score, Vincent Lecavalier will dominate and Martin St. Louis will do.. whatever it is that he does.
All in all, this team hasn't lost any major pieces from their conference finals run last season, so how can you expect much of a drop-off, if any? The only question mark that stands out for the Lightning is if Dwayne Roloson can really handle the work-load required to take his team to the top of the conference and deep into the playoffs.
I think Steve Yzerman will have his boys ready to take another run and cement themselves as one of the NHL's best teams.
MVP: Vincent Lacavalier Breakout Candidate: Viktor Hedman
5. Philadelphia Flyers ('10/'11 Standings: 106 pts, 2nd place)
You can't honestly expect a team that loses Mike Richards and Jeff Carter to not suffer any sort of setback the following year; which is why the Flyers come in at fifth here.
Despite the loses, the team finally realized they needed a top-notch goalie to get over the hump in the playoffs and brought in Ilya Bryzgalov. Also new to the roster this season is Wayne Simmonds, Maxime Talbot and Jaromir Jagr, all of which will be counted on to play essential roles in the third and fourth lines.
Not to mention, the Flyers still retain a few of the game's top talent in Claude Giroux, James van Riemsyk and Daniel Briere and have added its top prospect as well in Brayden Schenn. There will be a drop-off from last season, but things don't look nearly as bad for the Flyers as some may think.
MVP: Daniel Briere Breakout Candidate: James van Riemsdyk
4. Boston Bruins ('10/'11 Standings: 103 pts, 3rd place)
I'm sure there are many Bruins fans who are already convinced their team has locked up the Northeast Division before the season has even started, but I wouldn't be so quick to assume if I were you.
This whole Brad Marchand contract situation is a head-ache for the franchise right now and who knows exactly when that will end. Tomas Kaberle is gone and replaced by Joe Corvo. Milan Lucic should be his monster self yet again but you can't underestimate the impact of the absence of Marc Savard for yet another entire season.
The biggest reason I see the Bruins taking a step back though is Tim Thomas. Yes, I know, he's every Bruins fan's hero. He had an incredible, super-human season last year. But that's exactly why I think Boston takes a step back. Can you honestly expect the same gaudy numbers from Thomas again? At age 37, how much does he really have left in the tank? What happens if he returns to his mediocre form from just two seasons ago.
The Bruins are still a very good team, and their defensive system will likely make any goalie look good between the pipes if executed as perfectly as they normally do. Zdeno Cheno will be a dominant force yet again and Tyler Seguin will likely continue with his development, but in the end the Bruins will still fall short in the Northeast and settle for the conference's fourth seed.
MVP: Zdeno Chara Breakout Candidate: Tyler Seguin
3. Buffalo Sabres ('10/'11 Standings: 96 pts, 7th place)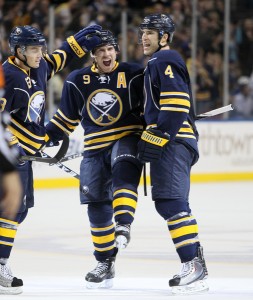 What a difference a year makes, huh Sabres fans?
This time last year everyone was wondering just when we could expect the Sabres to turn the corner and challenge for a Stanley Cup again. Well, a lot of luck and a little push from a billionaire and here we are, on the cusp of what should be a very good year for Sabres fans.
The additions on defense will be paramount for the Sabres and Christian Ehrhoff and Robyn Regehr paired with incumbents like Tyler Myers and Jordan Leopold instantly give the Sabres one of, if not the best and deepest defensive corps in the league. Throw that in front of Ryan Miller who is just one year removed from a Vezina winning performance and you've got the perfect recipe for success.
Sure, many questions still linger on the offensive side for the Sabres. Can Derek Roy maintain his pre-injury form and shoulder the load that comes along with being the team's number one center? Will Ville Leino live up to his big contract and become the star everyone has always thought he could be at 28 years old?
One thing is certain, however: things are looking very bright in Pegulaville. The city is buzzing and ready for some hockey. Can Lindy Ruff prevent his team from massive underachievement and take Buffalo back deep into the playoffs? There's no reason to suggest he can't. It should be a fun Sabres team to watch this season.
MVP: Ryan Miller Breakout Candidate: Ville Leino
2. Pittsburgh Penguins ('10/'11 Standings: 106 pts, 4th place)
What a whirlwind off-season it has been for Penguin fans. It can't be fun wondering everyday if the face of your franchise and the savior of the game will ever suit up his skates again.
While I think Sidney Crosby will eventually return to playing hockey sometime this season, there's no shortage of people who think his season may be over before it has even gotten started.
Obviously, much of this prediction rides on if Crosby does in fact return to the lineup. If he does, the Pens will be the same old Penguins we've come to know over the years. If he doesn't, this team could experience a free-fall down the standings to the point where they may have to hold their breath to secure a playoff spot.
Even without Crosby, this Penguins team will compete. Marc-Andre Fluery is one of the best between the pipes and Kris Letang has developed into a complete stud on the defensive end. I also think James Neal will have an incredible year offensively. And don't forget about the return of Evgeni Malkin, either, which will really help this Penguins team.
MVP: Sidney Crosby Breakout Candidate: James Neal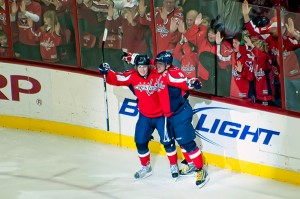 1. Washington Capitals ('10/'11 Standings: 107 pts, 1st place)
You can't say the Capitals aren't doing everything they possibly can to ditch the "choker" moniker they've earned themselves the past few years.
It's not often you can say the best team in the NHL got better over the off-season, but the Caps managed to do so — and they did it in a big way, too. Not only did they reel in one of the better defensemen in the league in Roman Hamrlik, but they also rid themselves of Semyon Varlamov and essentially parlayed him into a first-round draft choice and one of the most consistent goaltenders in the league in Tomas Vokoun. You can't overstate just how much this team was in need of consistency.
The loses we're kept a virtually nothing for a team that showcases the greatest offensive upside of any team in the NHL by far. If they can play their game and return to their 2009/10 form, look out for the Washington Capitals this season.
MVP: Alex Ovechkin Breakout Candidate: Nicklas Backstrom
Be sure to stay locked in to The Hockey Writers as we take a look at how the Western Conference should shake out in the predictions article coming up next week.
Brandon Schlager is the Buffalo Sabres correspondent for The Hockey Writers. You can email him at brandon.schlager@yahoo.com or follow him on Twitter @THWGoldSchlager.