We are just three short days away from the start of the IIHF World Junior Hockey Championships.  This year the perennial favourites and this year's hosts Team Canada may be taking a back seat as the team to beat.  That honour has, at least in this sports writer's eyes, been bestowed on the United States.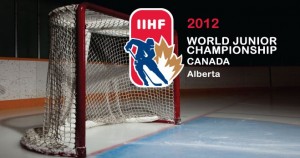 Coaching
Prior to his work with the U 20 Program, Dean Blais served as an assistant or head coach in the NCAA, USHL and NHL.  The past two years has seen the American penalty killing rank amongst the tournament leaders, placing 2nd in 2009-10 and first last year.  This year Blais has elected to go with a more experienced and older group; with only John Gibson, Jacob Trouba and JT Miller being under 19 years old.
Goaltending
In between the pipes for the Americans is perhaps the best goaltending duo of the tournament; Jack Campbell and John Gibson.  Both were picked high at the NHL Draft and Campbell has an unmatched pedigree, having already won a gold medal back in 2009-10.  Last year he again played stellar, posting a 1.70 GAA and 0.941 SVP en route to a bronze medal.  Gibson has himself put together a fine season in the OHL, and has represented the United States at both U 17 and U 18 interntional tournaments and performed admirably.
Defence
The defence features 6 NHL draft picks, including first rounders Derek Forbert and Jarred Tinordi.  Two Chicago Blackhawks prospects, Adam Clendening and Stephen Johns, are on the team as well.  Clendening should provide a puck moving presence, while the others are all sound in their own zone.  Forbert and Tinordi will likely be the shutdown pairing for the Americans.  Jacob Trouba has the opportunity to cement his status as a top-10 pick at this year's NHL Entry Draft.  Jon Merrill, suspended from the University of Michigan and not having played a meaningful hockey game this season, will be a threat at both ends of the ice.
Forwards
This group is loaded with firepower.  Emerson Etem, Charlie Coyle, Nick Bjugstad and Brandon Saad are all big threats in the offensive zone.  Austin Watson, a Nashville Predators first round draft pick, should be an excellent shutdown forward and help out on the penalty kill.  Bill Arnold and Josh Archibald should be role players as well.
Why the Hype?
The Americans boast a combination of unparalleled goaltending (Campbell and Gibson) plus an explosive offense.  This is a team with the skill to compete against any team, be it Canada or Russia.  Emerson Etem has the ability to take over games with his skill.  Their defence will get the job done, and expect Adam Clendening to be activated and given the liberty to move the puck.  Forbert and Tinordi have proven themselves and will be able to shut down the likes of Mikael Granlund and Jonathan Huberdeau.  This is the team to beat right now.
The 2012 WJC are coming to THW.  Myself and Chris Ralph have been granted full media access for the duration of the tournament, including all round robin and medal games.  Together we will bring breaking news, game analysis, player interviews and stories to THW.
Follow Salim Valji on Twitter for the latest WJC updates
Like Salim Valji on Facebook to join in on the WJC discussion