In this golden age of Blackhawks hockey, it has become a common fallacy to attribute the team's success solely to its biggest stars. Those subscribing to this particular credit-giving schedule are in the process denying the undeniable: that crafting a championship-contending roster requires patience, ingenuity, and audacity… and above all, the roster must come together into a genuine team.
This evident truth is endemic to the development of all of the NHL's current great teams, and constitutes the most striking difference between the league and its closest professional competitor in terms of notoriety and financial success – the National Basketball Association. The NBA is predominantly superstar-driven; compared to the NHL, formation of a contending NBA roster necessitates far less shrewdness and far more of a willingness to splurge for a star in free agency or via trade. Because transcendently talented players are limited, so is the league's parity.
Team building in the NHL, meanwhile, lacks such a staunch focus on the individual. The natural consequence is a league characterized by parity, balance, and fluidity, with teams having a legitimate chance to take on "elite" status if management correctly constructs the roster from top to bottom.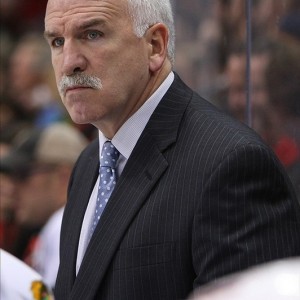 The Chicago Blackhawks unmistakably fit the bill as a cleverly and successfully composed team. After a Stanley Cup victory in 2010, the ensuing offseason saw the salary cap impel the abrupt departure of a number of big-name players who had been vital to Chicago's success. The subsequent two years were rather tumultuous – in 2011, the Blackhawks needed the then-lowly Minnesota Wild's help to qualify for the playoffs on the last day of the season,  and in 2012 Joel Quenneville nearly lost his job during a ghastly losing streak.
Since a playoff loss to Phoenix in April of 2012, the Blackhawks have been (aggregately) the best hockey team in the world. Chicago is the only NHL franchise with multiple Stanley Cups since the league-refashioning 2004 lockout; indeed, no one team has come nearly as far.
Let's delve into how the present-day roster came to be.
Blackhawks Forwards
Bryan Bickell: Chicago selected Bickell with the 41st pick in the 2004 draft. His play since becoming a full-time NHL player in 2010 has vacillated wildly. Bickell had a fantastic rookie season, but his on-ice contributions dipped significantly the following year. He went on to look excellent during the 2013 playoffs – earning a large contract in the process – but has been disappointing once again in 2013-14.
Brandon Bollig: After going undrafted, the Blackhawks signed Bollig in April of 2010 and chose to place him with the organization's AHL affiliate in Rockford for two seasons. He has been a roster mainstay since the beginning of 2012-13. Quenneville has rewarded improvement in Bollig's game, as he has given the enforcer an extra two minutes of ice time per game this year as compared to last season.
In related news, Bollig and Blackhawks writer Chris Kuc have a sterling relationship.
Michal Handzus: Handzus came to Chicago in April of 2013 by way of a trade with San Jose. His recent difficulties notwithstanding, He performed well in the 2013 postseason for the Blackhawks, producing adequately as the team's second line center and scoring the (at the time) most important goal of the team's playoff run.
Marian Hossa: After falling to the Red Wings in the 2009 Western Conference Finals, the Blackhawks inked one of that Detroit team's best players – Hossa – to a mammoth 12-year contract. The 35 year-old winger has been a steady two-way presence in Chicago's top-six ever since, and has been praised by Patrick Kane for teaching him the value of defensive play.
Patrick Kane: Chicago was fortunate to land Kane, drafting him first overall in 2007 after winning the draft lottery with only an 8.1% probability of doing so. Kane won the Calder Trophy as the NHL's best rookie less than a calendar year after the Blackhawks selected him, and has become one of the league's preeminent wingers.
Marcus Kruger: Kruger, the current center of the Blackhawks' fourth line, was chosen by Chicago in the fifth round of the 2009 draft. His well-developed defensive game earned him a spot over Brandon Pirri on the 2011-12 Blackhawks roster, and he has gradually provided more of an offensive presence with each passing season. Of drafting Kruger, Chicago GM (at the time) Dale Tallon said, "He's a good energy guy, good skill. He's a good hockey player – an all-around hockey player. We're really happy to get him."
Brandon Saad: Drafted 43rd by the Blackhawks in 2011, Saad has already become a franchise cornerstone. His ability to excel at both ends of the ice has drawn comparisons to a young Marian Hossa – in fact, Chicago's Stan Bowman (GM) used precisely this rationale in an effort to get Saad onto the 2014 U.S. Olympic roster.
Patrick Sharp: In December of 2005, Dale Tallon and the Blackhawks acquired Sharp from Philadelphia in exchange for Matt Ellison, who ultimately amounted to very little at the NHL level. Sharp progressively bettered his game in Chicago for several seasons and broke out with 36 goals in 2007-08. Since 2006, he has scored the most goals of any Blackhawks player by a sizable margin.
Andrew Shaw: Chicago nabbed Shaw in the fifth round of the 2011 draft. Around that time, the small but feisty forward offered the following description of his game: "[an] agitator out there getting under the skin of people. [I work] hard forechecking, hard playing defensively, trying to draw a lot of penalties and just trying to get the guys going on the bench. [I] try to chip in offensively here and there."
At the NHL level, then, Shaw has certainly come as advertised.
Ben Smith: The Blachawks drafted Smith in 2008's sixth round. Like Shaw, Smith's game hardly lacks grit despite his limited size. The 2013-14 season marks Smith's first as a lineup regular, although he did provide a memorable moment for the Blachawks several years prior.
Jonathan Toews: In hindsight, it seems patently absurd that Erik Johnson and Jordan Staal were selected ahead of Toews in the 2006 draft… but the Blackhawks and their fans don't seem to mind, as Chicago grabbed him at 3rd overall. Toews was anointed the team's eventual captain the second he was drafted, and it took just a single season for the 'C' to become his in actuality. With two Cups and a Conn Smythe to his name at just 25, Toews – along with Kane – has all but ensured that his number will never be worn by another Blackhawks player.
Kris Versteeg: Versteeg returned to the Blackhawks two months ago via a trade with Florida. The move was quite sudden, as Chicago was not struggling offensively and Versteeg was recovering from an ACL injury. With the Panthers willing to retain half of Versteeg's salary, Stan Bowman was happy to pull the trigger on a deal that only cost the Blackhawks two prospects that were unlikely to crack the roster in the near future. Versteeg's play has been up-and-down since the trade, but at a manageable $2.2M annual cap hit, he is a solid asset.
Blackhawks Defensemen
Niklas Hjalmarsson: Taken by Chicago in 2004's fourth round, Hjalmarsson has matured into one of the NHL's better shutdown defensemen . He has been a major part of the team since the 2009-10 season, spending most of that time paired with one of Brian Campbell, Nick Leddy, and Johnny Oduya.
Duncan Keith: The Blackhawks drafted Keith 54th overall in 2002 with the knowledge that he would be a bit of a "project" – that is to say, he was picked for the distant future. The risk certainly panned out, as Keith has been an elite defensive presence since 2007-08, has produced two Conn Smythe-worthy playoff runs with Chicago, and has won a Norris trophy as the league's best defenseman (he is also the favorite for the award in 2013-14).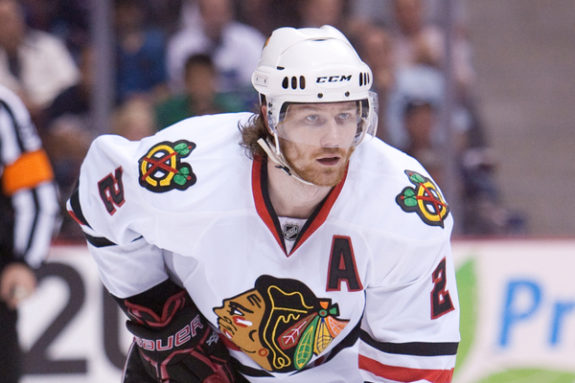 Nick Leddy: Leddy became a member of the Blackhawks by virtue of a trade – perhaps Stan Bowman's best as GM – in exchange for the woefully disappointing Cam Barker. Many Chicago fans believe Leddy is the team's most skilled, pure offensive defenseman (irrespective of statistics), and his speed on the rush is unmatched by any player in the organization. He has slowly been improving his defensive game, but still receives very sheltered minutes from Joel Quenneville.
Johnny Oduya: Chicago traded for Oduya late in the 2012 season, giving a 2nd and 3rd round pick to Winnipeg in exchange for him. Oduya went on to have a miserable '12 postseason with the Blackhawks, but was nevertheless re-signed to a 3-year deal afterward. As it turns out, keeping Oduya was a brilliant decision – he constitutes half of Chicago's shutdown pairing alongside Niklas Hjalmarsson.
Michal Rozsival: The Blackhawks signed Rozsival as a free agent prior to the lockout-shortened 2012-13 season. He was fantastic as the team's sixth defenseman that year (and often played top-4 minutes). After signing a two-year extension in the summer of 2013, Rozsival's play has dropped off.
Brent Seabrook: At #14 overall in 2003, Seabrook is the highest Chicago-drafted player on this list other than Toews and Kane. From early on, he and Keith had a clear on-ice connection, and they have developed into what is likely the NHL's best defensive pairing. Seabrook has played the best hockey of his career in 2013-14, but this has gone largely unnoticed due to Keith's Norris-worthy season.
Blackhawks Goaltenders
Corey Crawford: Drafted in 2003 in the second round, Crawford toiled for five seasons in the AHL while patiently waiting for his chance at an NHL roster spot. His opportunity finally arose in 2010-11 with the Blackhawks up against the salary cap, as Antti Niemi had left for San Jose and Cristobal Huet was on loan to a Swiss league team. Recent UFA signee Marty Turco was Chicago's nominal #1 goaltender, but Crawford quickly overtook him as the starter en route to a strong 2011 campaign. After a rough 2012, Crawford produced a magnificent 2013, compiling a 1.94 goals against average, 92.6 save percentage, and a share of the Jennings Trophy during the regular season. His numbers were even better in the 2013 playoffs (in which he played through a fractured ankle), and some fairly influential people believe the Conn Smythe should have been his.
Antti Raanta: The Blackhawks signed Raanta as a free agent in June of 2013. After an injury to backup Nikolai Khabibulin earlier this season (who recently had rotator cuff surgery), Raanta was called up from Rockford to back up Corey Crawford. Then when Crawford went down with his own injury shortly after, the starting job was Raanta's. He performed admirably in Crawford's absence and will be Chicago's backup goalie for the foreseeable future.