The Hockey Writers boasts a diverse writing staff featuring experienced and up-and-coming writers from throughout the 30 National Hockey League markets and beyond. This approach allows us to explore a lot of different angles throughout the season, and especially when it comes to the annual NHL Entry Draft.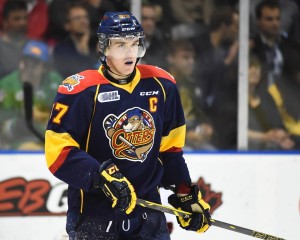 Presented here is the first round of our annual Writers' Mock Draft. Our writing staff signed up to represent each of the involved NHL teams in the first round, and aimed to select players and defend their selections here. Some of the writers are representing the teams they cover all year – myself included – while others are merely dipping their toe into the pool. Because of the depth of this year's draft, we've expanded this year's mock draft to two rounds.
Our only guideline given to our make-shift general managers? No trades. When your turn came up, you had to make a pick and provide a short justification for your choice.
1st pick: Edmonton Oilers (Marcy di Michele) – F Connor McDavid – Erie Otters (OHL)
Drafting Connor McDavid is more than just getting a potential generational talent on your roster. He changes the perception of the team. Winning the draft lottery was the start of a new era for the Oilers. And he plays center, one of the most important positions in hockey.
2nd pick: Buffalo Sabres (Mike Straw) – F Jack Eichel – Boston University Terriers (NCAA)

All season long, no matter what others may tell you, the goal for the Sabres was to secure the rights to draft Jack Eichel should they fail to win the lottery. Eichel is a franchise center that can do it all in the offensive zone while possessing the wherewithal to succeed in his own zone. The best American prospect since Patrick Kane is donning the blue and gold this fall, bring the Sabres back to relevancy.
3rd pick: Arizona Coyotes (Bill Grigsby) – F Dylan Strome – Erie Otters (OHL)

The Arizona Coyotes feel drafting from the center out is vital to moving this team forward. Strome has played in the shadows of Connor McDavid, but he also played well in his absence. What we like about Dylan is his ability to go to the net, and drawing defenders to him, creating scoring chances for his team – mates. His size and goal scoring ability were key in our decision. Welcome to the Valley of the Sun, Dylan Strome!
4th pick: Toronto Maple Leafs (Andrew Forbes) – F Mitch Marner – London Knights (OHL)

At fourth, the Toronto Maple Leafs have a great opportunity in drafting Mitch Marner from the London Knights. While some will question the Leafs priorities in passing over a defenceman like Noah Hanifin, the fact of the matter is that Toronto needs depth in the scoring department. They have big, young defenceman in the system that have the ability to play at an NHL level. Going with Marner gives the Leafs a versatile forward who has the ability to play both centre and the wing. And while they sacrifice size for pure skill, Marner's displayed his ability to up his game at any point in the game or throughout the season – a feat Strome was unable to reach in Erie's final playoff series of the season.
5th pick: Carolina Hurricanes (Kyle Morton) – D Noah Hanifin – Boston College Eagles (NCAA)

At fifth overall, the Carolina Hurricanes are ecstatic to select defenceman Noah Hanifin. He fills a huge hole as the left-handed defender on the team's top pair alongside rising star Justin Faulk. He is also the clear cut best player available, and I foresee him being the cornerstone of what will be one of the league's premier blue lines down the road.
6th overall: New Jersey Devils (Chris Lizza) – D Ivan Provorov – Brandon Wheat Kings (WHL)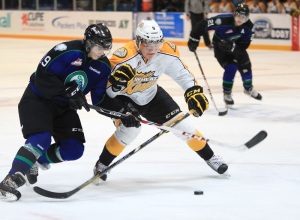 This is the worst case scenario for the Devils but the most likely one for Draft Day. I know the Devils hardly have any talented young forwards in their organization. Also the Devils have a number of really good defencemen. However I wouldn't call any of them elite. To me there is one player left on the board who has a chance to be elite and that's Ivan Provorov. He has size and skill and is just about NHL ready. But if I am the general manager I have to look at the big picture. I like Crouse, Zacha and Rantanen but they are not on Provorov's level.
7th overall: Philadelphia Flyers (Zach Hopkins) – F Lawson Crouse – Kingston Frontenacs (OHL)

Crouse is a power left winger who possesses impressive fore-checking abilities as well as a unique offensive skill set for a big man. He could be a fit on a line with center Sean Couturier who would surely benefit greatly from the open ice Crouse would create. With the proper development, he could be Philadelphia's next Eric Lindros.
8th overall: Columbus Blue Jackets (Mark Scheig) – F Mikko Rantanen – TPS Turku (SM-Liiga)

Although the Blue Jackets could use defense, Rantanen couldn't be passed up at number 8. Rantanen is ranked as the top European skater in the draft, and for good reason. He has the rare combination of size and elite skill. He was the leading scorer for Team Finland at the World Junior Championships. He also led his pro team Liiga in under 20 scoring. At 6'4″ and 210 lbs, Rantanen has the chance to become an elite power forward, an area that a lot of teams desperately look for. He also fills a need at right wing for the Blue Jackets. It helps that GM Jarmo Kekalainen is from Finland, and is familiar with Rantanen's game. Rantanen could be a top line winger for many years in Columbus. 
9th overall: San Jose Sharks (Drew Weber) – D Zach Werenski – University of Michigan Wolverines (NCAA)

The San Jose Sharks are a team deprived of defensive talent. They have a number of notable prospects and young players at the forward position – Chris Tierney, and Nikolay Goldobin, and Rourke Chartier to name a few – but lack serious potential behind Mirco Mueller and Julius Bergman on the blue line. This team needs to bulk up defensively, as it was a large part of their downfall last season. Marc-Edouard Vlasic can't be on the ice 60 minutes a night shutting down the best players in the league; he needs help. With Werenski developing within the organization, the Sharks will be one step closer to have a suffocating defensive group in the near future. Plus, he has the offensive capabilities help the team get some scoring from the back end.
10th overall: Colorado Avalanche (Harrison Prolic) – F Timo Meier – Halifax Mooseheads (QMJHL)

Colorado may need help at the NHL level on defense, but they have a few prospects in the pipeline. However, on the wings, Colorado's prospect cupboard is almost empty. Timo Meier is a big physical winger who was second in scoring for Halifax this season. He's a versatile forward that can play on a skill line in the top six or play in a shut down roll. He has great on-ice awareness to boot.
11th overall: Florida Panthers (Dennis Schellenberg) – F Matthew Barzal – Seattle Thunderbirds (WHL)

Barzal is the best possible prospect left at this point and the Florida Panthers select the gifted center. He is a smallish player with tremendous vision and excellent playmaking skills. A very smooth puckhandler who shows good vision and possesses an accurate pass. He is very dominant in the offensive zone and likes to circle with the puck on his stick. He takes his defensive responsibilities serious. Backchecks good and uses his stick very well to create take-aways. All in all, Barzal is a very competitive center who works good in all three zones and that's why the Panthers select him.
12th overall: Dallas Stars (Derek Neumeier) – F Pavel Zacha – Sarnia Sting (OHL)

Despite a turbulent first season in North America, Zacha's unique blend of size, skating and offensive skills make him too tantalizing of a prospect to let drop any further. Can be a dominant player off the rush as well as working the cycle. His style should fit right in with the other young forwards in the Stars' system.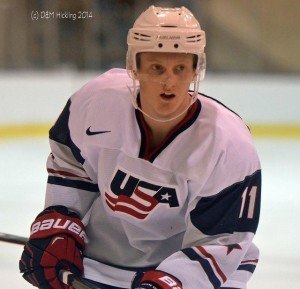 13th overall: Los Angeles King (Walter McLaughlin) – F Kyle Connor – Youngstown Phantoms (USHL)

Due to cap constraints and waning production, the Kings may be forced to wave goodbye to Jarret Stoll (pending free agent) and/or Mike Richards (buy-out candidate) this offseason. With few upper-tier centers in their prospect pool, the selection of Connor would add the type of high octane speed, superior agility and two-way style of play that meshes well with head coach Darryl Sutter's systems. He's a few years away from being ready for the NHL, but the Youngstown Phantoms' leading scorer (80 points in 56 games) last season projects as a very good fit in Los Angeles.
14th overall: Boston Bruins (Cam Kerry) – F Jansen Harkins – Prince George Cougars (WHL)

With the 14th pick, the Bruins have a lot of options that could drastically improve their pool of prospects. In the belief of their system, the Bruins will select Jansen Harkins. Harkins' ceiling resembles Patrice Bergeron in his prime. A defensive minded center, Harkins' rock solid defensive style fits the Bruins' belief in defense before offense. He possesses outstanding vision, deadly speed, and incredible hockey IQ. Armed with a quality wrist shot and stunning creativity, Harkins is no slouch offensively. With sky-high potential, Harkins could be the Bruins' center of the future.
15th overall: Calgary Flames (Ryan Pike) – D Thomas Chabot – Saint John Sea Dogs (QMJHL)

The Flames have quietly developed depth at center and in goal through their recent drafting, but still have holes on their blueline. So, they grab Chabot, a very solid defensive defender with a lot of upside from the QMJHL. It doesn't solve their depth issues, but it gives them another strong piece to work with.
16th overall: Edmonton Oilers (from Pittsburgh) (Marcy di Michele) – D Jeremy Roy – Sherbrooke Phoenix (QMJHL)

Roy's biggest strength is his skating ability, and he's hard to knock off the puck. He plays big and moves the puck well. Roy is offensively gifted but he's also solid and reliable in his own end. He makes smart decisions and is rarely caught out of position. The Oilers need help on the blueline and Roy's game is extremely well-rounded.
17th overall: Winnipeg Jets (Joseph Aleong) – F Travis Konecny – Ottawa 67's (OHL)

The Jets have an impressive collection of prospects at all positions, so they feel they can take the best player left on the board at this point. Konecny is the complete package, possessing top-end speed, a wicked shot, and impressive playmaking ability that has allowed him to average more than a point per game in both of his OHL seasons so far. Add in the fact he has a leadership history as captain of the 67's and Konecny is too enticing to pass up at 17.
18th overall: Ottawa Senators (Corey Spina) – F Colin White – U.S. National Development Team (USHL)

The Ottawa Senators have not selected in the first round since 2013, and their last choice was Curtis Lazar at 17th overall. Colin White is exactly the type of young center that would thrive in Ottawa. He's tough, and one of his best assets is his two-way play. Players like Jonathan Towes, Patrice Bergeron, and Anze Kopitar are known throughout the league at not only being extremely skilled, but are always nominated for the Selke trophy. It's not a coincidence that their respective teams do well in the post-season, and by using those abilities, Colin White will help Ottawa in all aspects of the game.
19th overall: Detroit Red Wings (Spencer Meisner) – F Nick Merkley – Kelowna Rockets (WHL)

The Red Wings haven't drafted a defenceman in the 1st round since 2007, and they needn't this year either with the amount of talent available in Nick Merkley. This playmaking 18-year-old plays both the wing and center on the WHL Champion Kelowna Rockets and has an eagle's eye for the ice. His linemate Rourke Chartier's goal total doubled from last season when he started playing with Merkley, and Merkley has been setting up Leon Draisitl all season. The Wings have many talented young forwards who can score, now they need someone to set up all these goals; they find that in here in Merkley. The Calgary native had 90 points this season, with 70 of those being assists. Look for Merkley to be assisting on many of Mantha and Larkin's goals on the big club in a few years.
20th overall: Minnesota Wild (Dustin Nelson) – F Joel Eriksson Ek – Farjestads BK (SHL)

The Wild are in need of an elite center. At the 20th overall pick, there are certainly no guarantees, but Eriksson Ek took major strides forward this season and by most accounts is tagged as an intelligent, two-way center with a very good shot and stick-handling skills. He has just one season of big success, posting 21 goals and 11 assists in 25 games for Färjestads in the SuperElit League. When he moved up to the SHL for Färjestad he didn't have instant success, but was able to play at the top level despite being in his 17-year-old season. He has good size at 6'2″ and scouting reports often use characterize him as "responsible," a player with "great vision," "creative," and as a "hard worker." His rise this season from an unranked prospect to potential first rounder is a testament to the latter. His sudden rise makes him a gamble, but if his rise this year is a sign of things to come, Eriksson Ek could be a nice gamble at 20. 
21st overall: Buffalo Sabres (from NY Islanders) (Mike Straw) – F Daniel Sprong – Charlottetown Islanders (QMJHL)

After the Sabres took franchise center Jack Eichel at number two, it was clear that the second first-round pick was more of a luxury than anything else. While it's likely that the team would rather trade it than keep it, the ability to add more first-round talent is never a bad thing. Sprong is a player that is rising on draft boards due to his strong passing game and incredible hockey sense. His overall strength and play in the defensive zone need to be improved, but he's definitely a prospect that could turn into a nice role player for the Sabres down the line.
22nd overall: Washington Capitals (Matt Speck) – F Evgeny Svechnikov – Cape Breton Screaming Eagles (QMJHL)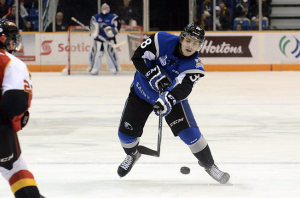 The Washington Capitals haven't drafted a player from the QMJHL since Stanislav Galiev in 2010, but Svechnikov is a logical fit for them. He's already developed physically at 6'3″ and 205 lbs and brings good staking ability along with strong puck skills. If he's able to fall to the Capitals at the 22nd pick, GM Brian MacLellan and the Capitals' scouts could find a quality NHL power forward for the years to come. There seems to be a reluctance by some teams to draft Russians with concerns of whether they'll play in the NHL, but the Capitals should have no concerns and Svechnikov would be a great selection for Washington in their first pick of the draft. 
23rd overall: Vancouver Canucks (Colton Davies) – D Jakub Zboril – Saint John Sea Dogs (QMJHL)

Vancouver has a handful of forward prospects in their system and a player like Jakub Zboril is just who they need on their back end. The 18 year old Czech Republic native's style of play has been compared to the likes of Keith Yandle. Zboril is a two way player who is responsible in all zones on the ice and plays a complete game. He has excellent hockey sense and shows that he can play a very tough game. At 23rd overall, Zboril is a steal for the Canucks and could be a fixture on their blue line for years to come.

24th overall: Toronto Maple Leafs (from Nashville) (Andrew Forbes) – D Rasmus Andersson – Barrie Colts (OHL)

Andersson could be a late first round steal for the Maple Leafs. His size and skill set makes him a solid pick for the blue line on Toronto. He may be one of the most underrated players in the first couple rounds of the draft with his quickness and ability to read the game. Look for him to move up and be a possibility for the Leafs at 24.
25th overall: Winnipeg Jets (from St. Louis via Buffalo) (Joseph Aleong) – D Oliver Kylington – AIK IF (Allsvenskan)

After snagging a potential top six forward earlier, the Jets go after the defender they feel has the highest potential of any blueliner left on the board. Mentioned as a possible top-five pick before the season, Kylington's stock dipped a little, but still possesses the elite skating ability and puck smarts that made him a revelation as the youngest player to score a goal in the SHL. The future of Winnipeg looks bright with Trouba, Morrissey, Myers, Kostalek, and now Kylington in tow.
26th overall: Montreal Canadiens (Kenny Francis) – D Brandon Carlo – Tri-City Americans (WHL)

The Canadiens will see a trio of young defenders in Nathan Beaulieu, Greg Pateryn and Jarred Tinordi all play their first full seasons with the NHL club next season, and help replenish their blue line prospects with Carlo. The Tri-City American will add a huge presence to the Habs blue line as the 6'5″ Colorado native is one of the biggest players available in this year's draft. He skates and moves the puck well for such a large defenceman, already has a World Junior experience on his resume and will develop with Tinordi into a tower of power on the Habs blue line.
 27th overall: Anaheim Ducks (Jeff Langridge) – F Paul Bittner – Portland Winterhawks (WHL)

The Anaheim Ducks always seem to be in "pick the best player available" state. They don't trade away many picks and they draft and develop well. There's a reason that the Ducks are a powerhouse in the Western Conference year after year. With this pick, the Ducks get a big, scoring winger in Paul Bittner. He has been playing for the Portland Winterhawks, one of the strongest teams in the WHL, for the past three seasons. So he's been on a team that knows how to win and that would certainly fit well with the Ducks.
28th overall: Tampa Bay Lightning (from NY Rangers) (Dan Herrejon) – D Nicolas Meloche – Baie-Comeau Drakkar (QMJHL)

If the league's highest scoring offense has a weakness, it is the defensive corps. Drafting Nicolas Meloche will help strengthen the Lightning blue liners in the future. A big, 6'2″ 200 lbs right-handed shot will progress nicely with last year's first round pick, Anthony DeAngelo. Meloche is not a speed skater but what he lacks in quickness, he more than makes up with awareness and his positioning on the ice. He is a big, physical player who can also help on the power play with a booming shot.
29th overall: Arizona Coyotes (from Chicago) (Bill Grigsby) – F Jacob Larsson – Frolunda HC (SHL)

With our number-three pick of Dylan Strome, a good puck moving defenseman like Larsson is an excellent addition to the blue line. His mobility, and size are good traits, and he is the type of defenseman who can make plays out of his own zone, improving our puck possession. His qualities of vision, poise, and puck skills are hard to find. His fellow countryman, Oliver Ekman-Larsson hasn't disappointed the Arizona Coyotes yet, and another Larsson can't hurt.
30th overall: Philadelphia Flyers (from Tampa Bay) (Zach Hopkins) – F Jake DeBrusk – Swift Current Broncos (WHL)

The Flyers will look to add offensive firepower under first year coach Dave Hakstol and DeBrusk would seem to fit his style of play. He's an intelligent winger who is not only smart with the puck, but without the puck as well. His vision on the ice seems to keep him positionally sound and he has shown a knack for creating opportunities for linemates. Although he will be a work in progress, DeBrusk has an unlimited ceiling and under Hakstol's tutelage, he could compare very favorably to a player such as Tyler Toffoli, thus making him a logical choice for GM Ron Hextall.