While the 2015 Draft is all about star prospects Connor McDavid and Jack Eichel, and rightly so, people tend to forget the multitude of talent available past the projected first two picks in the draft.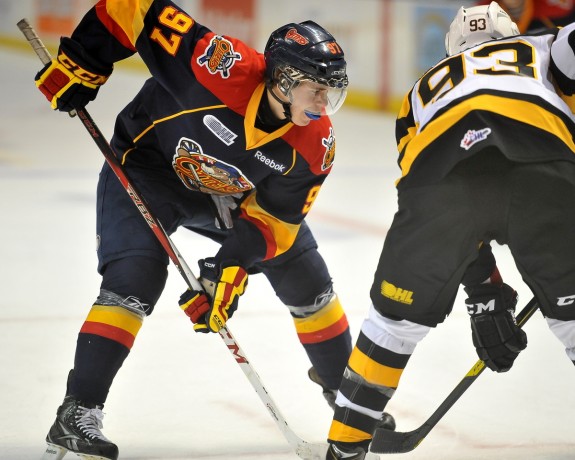 With the hype train of the high-powered duo of McDavid and Eichel in full swing, not as much attention has been paid to the highly skilled players eligible to be drafted after the newly-minted "McEichel". However, teams drafting after the second overall pick could still end up with a star on their hands as well, as this year features some great prospects who aren't getting as much attention as they should be. Here are the top five players in the draft who I believe will have the biggest impact as a centre in the NHL, other than the unanimous choices of Connor McDavid and Jack Eichel. However, they are not ranked based on their skill level (although all five players are sublimely talented), but ranked instead based on their perceived ability to stay at centre in the NHL and how effective they could be as a centre at the next level.
1. Dylan Strome – Erie Otters, OHL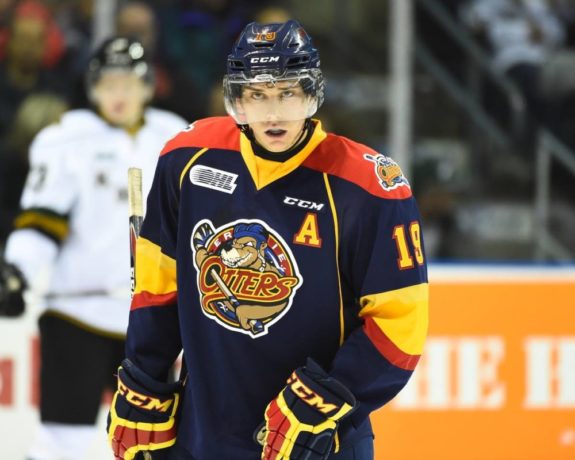 Dylan Strome, the OHL's regular-season points leader with 129 in just 68 games, is a near-lock to be a top five pick in the upcoming NHL, along with defenseman Noah Hanifin and forward Mitch Marner (more on him later). While many of the skilled forwards in this draft have some risk associated with their ability to stay at centre due to their small frames (e.g. Marner or Travis Konecny), there are no such qualms about Strome's ability to play one of the most important positions in hockey due to his big 6'3″, 190 pound frame. In addition to his large, projectable frame, Strome also possesses fantastic vision and playmaking ability, as evidenced by his 84 assists during the regular season.
The concerns surrounding Strome pertain to his offensive ability, as he played second fiddle to Connor McDavid throughout the season and many feel that his insane production was due to facing secondary defenses as McDavid drew the top defenders on other OHL teams. However, Strome is the complete package, as his size, great offensive ability, and defensive acumen make him more than likely to succeed as a top-six, if not first line, centre in the NHL for the lucky team that drafts him.
2. Kyle Connor – Youngstown Phantoms, USHL
While Kyle Connor might not get as much recognition as projected top-10 picks such as Strome or Mitch Marner, he is a prospect that could fly under the radar and end up as one of the best centres from this draft a few years down the road. Connor has good size as well at 6'1″, 183 pounds, but his real value comes from his ability to be a force at both ends of the ice and make a difference on every shift. The USHL's points leader this past season with 80 in just 54 games, Connor is a pretty safe bet to stick at centre in the NHL due to his strong two-way game and high-end offensive skills. Check out his great speed and shot in this clip:
While he is renowned for his electrifying offensive talent, Connor is also a reliable player in his own zone and was often deployed on the first penalty-killing unit for Youngstown this year. He receives praise for his ability to lead his team and be counted on in any situation, leading some people to compare him to current Chicago Blackhawks star Jonathan Toews. While he is still lanky and needs to get stronger to withstand the physical game of the NHL, Connor has the potential to break out and out-perform other centres selected ahead of him this year.
3. Mathew Barzal – Seattle Thunderbirds, WHL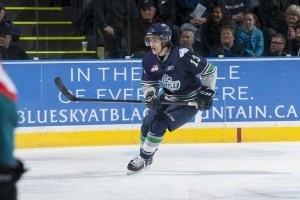 The highest-ranked player in the draft coming out of the WHL, Matt Barzal has been on scouts' radar ever since being the #1 pick in the 2012 WHL Bantam Draft. While his stock slipped this past season due to a knee injury and a mediocre supporting cast, Barzal still posted 57 points in 44 games and led his team to a fourth place finish and a playoff berth in the WHL's tough Western Conference.
Barzal isn't the biggest player at only 6'0″, 175 pounds, but he has the skills and hockey sense to more than make up for the disadvantage in size he could face at the next level. In addition to the high-end playmaking skills he had on display this past season by notching 45 assists in just 44 games, Barzal also has the ability to finish plays with his great shot, a skill he displayed to the world with 3 goals and 12 points in the recently complete World Under-18 Championships.
The reason I believe Barzal will succeed as an NHL centre is his strong two-way game, as he was frequently deployed on the penalty kill this past season and has kept a tidy +16 plus/minus rating in his WHL career. He is more than capable of handling the offensive duties of a first-line centre in the NHL, however, as he is one of the fastest skaters in the entire draft and has the quick hands and shooting ability to put up points in bunches when given the chance. Check out this shorthanded goal he scored against Spokane last October:
Due to his high-end speed, playmaking ability, and responsible defensive game, Barzal is a likely candidate to overcome his perceived lack of size and become a top-six, if not first-line centre in the NHL.
4. Pavel Zacha – Sarnia Sting, OHL
Pavel Zacha is one of the biggest hit-or-miss prospects available in the draft, as he has the elite skills and huge frame that scream "star" but experienced an inconsistent first year in OHL that created concerns about his ability to handle the North American style of play. Missing 31 of his team's 68 games on the year due to injury and a pair of suspensions, Zacha's stock has slipped from what many once thought to be a surefire top-five pick, to a potential top 10 pick.
Zacha has the perfect size to be a dominant NHL centre with a huge 6'3″, 210 pound frame, and he takes advantage of his big frame. He often dominated his smaller OHL opponents physically, using his long reach to protect the puck and using his strength to muscle opponents off the puck with big hits. He also has blazing speed, which was on full display with this beautiful goal against Canada at the World Under-18 Championships:
While his defensive game is inconsistent and must be improved for him to be a physical force as an NHL centre, it's impossible to teach players to combine elite skill with physicality the way Zacha does. If he continues working hard and improves his two-way game, Zacha could be an elite centre in the NHL.
5. Mitch Marner – London Knights, OHL
Mitch Marner is another player that is in the mix for one of the first five picks, as his mix of elite scoring and playmaking ability give him one of the highest ceilings in this draft among the forwards available. Marner's elite skill set saw him finish 2nd in the OHL scoring race with 126 points, despite missing 5 games. He possesses some of the best hands in the entire draft, and has often been referred to as a wizard with the puck due to his lightning-quick moves and great shooting ability. In this video from a November 2014 game against Mississauga, Marner shows off his prowess in both passing and shooting the puck, all while showcasing his talent on the powerplay:
While the concern with Marner is definitely not in regards to his skill level, there are concerns surrounding his physical play. Marner is small in stature, and while his 5'11" frame isn't too worrisome, the fact that he weighs only 163 pounds soaking wet could cause problems when facing the big, physical centres of the current NHL. It has some people believing he could make a much bigger impact at the next level as a winger, not as a centre as some have projected him. He played wing this season while playing on one of the OHL's most dominant lines with Max Domi and Christian Dvorak, and he excelled when freed from the heightened defensive responsibility that comes with playing centre.
While Marner has some defensive ability and has shown the willingness to backcheck with vigor, his offensively-inclined game has him leaning towards the offensive zone more often than not. He might be able to develop a stronger defensive game, but his high-end offensive skills would be best suited for a wing position at the next level. While Marner certainly has the skills to succeed as an elite forward in the NHL, it remains to be seen whether he can make as much of an impact in the NHL as he did in the OHL if the team that drafts him decides to stick him at the centre position.