The Dallas Stars had high expectations heading into the 2014-15 season. They signed Ales Hemsky and traded for Jason Spezza, giving them one of the more dynamic offenses in the entire NHL. Unfortunately the defense and goaltending dulled down the hype and the Stars would failed to reach the postseason.
Despite posting back-to-back 92 point seasons and one postseason appearance, fans were hoping Lindy Ruff would be replaced by Mike Babcock and Kari Lehtonen would be traded away. Ruff isn't going anywhere (that is a good thing), and it doesn't appear as though Lehtonen is on the trading block.
Even though the Stars missed the playoffs, there are plenty of positives and a lot of optimism to take from the season. Here are my top three reasons why the Dallas Stars are still rising.
Another Strong Showing From Those Two
Jamie Benn and Tyler Seguin have already become one of the best duos in the NHL and they took another step forward this past season. Seguin had seven fewer points than he did in his first season with the Stars but he also played nine fewer games this season. Benn scored eight more points than he did in the year prior and beat John Tavares out for the Art Ross trophy with eight seconds left in the NHL season.
The chemistry they have developed is incredible and there is no reason to think that they can't continue to improve the longer they play together. This dynamic duo has yet to even reach their prime.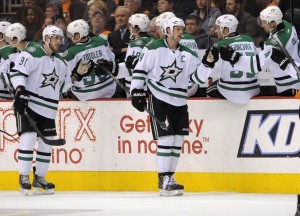 There is just a multitude of things to love about the duo of Seguin and Benn. They are both signed to relatively cheap deals, as Benn has a cap hit of $5.25M for two more seasons while Seguin carries a $5.75M hit for four more years. This allows the Stars to build around them before they are inevitably signed to enormous deals.
Statistically, they lead the Stars in almost every category. They are top two in goals and points. Spezza had five more assists than Seguin, preventing the duo from being one and two in that category as well. Only Jason Demers and Alex Goligoski had a higher scoring-chances-for-percentage relative to the rest of the team. They were dominant possession players at both ends of the rink.
Unlike a lot of offensive superstars, Ruff was not shy about starting them in the defensive zone. Only the Roussel-Eakin-Garbutt line had more defensive zone starts at even strength. Benn also finished first on the team in total takeaways with 76 while Seguin forced 45 turnovers himself.
They both drew more penalties than they took and were not afraid to throw the body around either. Benn and Seguin will keep the Stars competitive for as long as they are in Dallas. Hopefully that will be a long time.
Rookies: Learning by Doing
A total of seven rookies were thrust into NHL action this season by the Dallas Stars. Some were out of necessity due to injuries, others were to provide a spark for the team. Two of them (Travis Morin and Brendan Ranford) appeared in six or fewer games, so I won't go into detail about them.
Five of them played a good portion of the season and the impact they had on the team was outstanding. Not only will this "trial by fire" aid in their development, but it allows them to gain valuable NHL experience as the Stars move towards becoming a contender.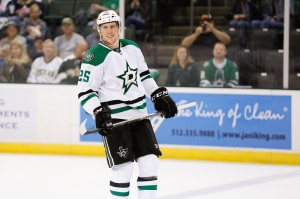 Brett Ritchie and Curtis McKenzie were two forwards who made their NHL debuts with the Stars this season and they both played quite well. McKenzie scored four goals and added an assist in 36 games while Ritchie scored six times and added three assists in 31 games. While Ritchie saw a bit of time with Benn and Seguin, both McKenzie and Ritchie played a lot of their games on the wings of Shawn Horcoff. Horcoff served as an excellent mentor to both of them for a line that was often one of the best on the ice.
McKenzie also stepped up for his teammates, fighting Dmitry Kulikov a few weeks after Kulikov low-bridged Seguin. Both Ritchie and McKenzie will be fighting for roster spots next season.
Of the seven defensemen who finished the season on the NHL roster, three of them were rookies. John Klingberg, Jyrki Jokipakka and Patrik Nemeth all performed well in extended roles this year. Nemeth unfortunately had his season cut significantly down due to an arm laceration, but finished the season with Dallas and played well.
Nemeth finished the year as a positive possession player with a 53.45 corsi-for-% at even strength. Jokipakka was brought up due to Nemeth's injury and spent most of the season in the NHL. He appeared in 51 games and contributed ten assists along the way.
Although Jokipakka looked shaky at first, he got better as the season went on and will certainly challenge for a roster spot in Dallas in a few months.
And then there is Klingberg.
Klingberg is one of the most important pieces on the Stars moving forward. Jim Nill thought so as well and he recently signed Klingberg to a seven-year deal which carries a cap hit of $4.25M a season.
With no disrespect to Calder-nominated Aaron Ekblad, John Klingberg was the best rookie defenseman in the NHL this season. His 40 points were good for seventh in the NHL among rookies and first among rookie defensemen, despite playing significantly fewer games than all of the top ten rookie scorers.
Both Ekblad (53.85 CF%) and Klingberg (53.55 CF%) finished the season as positive even strength possession players on their respective teams. The thing that sets them apart in my mind are the kind of minutes they were asked to play.
Ekblad finished the year with a 60.70 offensive zone start % at even strength while Klingberg's was 47.84. There is nothing wrong with sheltering a rookie's minutes and giving them opportunities to succeed. Klingberg, however, was thrust into the biggest defensive minutes on the Stars and thrived in that role. One has to wonder if Klingberg's draft position (fifth round in 2010) is to blame for his lack of Calder representation.
With Effort Comes Advancement
One thing that could not be questioned in Dallas was their effort, night after night. There are not many games you pick out from 2014-15 and say that the Stars did not match or exceed the effort of their opposition. With that effort came improvement throughout the season.
I broke up the season into four segments, the first three including 20 games and the final segment including 22 games.
After the first 20 contests, the Stars posted even-strength numbers of 49.7 corsi-for-% and 50.1 scoring-chances-for % which was ranked 21st and 16th in the league, respectively. In the following 20 game segment, the Stars improved to an even-strength corsi-for-% of 51.9 (10th) and a scoring-chances-for % of 53.2 (9th).
In the next segment, Dallas took a step back possession-wise with a 50.1 CF% (20th) but their scoring-chances-for % was still a strong 52.1 (9th).
During the final 22 games, the Stars were soaring. In that final portion of games, the Stars posted a 56.4 CF% which was good for second in the league during that time frame. Their scoring-chances-for % was off the charts at 57.6 which was far and away the best percentage in the NHL. Their statistical improvements should be a sign of optimism for Stars fans.
https://twitter.com/RalphStrangis/status/585909328139300864
A long offseason and a good training camp could be exactly what the Stars need for next year. Ales Hemsky, Trevor Daley and Jamie Benn all required offseason hip-surgery which plagued them for much of the season. We barely saw Val Nichushkin as he and Nemeth were out for a majority of the season.
So many players were adjusting to a new style of game and a completely new lifestyle, like Spezza coming from Ottawa and Demers coming from San Jose. Of the 22 players who finished the year on the Stars roster, eight of them were not around for the playoff run the year before.
Rebuilds take time, although this one appears to be an accelerated one. There were plenty of great things to take from the 2014-15 season and there are even more to look forward to in the years to come. Stay tuned Stars fans, it is going to be a fun ride.