Make the Trade for a Defenseman
You can almost be certain that any defenseman thought to be on the trading block this season has been in the eyes of a Detroit Red Wings scout at some point. For nearly a full year now, analysts and fans have almost demanded the Wings to sign a right-handed, top-four, puck-moving defenseman.
After striking out in free agency over the summer and disappointingly handing Kyle Quincey a raise, the Detroit defense has surprisingly been performing in a way almost no fan expected, but all fans will certainly take.
Yet, even if the defense isn't broken, that doesn't mean it can't be fixed. Ken Holland has certainly been working the phones and virtually throwing names to see what's sticking in different organizations.
Three of the most speculated defenseman include Buffalo's Tyler Myers and Washington's Mike Green while Arizona's left-handed, powerplay specialist Keith Yandle has had his name added into countless talks upon the coming of age of Swedish blue-liner Oliver Ekman-Larsson.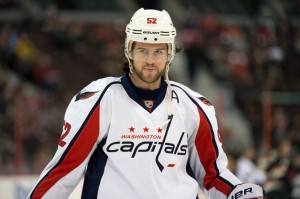 Recent news says that Buffalo is asking for too much for Myers, a 24-year-old, Calder Trophy winner that stands at a monstrous 6' 8" tall. Green, on the other hand, will stay a Capital as long as the team is winning and fighting for a playoff spot. Yandle, while he doesn't give coach Mike Babcock the right-hander he so vocally wants, would bring the most consistent offense to the team at a cheaper price than Myers, although he would still be a pricier option to Green.
However, through all of the speculation, Holland seems to have found it best to ride out his defense while they continue to develop their game and young players like Brendan Smith and Danny Dekeyser gain more experience while prospect Xavier Ouellet continues to mature and split time between the AHL and NHL.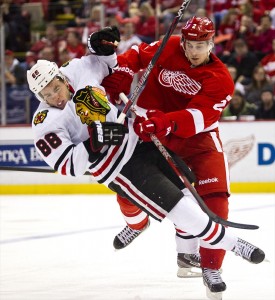 Finnish with Teemu 
In just his second year of professional hockey, Red Wings prospect Teemu Pulkkinen has taken the AHL by storm and found his way to the top of the goal scorer's list.
The 23-year-old Finnish winger has scorched his way to the top of the league standings by keeping his confidence high and taking shots. He has 38 points (19 G, 19 A) in 32 games.
"Just give him the puck and he's going to get six, seven shots and one of them is bound to go in," teammate Landon Ferraro said.
Pulkkinen, a right-handed, built-to-shoot prospect, would give the Wings just the second right-handed forward on the team, next to fourth-line grinder Luke Glendening.
The Wings are full of left-handed, puck-controlling, pass-first mentalities that love to dish the puck off to a triggerman. Pulkkinen is that triggerman; watch here where he scored two goals in nine seconds for the Griffins last season.
With a cannon of a shot, Pulkkinen isn't afraid to fire the puck and light the lamp for his team. He plays a similar game to Brett Hull, the linemate that a rookie Pavel Datsyuk was paired with when he first broke into the league and established his dominance.
But, because of cap restraint and a full roster, Pulkkinen won't put on the Winged Wheel this season pending injuries. However, the Wings have one player who can be freely sent up and down without having to clear waivers, 22-year-old winger Tomas Jurco.
Jurco has been a slight disappointment this season with only two goals and 12 points, even though he has been doing better things on both sides of the puck and plays with a physical edge. The Wings might see it beneficial to swap the two players while one is hot and one is cold. Pulkkinen could be of significant help to a team that occasionally loses the scoresheet battle and sometimes struggles to generate shots and scoring chances.
Give Anthony Mantha the Call
The talk of the Wings heading into training camp this season was the possibility of fast-forwarding their youth system and adding prospect Anthony Mantha to the roster for opening day.
Upon the news of Mantha fracturing his tibia during camp, Holland had said, "We were going to give him every opportunity to make our team."
Babcock had tried Mantha out playing next to Henrik Zetterberg on the top line before he fractured his leg and would miss the next few months.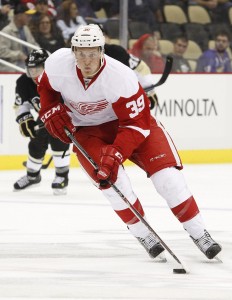 Mantha sits in the same boat as Teemu Pulkinnen right now in the fact that the Wings would need to experience and injury or be willing to swap Jurco for Mantha in order to get his on the roster.
To date, Mantha has 11 points (6 G, 5 A) in 21 games for the Griffins this year and is beginning to find his form again. He sports the second-best plus/minus on the team (plus-9) and a 12.5 shooting percentage.
The main concern for Mantha is his 45 PIM in just 21 games, which is an average of more than two penalty minutes a game. He ranks second on the team in nearly half as many games as his teammates. The alarm is his adaptation to a bigger, quicker, more-skilled game than his previous two dominating seasons in the QMJHL where he scored 209 points (107 G, 102 A) in 124 games. The Wings and fans alike hope his adaptation begins to smooth out so he can focus on his offensive game and do great things for Hockeytown for years to come.