Throughout the years, the NHL and it's fans have been treated to an endless number of talented players of ever increasing skill.
As individuals, these highly skilled players in particular retain the ability to directly influence the outcome of a game. However, when paired with a player of similar abilities (not necessarily on the same line), the results, in the right scenario, can be down right unstoppable.
Such has been the case throughout NHL history, as when two terrific players play alongside one another, the outcomes, whether offensive or defensive, are undoubtedly dynamic and devastating.
That being said, let's take a look at five of the greatest dynamic duos in NHL history. In no particular order:
Phil Esposito and Bobby Orr
As two of the greatest to ever play the game, Phil Esposito and Bobby Orr were a terrific duo for the Boston Bruins.
The two first became teammates in the 1967-68 season after Esposito was traded to the Bruins by the Blackhawks.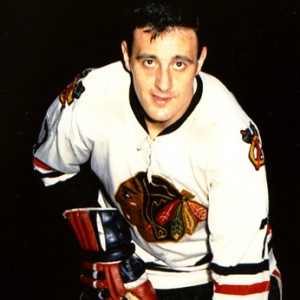 Esposito was a big and strong centreman who would become known as the most prolific goal scorer in NHL history at the time, as his 76 in 1970-71 set a new league record.
On the other hand, Bobby Orr redefined the definition of an NHL defenseman. His smooth skating alongside his fantastic scoring abilities made him one of the best in history, illustrated by his eight consecutive James Norris trophies as the NHL's top defenseman.
The 1968-69 season was the true beginning of this great duo, as both players exploded, enjoying career best seasons. As individuals, both players were exceptional, yet when both were on the ice together, they and the Bruins as a whole were a formidable force.
Throughout their tremendously successful time with Boston, the two helped lead the Bruins to the Stanley Cup Finals on three separate occasions, including two championships in the 1970 and 1972 season.
Mario Lemieux and Jaromir Jagr
One of the most physically dominating duos in NHL history, Mario Lemieux and Jaromir Jagr used their impressive size and skill to overwhelm opponents on a nightly basis.
Lemieux, a first overall pick of the Pittsburgh Penguins in 1984, is arguably one of the best players in NHL history. At 6 foot 4, 200 pounds, Mario was known for his ability to use his size to his advantage, size which helped him reach eighth place on the all time scoring list.
His dynamic partner, Jaromir Jagr, played and continues to play a similar brand of hockey to Lemieux. Jagr, who is currently fifth all time in NHL scoring, is known as a menace behind the goal line, using his size and strength to shield the puck from his opponents. It is those abilities which continue to make him relevant in the NHL at the age of 42.
Although Lemieux's dominance began in 1984, it wasn't until 1990 when Jagr made his Penguins debut. The result? Instant success; as the Penguins, led by Jagr and Lemieux, won two consecutive Stanley Cup's in the 1991 and 1992 seasons while Lemieux took home back to back Conn Smythe Trophies.
Unfortunately, this dynamic duo came to an end following the 2000-01 season, as Jagr was traded to the Washington Capitals, one year following Lemieux's recovery from cancer.
Mark Messier and Wayne Gretzky
The tandem of Mark Messier and Wayne Gretzky remain one of the most skilled and productive duos in the history of the NHL.
The perfect combination of size and skill, Mark Messier was a dominant power forward, especially so in his time alongside Wayne Gretzky with the Edmonton Oilers. At 6 foot one, 205 pounds, Messier was a somewhat late, third round draft pick by the Oilers who amassed over 1000 points in his 12 seasons with the team.
This dynamic duo was so successful because it possessed, simply put, the greatest player of all time in Wayne Gretzky. Although Gretzky didn't have the greatest shot, he more than made up for it with his stellar play-making abilities. He had such patience on the ice, using his agility to protect the puck before making the perfect pass to an open teammate.
When Messier's skills were combined with Gretzky's elite vision, passing and offensive brilliance, the two were virtually unstoppable on the ice.
It was this duo, over 9 seasons as teammates, who were largely responsible for bringing the Stanley Cup to Edmonton on four separate occasions, in particular in 1984, 1985, 1987 and 1988. Both electives of Hockey Hall of Fame, the tandem of Mark Messier and Wayne Gretzky was a rare combination of skill and ability which is typically unseen in the NHL today.
Ted Lindsay and Gordie Howe
Two offensively gifted players, Ted Lindsay and Gordie Howe were a dynamic duo for the Detroit Red Wings from 1946-56.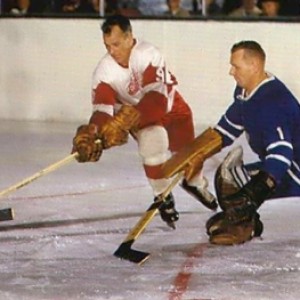 Gordie Howe, also known as "Mr. Hockey", was exactly that in his 26 season NHL and 32 year professional hockey career. In an amazing 25 seasons with the Detroit Red Wings alone, Howe became known for his offense as well as his physical play, becoming famous for earning the "Gordie Howe Hat Trick", culminating a goal, assist and a fight.
As a duo, Lindsay and Howe led the Red Wings to Stanley Cup titles in 1950, 1952, 1954 and 1955. The contributions of both Lindsay and Howe to the NHL were so great in fact, that Gordie was elected to the Hockey Hall of Fame while Ted currently has the NHL's award for Most Outstanding Player as determined by the NHLPA named in his honor.
Peter Forsberg and Joe Sakic
In one of the more recent dynamic duos in NHL, Peter Forsberg and Joe Sakic were an elite pairing throughout their time with the Colorado Avalanche.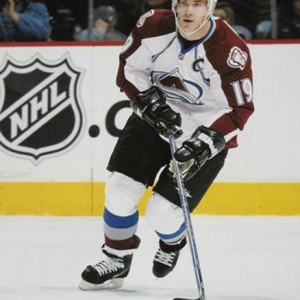 Although injuries would later derail his dominant career, Peter Forsberg was an elite offensive player who changed the perception of European players. Typically thought to be soft, Forsberg played a style quite opposite, using his body to not only protect the puck, but also to lay the occasional devastating body check.
Sakic on the other hand remains one of the most elite players to have played in the NHL. Known for his world class release, "Burnaby Joe" was a consistent goal scorer and a great leader. Joe played his entire 20 year NHL career with the Colorado Avalanche organization, seven of which with the Quebec Nordiques.
In their time together, Forsberg and Sakic helped guide the Avalanche to two Stanley Cup Championships, one in 1996, the teams first year in Colorado, and another in 2001. Throughout their 11 season partnership, Forsberg and Sakic collected two Hart Memorial Trophies, a Calder Trophy, Art Ross Trophy, Lady Byng Trophy and Lester Pearson Trophy.
Resulting from their incredible play, both Sakic and Forsberg were inducted into the Hockey Hall of Fame.
Honorable Mentions and Reader Favorites (In no Particular Order):
Serge Savard and Larry Robinson
Jonathan Toews and Patrick Kane
Bobby Hull and Stan Mikita
Ryan Getzlaf and Corey Perry
Sidney Crosby and Evgeni Malkin
Henrik and Daniel Sedin`
Brett Hull and Adam Oates
Scott Stevens and Scott Niedermayer
Steve Shutt and Guy Lafleur
Mike Bossy and Bryan Trottier