Every team has an 82 game schedule, but in each season there are certain games you just can't wait for. Whether its rivalries new or old, or perhaps teams you hate for no reason at all, there are these certain games that fans of every team just live and die for. For Colorado Avalanche fans, it has been tough in the recent past to get excited for any games at all, however things have changed in Denver.
The Colorado Avalanche are once again back to where they should be, expecting playoff hockey while kicking ass and taking names. Therefore Avalanche fans can now look forward to new rivalries and blind hated towards other teams, along with all the other good stuff that comes with being a playoff team once again.
The new division alignment has put 4 out of 5 of these teams in the Central. Which means there is potential for added fuel to turn some of them into genuine classic rivalries, especially with the new playoff format that is now in place. Here are the 5 potential new rivalries for the Avalanche this year and perhaps for the years to come as well.
Minnesota Wild
Colorado and Minnesota have had a bit of a rivalry back in day. Both teams have met three times now in the playoffs, with the Avalanche taking one series to the Wilds' two. In fact, Patrick Roy's last ever game came in a devastating game 7 overtime loss to the Minnesota Wild in the 2003 Western Conference quarterfinals. Now, the Avalanche and Wild have definitely taken the rivalry to the next level with another playoff meeting last year, which also ended in a similar fashion. A game 7 overtime loss in the first round of last year's playoffs.
There is certainly bad blood here. In game 3 of last years series, the infamous Wild player Matt Cooke deliberately took out Tyson Barrie with a knee on knee collision. Barrie would go on to miss the rest of the playoffs with a MCL injury. What happened to Cooke? He missed all of 7 games for taking out another player for the rest of their season. This upcoming year couldn't start off any better with the first two games being a home and home series vs the Wild. Everyone is looking forward to that game, except maybe Matt Cooke. This year both teams have the talent to be playoff bound again. Certainly a good start towards creating a nasty rivalry with a division opponent.
St.Louis Blues
This potential new rivalry for the Avalanche might become the nastiest one. The video above(surely the Blues announcers are not gigantic homers) from last year proves that these two team don't like each other. David Backes didn't seem to like MacKinnon too much and went after the kid. Neither team will forget that. The Eric Johnson trade was the first little seed planted in this potential rivalry. Kevin Shattenkirk has played great for the Blues, while Eric Johnson is finally realizing his potential and becoming a very solid top 2 defender. Now add Stastny signing with the Blues and we have some very interesting nights to look forward to.
With the Blues being considered the best team in the central division, the Colorado Avalanche will be looking to continue to grow and improve. St.Louis flopped big time at the end of last year and Colorado helped. The Avs did well in defeating them 4 to 0 away from Pepsi Center during the Blues' final stretch, which helped them end the year as central division champions. I for one can't wait to see the match-ups of Duchene/MacKinnon vs Backes/Stastny. It'll be interesting to watch what will happen, one thing is for sure, a rivalry is brewing.
Dallas Stars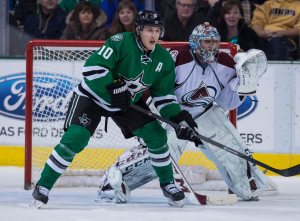 The Dallas Stars and Colorado Avalanche have definitely been rivals before, having met several times in the playoffs when both teams were top contenders for quite some time. I will never forget Ray Bourque's shot hitting the post in the dying seconds of game 7 in the 2000 Western Conference finals. The post hits from Sakic and Bourque still ring in my ears from time to time. It was always an exciting time when Dallas met Colorado.
Nowadays both of these teams are re-establishing themselves, trying to get back atop the West. Both have promising squads, and again, with the new divisions in place they will certainly be seeing more of each other. There hasn't been much ugliness between the two recently but its early days yet for that. Plenty of time to reignite this good old rivalry.
Chicago Blackhawks
Every single time these two teams go at it, the game seems to be electrifying with tons of skill coupled with an extremely fast pace. Chicago vs Colorado is always a fantastic game to watch, however hatred for one another is not existent, yet. They both have tremendous young talent throughout their lineups and it'll be a shame if they do turn out hating each other because I enjoy watching the Hawks so I don't want to have to hate them. Although a good rivalry is never a bad thing to have, I'd prefer the Avs to hate the other teams on this list if possible.
They haven't met in the playoffs recently, but they are now in the same division. There is one memorable time they met in the playoffs, when Patrick Roy used his Stanley Cup rings as earplugs while Jeremy Roenick tried to get a few words in. Good old fashioned banter. Being in the same division is one thing, but the Avalanche and Blackhawks are two of the stronger teams which means battling for the Central division title for years to come. Which in turn could very possibly have these two meet in the playoffs this year and in the future, creating what would be an amazingly skilled, rather than fierce, rivalry.
Anaheim Ducks
We all saw Colorado's opening night match-up with the Anaheim Ducks last year. Patrick Roy's first game as head coach and VP of hockey operations with the Avalanche was a memorable one. With a great start in establishing some bad blood between the two teams in the first game ending in a 6 to 1 score and a little bit of hockey conversation. The final game of last season for both teams saw Teemu Selanne and JS Giguere skate laps around the Anaheim rink after the game to celebrate their careers. Finally now that those two greats are retired, Colorado and Anaheim may resume squirting water at each other, pushing glass partitions whenever they can, and ultimately play great intense hockey versus one another.
Colorado are looking to surprise the hockey world again while all the so called experts with their "advanced" stats are just waiting to jump all over this team the second they lose a game. The Avalanche are aiming to make those "experts" look like fools. Every team on this list can be very dangerous, but the Avs aren't going anywhere anytime soon. With the core of the team super young and full of potential, the Avalanche will be contending for the division title with some of these teams. Colorado is back in the playoff picture again, which can create tremendous rivalries. Just think of the famous Detroit, Colorado rivalry of the late 90's and early 2000's. We can only hope for something similar with the above teams, which will be very hard, as that rivalry was one of the best in NHL history. With the 2014 – 2015 season right around the corner, those are the 5 potential new rivalries for the Colorado Avalanche. Keep an eye open. Actually you better make that two, just to make sure you know when Matt Cooke is on the ice.