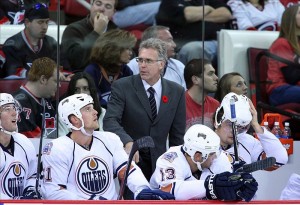 The Edmonton Oilers appointed a new General Manager, and a new coach this past offseason. The team has seen little to no improvement. Firing yet another coach might not be the answer, replacing all the players isn't feasible either, and thus the only hope Oiler fans have for this season is another high-end prospect come draft day. So who is to blame? Exasperated fans have now pointed their venom towards the Oilers President of Hockey Operations, Kevin Lowe. After all, the culture of the organization starts at the top, therefore Lowe has to be the one to go.
Fans have decided to take to Facebook to express themselves, creating a page calling for the firing of Kevin Lowe. The page, called Kevin Lowe must go, currently has over 9000 likes and is gaining steam quickly. The creator, simply named John to protect his identity, cited his reasoning for the outcry:
"In the end, this thing should run like a business and your president is responsible for anything that goes on underneath him," said John. "If I owned a company and my president fires five key employees in six years, there's something wrong with policy not the employee." [Edmonton Sun]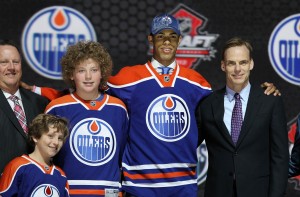 While one might say it's nice to see such passion from hockey fans, is Lowe simply the scapegoat for a team gone wrong, or is he really to blame? Kevin Lowe was first appointed as General Manager in 2000 after Glen Sather left for the New York Rangers. Before the salary cap was implemented, the Oilers were consistently a competitive team under Lowe's rule. Granted, he had a limited budget to work with, and wasn't able to have true flexibility. That changed after the lock-out in 2005. Some notables of Lowe's time in charge:
2005-06 season: The Oilers went all the way to the Stanley Cup final before ultimately losing to the Carolina Hurricanes in seven games. That marked the last time the team made the playoffs.
2006 off-season: Lowe trade Chris Pronger to the Anaheim Ducks. The only player left on the team from that trade is Jordan Eberle, whom the Oilers drafted with one of the picks they got in the return. The Pronger trade has long been known to have crippled the organization. Lowe did the best he could considering Pronger wanted out of Edmonton so badly.
2007 off-season: Lowe signed Tomas Vanek to an offer sheet, which was matched by the Sabres. He then signed Dustin Penner to an offer sheet, which was accepted. It caused a feud with then Ducks GM Brian Burke, and Penner's career in Edmonton was essentially a disaster.
2008: Lowe appointed Steve Tambellini to General Manager, while he himself was promoted to the President of Hockey Operations. Tambellini's reign wasn't particularly notable, other than having some very high draft picks. It's widely believed, however, that Kevin Lowe still had a heavy influence over the personal and player decisions being made.
2013: Lowe fired Tambellini and appointed former Oilers coach Craig MacTavish as General Manager. Lowe also made infamous comments about the fans in Edmonton he later apologized for, including this gem:
"And lastly I'll say, there's one other guy, I believe, in hockey today that's still working in the game that has won more Stanley Cups than me." [Edmonton Journal]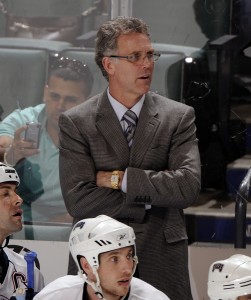 At the moment, it would appear that MacTavish is the one calling the shots in Edmonton. But now should the Oilers owner just clean house and start completely fresh in regards to management? One might say that there is too much familiarity, with former players constantly getting appointed to positions. The team is essentially just recycling guys instead of getting a new perspective. Are those kinds of wholesale changes on the horizon? Probably not. Should they be? That depends on what happens with this team in the next couple of years. It might be time for some completely new voices. The fans sure think so.