This is a very short week as everyone knows. Fantasy hockey owners are probably almost relieved that the break is here in just a couple days. Most people come the wee hours of Thursday morning are going to take a good bit of time off and enjoy the time away. Some will not however, They are the smart ones.
Most leagues are heading into their trade deadline phases. Whether you are in a head to head, roto, points, or unique scoring format, the time to pay attention to your team is Thursday. Set your rosters Tuesday and Wednesday but come that first day off, it is time to really take that deep look.
A Fantasy Hockey Snapshot?
That's right! The THW Hockey League will get its very own snapshot of sorts. We will take a look at as much as humanly possible. This means everything from points to teams on the way up, down, sideways, and more. So did you want an example? Here you go!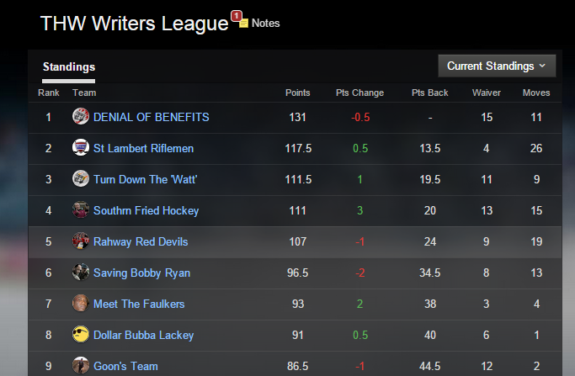 That is just the beginning as we begin to put names to teams and such. For example, among the close knit group here at The Hockey Writers, mostly this is a formality. However, it is important to look at point structures, rules, and what has happened. In the following weeks, we will peak at what has gone right or wrong, have some interviews with a fantasy hockey twist, and even a look at transactions gone wrong.
The goal as always is to find out how these leagues shake out. Some circumstances can go out of a manager's control so to speak but the fun is now not just taking a look at what players are succeeding of failing. It really is the nuts and bolts of figuring out what truly makes a successful team.
Here is another snapshot that we have at the disposal of the actual points. There are 16 teams in the league so one point is bad and 16 is excellent. Now the category list err standings with category point breakdowns.

Keep in mind, that the season is going to get really tight after the All Star Break. There is still a good amount of movement to be had among the top half of the league. Money spots definitely are not sealed fantasy hockey fans….not even the top spot just yet.
The categories are listed as follows:
Goals 

Assists

+/-

PIMS

PPP (Power Play Points)

SOG (Shots On Goal)

Goalie Wins

Goals Against Average 

Save Perentage

Shutouts
Also, we are going to go into greater detail into some of the numbers you see above. After all, nothing can be more frustrating than to be bombarded with stats only to see little or no explanation. Fantasy hockey fans take heart, we will gladly take suggestions here so let's hear from you as far as what you want to see from this mid-season special. Thanks for reading and hopefully this is something that helps some of our rotisserie league players.