Do a quick Internet search for the Oscar-nominated film Silver Linings Playbook, and this phrase will pop up as a key descriptor: Life doesn't always go according to plan. And if there's one NHL team that can attest to the harsh reality of that statement, it's the 2013 Ottawa Senators.
Only in one's worst nightmares could a scenario wherein both Jason Spezza and Erik Karlsson are "out indefinitely" be envisaged. Pardon the puns, but any way you slice it, these injuries could set the franchise back, and the losses of Milan Michalek, Jared Cowen & Guillaume Latendresse only serve to exacerbate the situation.
But take heart, Senators fans; all is not lost. Well fine, the next couple of months look pretty bleak, even though the Senators have put together back to back wins this week vs the New Jersey Devils and New York Islanders. Whether they can keep it up is anyone's guess, but in the bigger picture, here are a few positives that may come out of these troubled times.
The Experience Factor
Have you ever applied for a job, feeling ready and qualified, only to be rejected because it was said that you did not have sufficient experience? I have, and it left me wondering how it was that I was supposed to gain that experience without first being given the opportunity to do actually do the work. Well, luckily for some of the young and inexperienced players in the Ottawa Senators system, a plethora of jobs have recently opened up, and they're the right only men to fill the positions.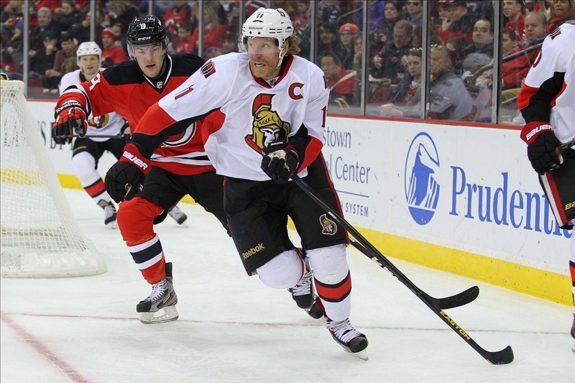 If you compare the current Senators roster to that of the 2011 Calder Cup champion Binghamton Senators, you'll find many names that match. For some (Condra, Greening, Smith), the transition to the pro club is natural and more or less expected. For others (Gryba, Benoit, Dziurzynski), the call to play in Ottawa may have come prematurely, if not only as a direct result of the injury situation. Either way, it affords Ottawa management the opportunity to assess what these guys can or can't do at the NHL level, and helps the individual players to see what it takes to stick in the NHL.
If last night is any indication, then maybe some of these AHL'ers will make good on the opportunity.
PIC: HUGE smiles! Congrats to David Dziurzynski & Andre Benoit on their 1st career NHL goals! #Sens pic.twitter.com/dczImdqY

— Ottawa Senators (@Senators) February 20, 2013
On top of that, the current situation also allows more established players and prospects to have their roles increased (for better or worse.) Kyle Turris, for example, was pegged as the #2 C behind Spezza, but now assumes top-line responsibilities, and all that comes with it. At the same time, in Monday's win over New Jersey, young Jakub Silfverberg ranked 3rd among forwards in TOI, something that probably wasn't anticipated in this his first year of North American professional hockey.
Unanticipated call ups and increased roles are offshoots of all these injuries, and hopefully the exposure will serve these secondary players well when they're called to settle back into more expected roles.
Deep Draft Ahead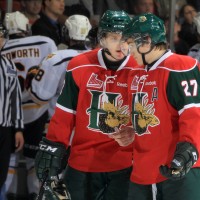 Let's be honest. If there's a year where it's not such a bad thing to drop in the standings and secure a high draft pick, it's 2013.
In looking at this mock draft prepared by Chris Ralph (THW's the senior draft/prospect analyst), one sees that there is no shortage of top talent in this year's pool, with any one of the top three (if not five) prospects possessing the potential to drastically change the fortunes of an NHL team.
Yes, Ottawa has run into some bad luck on the injury front, but if it means they have a shot at adding a little bit of what we see in this video into the lineup, the long term gain could far outweigh the pain currently being felt in the nation's capital these days:
Hey, maybe the Senators won't drop off the map completely, and remain in the playoff race for a while yet. But, if not, the compensation could end up being pretty nice.
Alfie Rises Again?
When it comes to the whole concept of life not going according to plan, that HAS to be how Daniel Alfredsson is feeling right now. When he decided to come back and play in this shortened season, he must have been hoping to build on the Senators surprising success of a year ago, possibly taking one last run at a Cup.
It's highly unlikely that he pictured himself playing with a bunch of AHL'ers at this stage in his career. But here he is, and as he and his Senators teammates play out this string of games, one has to wonder how this will affect his decision to give it another go next year. Will he want to come back and see what a full & healthy Ottawa roster can accomplish, or will he cut his losses and call it a career?
All Senators fans have to be hoping for the latter.
And what now becomes of Craig Anderson?
One final thought, this one from Elliotte Friedman's latest "30 Thoughts":
11. Do you remember when Murray took heat for signing goaltender Craig Anderson to a four-year, $12.75-million extension? Now that contract looks beautiful. I joked with him last week that some GMs said he could get half a team for Anderson. Murray laughed and said, "Tell those guys to call me." If he ever seriously decided to do it, Ottawa would get a lot in return.
Very interesting proposition to consider there. With a record of 8-4-2, a save percentage of .950 and a GAA of 1.57 (and 2 SO), one would have to think that Craig Anderson's trade value cannot get any higher. Teams in need of goaltending would have to be interested in adding him if he were made available, especially at that price point.
The question that has to be asked is whether the Senators believe he can continue to play at a high level for the duration of his contract, or whether it's worth cashing in and handing the reins to Robin Lehner and Ben Bishop. Depending on the return, and considering the circumstances, it seems like it might be wise to take full advantage of his value while his numbers look so nice.
The Senators next play host to the Rangers, Maple Leafs (in another installment of the Battle of Ontario) & Canadiens before heading out on a 5 game road trip at the end of the month.
Follow Ian on Twitter for more hockey updates and commentary.