Adam Fantilli
2022-23 Team: Michigan Wolverines
Date of Birth: Oct. 12, 2004
Place of Birth: Toronto, ON, Canada
Ht: 6-foot-2 Wt: 187 pounds
Shoots: Left
Position: Center
NHL Draft Eligibility: 2023 first-year eligible
Rankings
If this was almost any other draft class, Adam Fantilli would have a great chance of going first overall. But just like Jack Eichel back in 2015, he has the misfortune of being born in the same year as a generational talent with the first name Connor. For Eichel it was Connor McDavid, for Fantilli, it is Connor Bedard.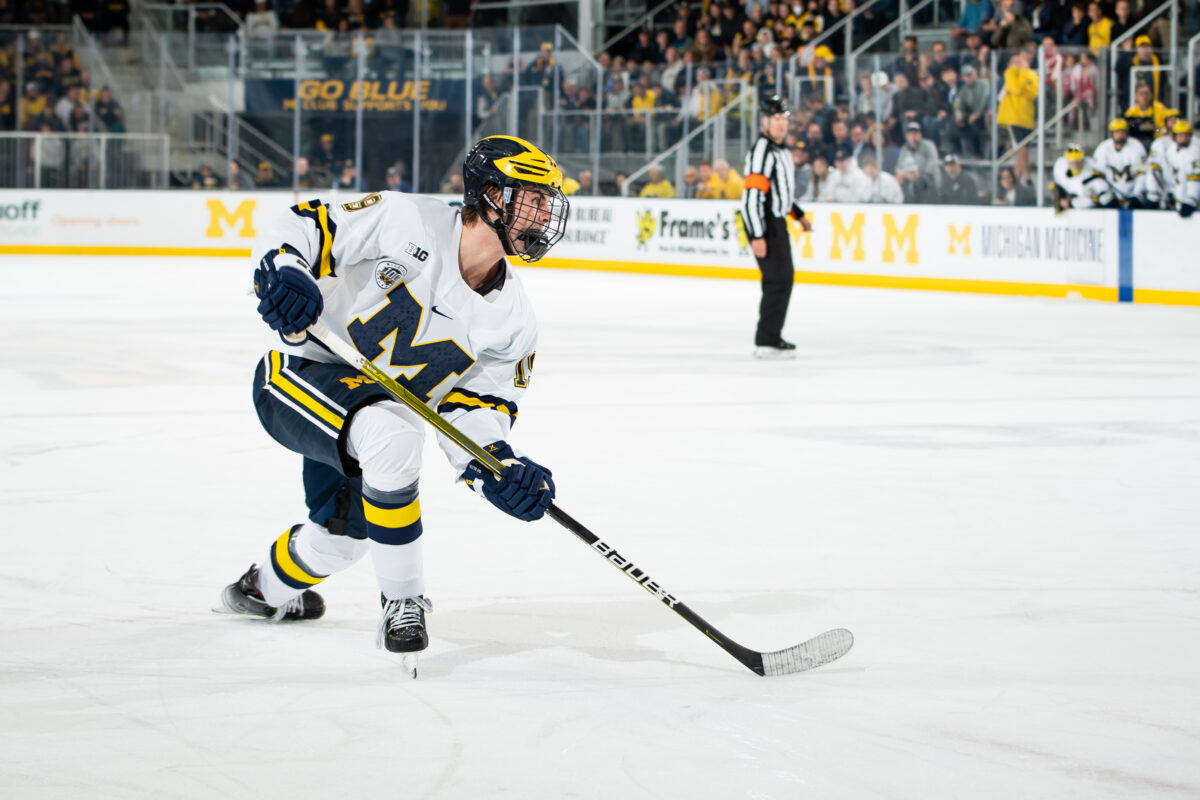 Fantilli has the skillset of a first-overall pick and has shown it multiple times in the NCAA for the high-powered Michigan Wolverines. As an 18-year-old playing with and against players sometimes two or three years older than him, he looks like a seasoned veteran. With an unprecedented 25 goals in 31 games, he already has matched Paul Kariya's total from 1992-93 and could conceivably finish in the top-five all-time for goals by a college freshman. He won't hit Kariya's 100 points in 39 games, but he could make it into the realm of Eichel and Kyle Connor, who both finished with 71 points in 2014-15 and 2015-16 respectively. Oh yes, if he keeps up his 1.80 points-per-game (PPG) pace, he will end up holding the NCAA record as Eichel ended his draft year with a 1.78 PPG – currently the best in NCAA history.
Fantilli possesses everything a scout looks for in a top-line center. From his size, speed, and playmaking ability to his hockey IQ, puckhandling, and accurate shot, he has all the tools to be a massive difference-maker in the NHL one day. It's only his first year in the NCAA and he's already dotting the highlight reels with his slick one-on-one dekes, snipe show of a shot, power moves to the net and most of all, beautiful end-to-end rushes.
Related: THW's 2023 NHL Draft Guide
---
Latest News & Highlight
---
Fantilli's skating is by far the biggest weapon in his arsenal. It is the motor that runs his game. Acceleration, edgework, and smooth crossovers all work in tandem to make him one of the best skaters in this year's draft class. Some would say he is the best, even better than Bedard. Couple that with the attributes I've already talked about, not to mention his intense motor and physicality, and there's a reason he's a lot more than just a consolation prize to Bedard. In fact, he could be right there with him in a few years ala Sidney Crosby/Alex Ovechkin fighting for the right to be the best player in the NHL and the world.
Now, Fantilli isn't perfect. He still has to work on his defensive game – like all players do – and his shot isn't as accurate as Bedard's. He also has a tendency to try and do everything himself instead of using his linemates. But those weaknesses can be ironed out with time and development.
Other THW Draft Profiles
Adam Fantilli – NHL Draft Projection
There's not much doubt that Fantilli will go second overall. Almost every ranking has him going after Bedard, and his ongoing all-world performance at the NCAA level just keeps solidifying that fact. There could be a team that thinks Leo Carlsson is further along defensively and selects him instead, but even if that happens, he's dropping no further than third. As I said earlier, in almost any other year, he would be firmly in the conversation for first overall.
Quotables
"Adam Fantilli has every tool that an NHL team would dream of having with their top overall selection. He's got the physical tools of size, strength, speed and lateral mobility. He has amazing puck skill with the ability to do it at full speed and in small area situations. He can protect the puck, put his shoulder down and power through a defender, or put it under a defender's stick and put them through the spin cycle." – Austin Garrett, Smaht Scouting
"[Fantilli's] so fast, so dynamic…Obviously he's someone who kind of pops out just with his speed, his size. He's so powerful and what he's doing in college is kind of unheard of." – Connor Bedard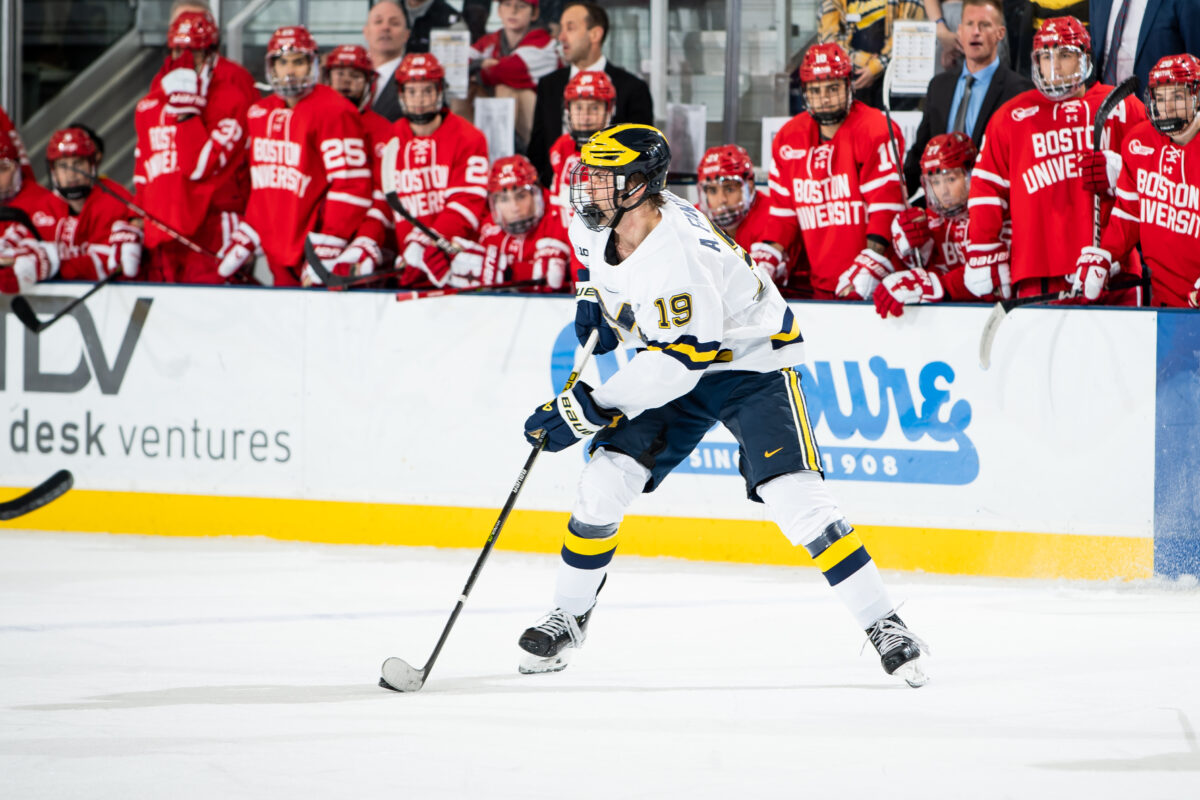 "Fantilli's game is based on extending possessions and getting to the danger areas without the puck to position himself for a pass or rebound. He reads the play at an incredibly high level and is almost always in the right spots. However, there are also several situations in a game where he tries too much on his own." – Kyle Pereira, LWOH
"Fantilli is a big, strong, powerful kid who takes pucks from the wall to the interior with force, and ease, and speed. He can beat you along the wall on the cycle. He can beat you carrying the puck in rotations around the perimeter of the offensive zone. He can beat you by pushing through lanes to the middle third, driving the net, or dropping a shoulder to take space that isn't there. He can beat you flying out wide." – Scott Wheeler, The Athletic (from '2023 NHL Draft top 64 prospects: Scott Wheeler's March ranking', 3/1/23)
Strengths
Size
Skating
Speed
Hockey IQ
Wrist shot
Puckhandling
Playmaking
Strong motor and work ethic
Under Construction (Improvements to Make)
Has a tendency to get tunnel vision and try and do everything himself
Defensive game
Shot accuracy
NHL Potential
Fantilli has the potential to become an elite first-line center at the NHL level. He also has a power forward package every general manager and coach would like to have in their lineup on a nightly basis. If he hits his immense ceiling, don't be surprised to see multiple 100-point seasons and some Art Ross/Hart/Rocket Richard Trophies on his mantle in his prime. Yes, he could be that good.
Risk-Reward Analysis
Risk – 1/5, Reward – 5/5
Fantasy Hockey Potential
Offence – 8/10, Defence – 6/10
Awards/Achievements
Fantilli won a gold medal as a member of Team Canada at the 2023 World Junior Championship and is a nominee for the 2023 Hobey Baker Award given to the NCAA's top player.
Interviews/Profile Links
Adam Fantilli Statistics
Videos
---
---