Adam Larsson is not a name the casual hockey fan should recognize. Not yet at least. Larsson, the 22 year-old Swede, is a former first round pick that plays for the New Jersey Devils. Except, when he was answering to the his old head coach: Peter DeBoer, the new man in San Jose. Larsson found playing time scarce. And that could be a problem for the Sharks.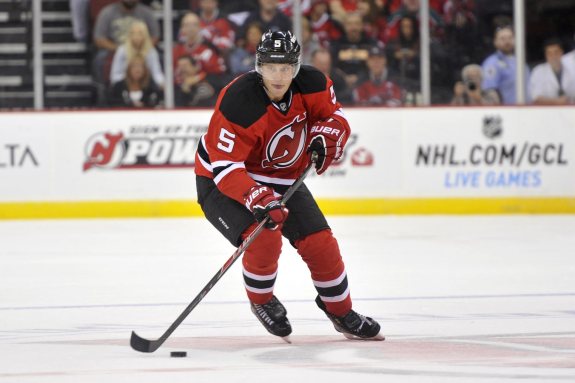 The Struggle of a Swede
In 2011, the Devils drafted Larsson fourth overall. In a time where the Devils still had huge names like Marty Brodeur, Zach Parise, and some Russian who "retired," the Devils were still a major player in the East. Larsson seemed to be the next generation in a franchise steeped in defensive greatness.
But it was not to be. Peter DeBoer held his faith in the veterans that had already proven themselves. Larsson struggled to earn minutes after his rookie season. The next year, DeBoer shuttled him in between the top club and the Albany affiliate. His second and third seasons didn't match the minutes he logged from the first. This was mostly due to coach DeBoer's hesitant nature when it came to his younger core.
However, when DeBoer was deposed midway through the season, Larsson saw his minutes increase, and so did his confidence. Larsson quickly worked his way up to the top defensive pairing with Andy Greene and became one of the better stories in an otherwise forgettable season in Jersey. Was DeBoer holding back his potential? Our Devils correspondent, Dan Rice, had this to say:
"DeBoer often showed little confidence in younger players and had a short leash with them. Especially Gelinas and Larsson… In the end I think he was right with Gelinas (kept making same mistakes, played like he was 5'10 and not 6'4 too often). Larsson, I think, wasn't ready yet and what he went through will eventually help him"

— Dan Rice, THW Devils Correspondent
How Much Leash Should the Sharks Kids Get?
Tomas Hertl, Melker Karlsson, Chris Tierney, and Mirco Mueller (there's also this Nikolay Goldobin a lot of people are excited about). Each one young, and each one a little green behind the ears in San Jose. How will DeBoer handle these guys?
Melker Karlsson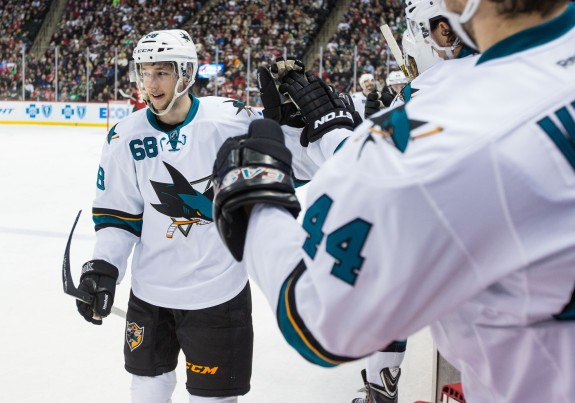 The standout rookie in San Jose last season, Melker Karlsson will be DeBoer's most critical assignment. Karlsson exploded onto the scene seemingly out of nowhere. He rose all the way to the top line and enjoyed playing next to elite talents like Joe Pavelski and Joe Thornton. However, with DeBoer already quoted as saying young players have to "earn the right to play," that position could be in jeopardy. Karlsson may see a demotion to the third line early in the year and will need to re-prove himself to regain that top line role.
Chris Tierney
Chris Tierney became a favorite of fellow Sharks correspondent, Andrew Bensch, late in the year. His work ethic and grit are sure to score points with his new boss, but will he be able to replicate that performance? Tierney became a valuable asset once the Sharks were all but eliminated from the playoffs. Without any long term pressure to succeed, a few younger players thrived. But, early in a season, the pressure will mount and his new coach has already called this a "win now team." And with Tierney already occupying a depth position, if his stock drops, DeBoer will not hesitate to pull the plug.
Tomas Hertl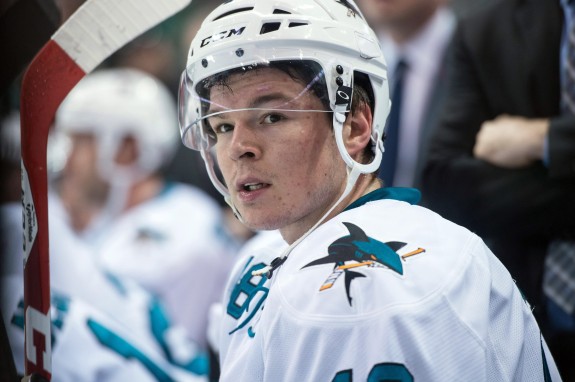 One year, he was the shiny new sports car in San Jose's garage. The next, he's suffering from the dreaded "sophomore slump." Tomas Hertl failed to live up to his expectations last season, but perhaps those marks were set too high. With a new coach, the bar for Hertl's production should be reset. But, as mentioned before, if he fails to produce, DeBoer has never been one to shy away from the AHL shuttle system.
Mirco Mueller
Mirco, Mirco, Mirco. Aside from almost always tricking me into spelling his name as "Micro," Mueller gave me headaches last season. A teenager thrust into a spot in the NHL, Mueller struggled. Out of the four mentioned, Mueller will have the shortest leash by far. While he suffered from inexperience and inconsistent playing time, he may see more of the same this year. DeBoer will likely limit his minutes as is, and mistakes will cost him his spot quickly.
Nikolay Goldobin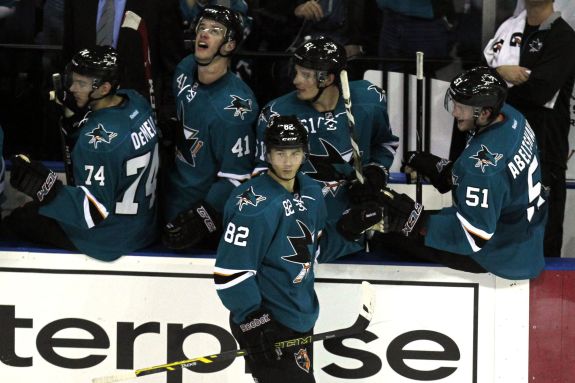 The Russian shooter hasn't seen time with the NHL yet. His performance in the preseason will be crucial to his chances. Unless he starts blowing away opponents from opening night, don't expect a whole lot of playing time this year. DeBoer will likely keep him sheltered in an effort to build him up gradually.
Looking Ahead
Sharks fans must hope that DeBoer is a new beginning in San Jose. He has the experience (see: losing Parise, Kovalchuk, and Brodeur in two years) in bad situations. But it's the kids who must take the reigns one day. DeBoer must focus on grooming them to their full potential.
If he is too cautious, the Sharks may become the Devils. A solid team that almost wins games. They will possess the puck to death but lack that youthful energy and flair required to score in this league.