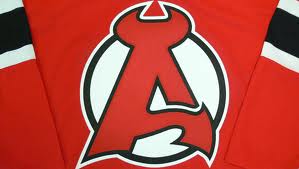 In the past week, the Albany Devils have faced a multitude of challenges.  Over the weekend, it was a back-to-back set at home, where they went up against veteran goaltenders Antero Niittymaki of the Worcester Sharks and Manny Legace of the Springfield Falcons.  Between them, the Devils came away with just two markers in regulation.  Then on Monday, they did something that no Devils affiliate had done since the Albany River Rats in 2005, beat the Penguins in Wilkes/Barre Scranton.
So on Wednesday night it was a challenge in the form of the defending Calder Cup Champion Binghamton Senators.  Don't tell that to the B-Sens though, as they came into the contest with an AHL low 24 points.  Yet it was still an Empire State tilt and given the Senators were fresh off a 4-1 whipping of the Adirondack Phantoms, Albany wasn't taking any chances.
Back in the lineup for Albany was defenseman Matthew Corrente and it was Albany's blue line that would stand tall at both ends of the spectrum in this one.
During the opening frame, it was all about netminders Keith Kinkaid and former Devil (along with numerous other AHL squads) Mike McKenna and letting loose some hostilities.  Kinkaid stopped all 12 shots sent his way in the first and McKenna held serve with 17 stops of his own.  Binghamton got the better of the respective scraps, Mark Borowiecki dropped Mike Banwell with just a single punch, while Stephane Veilleux sticking up for his teammates, was vastly over-matched by former River Rats Captain Tim Conboy.
In the second the scoring picked up.  As mentioned above, it was the defense getting offensive.  Joe Sova would fling the puck from the point and got it to ring in off the post for his second goal of the campaign.  Sova was assisted by Mike Sislo and Vladimir Zharkov, as the Devils took a 1-0 edge.
Then it was Zharkov out front, ringing one in off the far right post and the Devils doubled their lead 2-0.  Adding helpers were Joe Whitney and Matt Anderson.
Both clubs had plenty of scoring opportunities, evidenced by the totals which as Albany post 42, while Binghamton put up 35.  However, Albany would salt it away late on a empty netter by Nick Palmieri, his second, from Brad Mills and (you guessed it) Zharkov with the three-point night, making it a 3-0 final.
On the evening, the three stars were Kinkaid and his shutout, which included a 35 save performance, Zharkov and his three point night and finally McKenna in his homecoming with 40 saves in a losing effort.
Albany has now won two straight and jumps ahead of the Phantoms, who lost to the Connecticut Whale 3-2, in the Northeast Division standings with 33 points.  Both Albany and Binghamton will square off next Monday at Binghamton.