The signing of Ales Hemsky back in July of 2014 brought forth so much excitement to people around the Dallas Stars. After all, he was being reunited with Jason Spezza, a player he found tremendous success with in his brief stint with the Ottawa Senators.
Jim Nill saw an opportunity to add an elusive scorer and thought Hemsky's playmaking abilities could help feed snipers like Tyler Seguin and Jamie Benn the puck. Nill decided to sign Hemsky for three years at $4 million per season. Nill has since added many other weapons and the Stars now find themselves getting closer and closer to the salary cap with some important players to sign at the conclusion of this season. Some fans are wondering if Hemsky is worth keeping around. Hemsky had a rough first season in Dallas, posting just 32 points in 76 games.
While Hemsky hasn't been awful this season, he hasn't been overly impressive either. There are plenty of reasons to move Hemsky. There are also reasons to keep him around. Ultimately, the Stars and Nill wouldn't be doing their jobs if they didn't consider moving him sometime before the trade deadline.
Why Should He Stay?
Keeping Ales Hemsky in Dallas is a risk but it could end up paying off still. While he hasn't been the player Dallas fans thought they were getting, he has shown flashes of brilliance during his time as a Star so far. This season, fresh off hip surgery, he exploded out of the gates with six points in the first four games. He has been a streaky player in Dallas and hasn't seemed to be healthy for much of his time as a Star. Some of the speedy rushes up the ice like the one below have fans wondering why he doesn't perform that way all of the time.
Despite spending a good majority of ice-time on the fourth-line, Hemsky has been a solid possession player for the Stars this season. His Corsi-for-% at even strength is 52.4 on the season, only six forwards on the Stars are better in that regard. Depth scoring is always a nice to thing to have, especially for a team that wants to challenge for the Stanley Cup this season.
Why Should He Go?
Unfortunately this section is going to be a bit longer. There are a multitude of reasons to cut ties with Hemsky.
The production just hasn't been there as a Star. I mentioned he scored six points in his first four games this season. Since then he has scored a total of five points in 23 games. He isn't playing a ton of minutes and is spending most of his time on a fourth-line with Vernon Fiddler and Colton Sceviour, two players not exactly known for their offense. That being said, Fiddler has outscored Hemsky at even-strength and Sceviour isn't far behind.
Maybe he needs to be with more skill players to be more productive? You could make that argument, but Hemsky has been given many opportunities with Spezza last season and this season. He hasn't done much with the chances. Patrick Sharp has had no problem producing down the lineup. At some point, when you are making $4M per season to score, you have to score.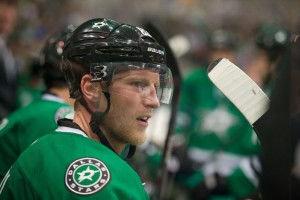 While we don't know what the salary cap is going to look like next season, we do know the Stars are approaching it. Alex Goligoski, Jason Demers and Jordie Benn will all be unrestricted free agents next July. All three of them will be due for some decent raises. Goligoski is currently carrying a cap hit of $4.6M per season and will easily fetch $5.5M/season on the open market. Demers has a total cap hit of $3.4M but the Stars are currently only responsible for just over $2.2M of it, the San Jose Sharks are retaining the rest. He will likely get a raise to at least $4M/season. Benn has played well and will likely get a pay increase as well.
This isn't even factoring in Val Nichushkin, who will become a restricted free agent at the end of the season. If the Stars want to continue to compete, paying Hemsky $4M per season could be detrimental to that cause.
Lastly, he just doesn't seem to fit what the Stars are trying to do. He's soft on the puck and doesn't win a ton of one-on-one battles. AHL forwards like Radek Faksa, Brett Ritchie, and Curtis McKenzie have proved themselves when called up to the NHL. They also play a much harder game than Hemsky. His skill-set really only has one place and that is the top-six. Unfortunately for Hemsky, he just hasn't produced nearly enough while in the top-six to deserve a permanent spot there.
The Future of Ales Hemsky
Listen, I like Ales Hemsky. I've always been a fan and thought he could do some great things in Dallas. His game just hasn't been there. There don't seem to be many signs of life in his overall play. In the salary cap world, a team that wants to consistently contend for a Stanley Cup simply cannot afford well paid players playing poorly for very long. I hope he can turn it around but if he can't, the Stars should be willing and looking to deal him near the deadline.