Coming into the 2011-2012 season, not many would have predicted that Alexander Ovechkin would be 19 points off the scoring lead at this point in the season. Even less would have predicted that in terms of selections for the NHL All-Star Game, Ovechkin would be the least deserving of all the forwards who were chosen; but that could very well be the case.
Ovechkin's 33 points is currently tied with Minnesota forward Mikko Koivu for the least amount of points of all the forwards selected to compete in this year's mid-season classic, and one could easily make the argument that his inclusion is the most suspect of anyone in this year's group.
In what has been a tremendously disappointing season for Ovechkin's individual performance as well as that of his Washington Capitals team, there is a large number of players that could lay claim to be more deserving of a spot in the All-Star Game.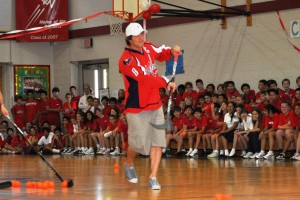 The enigmatic forward's superstar status is without question the reason he earned the nod over more deserving players such as Scott Hartnell of the Philadelphia Flyers, Kris Versteeg of the Florida Panthers, Boston's Patrice Bergeron and Radim Vrbata of the Phoenix Coyotes, among others. But unfortunately for those players and the handful of others who could have just as easily been picked over the Great 8, not many would argue that having a personality like Ovechkin's, both on and off the ice, for an event like the All-Star Game is a must have.
From the Fantasy Draft that will decide the teams, to the skills-competition and to the game itself, no player will draw the attention that Ovechkin is surely to receive.
Despite having a poor season by his elite standards, it his hard to imagine the weekend event without his fun-loving, highly-energetic antics.
Just imagine for a second. If he wasn't there then who would laugh at Phil Kessel as he suffered through the embarrassment of being the last pick in the draft, and certainly, there isn't anyone else who would put on a silly hat and sunglasses as he attempted a trick-shot in the Skills Competition.
So as you ponder the others who should be in his place (and you would be right in doing so) just remember that if there were no Alex Ovechkin at the NHL All-Star game, your entertainment value would be greatly decreased.
Who knows, Phil Kessel might just have the last laugh this year as he watches Ovie get taken last in the fantasy draft and if that were indeed to happen, we will laugh, regardless if we think he should be there or not.
Keep your cellphone ready Phil.