After spending three years in Finland with the TPS Turku organization, Russian goalie Alexander Georgiev was signed to an entry-level contract in July by the New York Rangers. In this exclusive interview, Georgiev talks about his move to North America, his prospects in New York and his early career.
The Hockey Writers reached the Russian goalkeeper in Turku where he is practicing for the upcoming season.
"I just started practicing on ice, earlier it was just off-ice training," Georgiev explained in his native Russian. "I am not sure about the exact date that I will fly to New York. Most likely in late August."
He was also open about his plans for the summer: "Before leaving for New York, I will practice with my personal trainer. Many Finn players from the NHL practice in Turku. But not only, also players from the Finnish Elite League. For example [Rasmus] Ristolainen, [Patrik] Laine, [Lauri] Korpikoski, [Mikko Rantanen]. More or less everyone who is willing to pay (laughs)."
First Steps in Hockey
Georgiev liked to talk about his childhood. "I was born in Bulgaria, but my parents left almost right away for Russia. When I was five, my parents decided to get me involved in sports, and they chose hockey." The goalie recalls very well his first reaction to the sport: "It was love at first sight!"
He started playing hockey for the local team Penguins, the same team that developed Tampa Bay prospect Alexander Volkov. He didn't play goalie at the start though. "At first, we just skated all together, no one had a true role. Then when we were six or seven years old the coaches asked each kid who wanted to play in goal, and I wanted to give it a try."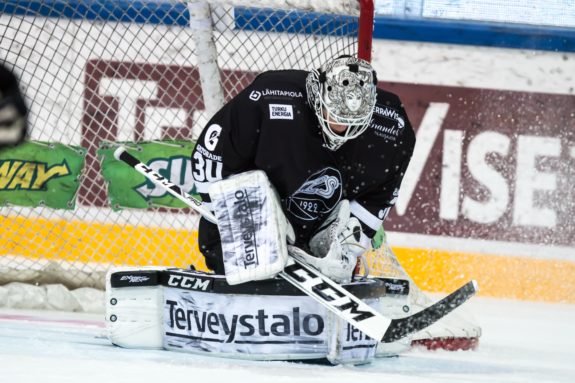 The goalie then moved to Voskresensk and started playing for the local Khimik junior team, once a strong team that hasn't managed to get back to its heydey (their alumni include Andrei Markov, Vladislav Namestnikov, and Slava Kozlov). After playing in kids leagues, Georgiev spent a full season in the MHL without being iced a single time. "It was very hard for me. The team had two older goalies, one older than me by four years, the other one by three and the coaches decided to bet on them." (Note: both already quit playing). At the end of the season, Georgiev left his native Russia to start a new chapter in his life and career.
Moving to Finland
"At the end of my season in MHL, I had a chance for a tryout in Finland. I was very happy about it and decided to try." The Bulgaria-native said that at those times he wasn't interested in seeking other opportunities in the domestic market.
In his new home, he found differences almost right away: "In the training process, there were some obvious differences. In particular, a different approach to the offseason. And also, there are different exercises in the off-ice practice. For example, I first met the 'power clean' practice in Finland. In Russia, we ran a lot more during the offseason. Each morning we would be ordered to run for eight kilometers. And that was just the warm-up."
There were many things to adapt to in hockey, but for his off-ice life he had some helping hands: "I had three persons in the main team who knew Russian, two Czechs and one Lithuanian. In the junior team, however, no one was talking in Russian. But I talk a good English, therefore, I had no problems."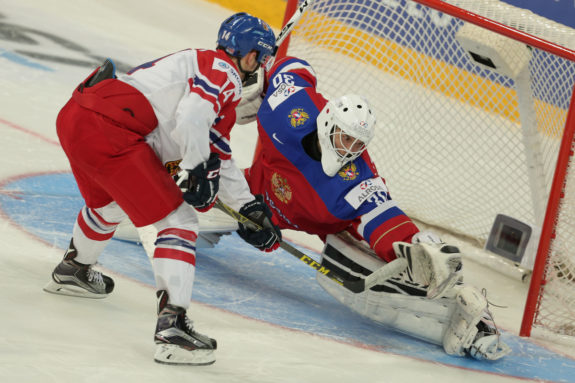 After playing three years in Finland, and representing Team Russia at the 2016 WJC in Finland, Georgiev was signed by the New York Rangers to an entry-level contract. But rather than an achievement, this is a new starting point for the netminder: "[Signing with the Rangers] I got a lot closer to fulfilling my dreams," he said.
During the July rookie camp, Georgiev had a chance to work directly with the team's goaltending coach Benoit Allaire. "I worked with him only a few days, but he managed to give me some good precious advice regarding my technique. I can't wait to start working with him again, I'm sure that he'll have a lot of interesting stuff to teach me."
Georgiev and the New York Rangers
Georgiev is truly thrilled about being part of the Rangers organization. "On the one hand, it's maybe better not to get drafted at all, as you can freely choose the team to play for. But on the other hand, if you get drafted the team is somewhat expecting you and will then try to prepare you to fit their team."
Playing in the AHL doesn't scare Georgiev: "I will start next year playing in the AHL. I'm ready to play in that league, play well and waiting for my chance in the NHL." The goalie also said he did not have any offer from KHL teams. "I haven't heard from [KHL teams]. And also right now I'm only thinking about the Rangers."
Earlier, the New York-based team signed the defenseman Alexei Bereglazov, and the lineup also features Russian forward Pavel Buchnevich and defenseman Sergei Zborovskiy. "I befriended Alexei Bereglazov during the development camp. And I also knew Sergei Zborovskiy, with whom I played at the WJC. He is also under contract with the Rangers. I haven't met Buchnevich yet."
At this point, Georgiev is probably just a couple of years from making the Rangers' lineup. As King Henrik is getting older, it's vital for them to explore new goaltending options.