The National Hockey League season is just over a month away, and fans are already thinking about their fantasy hockey squads. Today I take a look at which Nashville Predators could make an impact for your fantasy teams
I'll break them down into different categories. Must-Picks are the top 50 selections, the next tier, overvalued/undervalued and sleepers.
Must-Pick
Pekka Rinne (G)
Rankings: NHL.com 24; ESPN 20; Yahoo 23
Rinne recovered from an injury-riddled 2013-14 season to make a massive impact last season. He put up 41 wins, four shutouts, 2.18 goals against average and .923 save percentage. Those numbers were good enough to get him second place in the running for the Vezina Trophy.
Not only does Rinne put up good numbers, but he'll take a lot of the games in net barring injury. He's projected to play 55-60 games this season, and that reliability is something that's valued in two goalie leagues. Many sites project Rinne to go within the Top 20 of all players and be one of the first goalies taken.
Shea Weber (D)
Rankings: NHL.com 45; ESPN 34; Yahoo 51
Weber's points may have gone down since the emergence of his partner Roman Josi, but there's no denying his value. He's a monster on the power play with his hard shot and is involved more in the offense since Peter Laviolette took over behind the bench. Weber produced 15 goals and 30 assists last season, which was down from his 2013-14 campaign.
There's some concern about Weber's recovery from the kneecap injury he suffered in the playoffs against the Chicago Blackhawks, but he says he's ready to go. He might not put up the points at the rate he used to, but he's a guy that's in the top 50.
RELATED: Shea Weber on Schedule After Knee Surgery
The Next Tier
Roman Josi (D)
Rankings: NHL.com 83; ESPN 59; Yahoo 62
Josi broke out last season as he managed career-highs in goals (15), assists (40) power-play points (15) and shots on goal (201). He ended up as the ninth-most valued defenseman at the end of the 2013-14 season.
Josi should be your second  defenseman taken in many fantasy drafts after some of the big guns like Mark Giordano, P.K. Subban and others are take. Josi has been praised as the unsung hero on the Predators' power play, and could be be a steal.
Filip Forsberg (F)
Rankings: NHL.com 81; ESPN 54; Yahoo 64
Prince Filip was another reason the Preds came back to their first postseason in three seasons. He put up some Calder Trophy-worthy numbers with 26 goals (six in extra-man situations) and 63 points. He really solidified the top line for the Predators.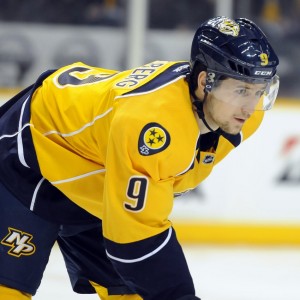 There's always a concern that Forsberg could face the dreaded "sophomore slump," but he's worth the risk.
Overvalued/Undervalued
Overvalued: Mike Ribeiro (C)
Rankings: NHL.com 137; ESPN 124; Yahoo 227)
Riberio is back for two more seasons after reviving his career in the Music City. His career was left for dead before GM David Poile rolled the dice on him last offseason. Poile's faith was rewarded as Ribeiro posted his first 60-plus point season since 2011-12 when he was with the Dallas Stars.
A lot of that production came in the early portion of the schedule, as Ribeiro slowed down with a -4 in the last 35 games. Ribeiro is also 35 and that worries some experts like NHL.com's Matt Cubeta.
Still a strong playmaker, Ribeiro's extremely low shooting totals hurt his overall fantasy value. He had 96 shots on goal in 82 games last season (1.17 SOG/game), his worst rate since 2002-03. He's also only center eligible in fantasy leagues and with so much depth at that position, it likely means Ribeiro would be relegated to a bench role on most rosters. Draft accordingly.
The same age concerns could also be a problem for second-line center Mike Fisher, who also signed for a two-year deal in the offseason.
However, the Yahoo draft ranking might be a little low for my liking. I think is at least in the Top 200.
Undervalued: Craig Smith
Rankings: (NHL.com 166; ESPN 157; Yahoo 135)
Smith could be a potential sleeper as he was leaned on by Laviolette later in the season. Smith finished with 23 goals and 21 assists, but really shined (along with linemate Colin Wilson) in the postseason with six points.
Smith has also done well in stints with Team USA in the World Championships with 10 goals in four tournaments. His skill in international play may get him a look for the upcoming World Cup of Hockey.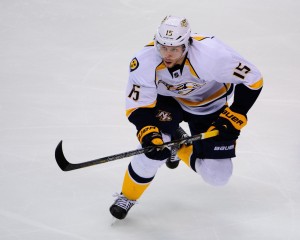 He's also got some value in dynasty and keeper leagues as he's only 25. He might be someone to take a look at in the middle rounds.
Don't forget Colin Wilson just missed the NHL.com Top 200 and provided a 20-goal season last year. He also set a club-record for most goals in playoff series with five.
RELATED: Colin Wilson Showing Out for New Contract
Bounce back Potential
James Neal (RW/LW)
Rankings: (NHL.com 112; ESPN 86; Yahoo 71)
Neal is one player that has gotten a wide range of opinions on. Neal wasn't much of a factor in his first season in Nashville due to injuries. He shuffled between the top two lines and hit a February swoon with 37 points, which is his career low for a a full season.
However, I think Neal has a shot at recovering the form he had with the Pittsburgh Penguins. He's been solid his entire career on the power play, and a bounce back season could make him an attractive pick to fill out your forward lines.
Deep Sleepers
Seth Jones; Ryan Ellis and Matias Ekholm (Ds)
This trio of talented defensemen may get lot in the shuffle due to the prowess of Weber and Josi. However, all three of them could be a nice little pickup for team's looking for defensive depth in later rounds.
Ellis and Ekholm might be the better options when it comes to points because Jones is more of a stay-at-home blueliner, but Jones is the only one of the trio ranked in the ESPN Top 250.
Other Notes
Depending on how training camp shakes out, players like Steve Moses, Kevin Fiala and Viktor Arvidsson might be worth a look. Moses did set a record for goals scored in a season in the Kontinental Hockey League, and Fiala has a load of scoring potential. Fiala and Arvidsson could be late steals in dynasty leagues.
What do you think? Did I get it right or wrong? Let me know in the comments below.
Dan Mount is a Nashville Predators staff writer for The Hockey Writers. You can follow him on Twitter, @DanMountSports. He can be contacted at drm7191980@yahoo.com.