Andrei Vasilevski THW Close-Up:
Date of Birth: July 25, 1994
Place of Birth: Tyumen, Russia
Height: 6'3″      Weight: 193 lbs.
Shoots: Left
Position: G
NHL Draft Eligibility: 2012
For complete analysis of the 2012 NHL Entry Draft, please refer to Chris Ralph's 2012 NHL Entry Draft Guide.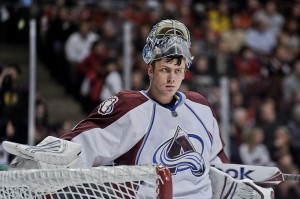 It is no secret that Russian goalies have experienced some success at the NHL level ever since Russian players were allowed to make the transition to North America. Players such as Nikolai Khabibulin, Evgeni Nabokov, and Ilya Bryzgalov have compiled some impressive numbers while playing in the NHL, but more recent Russian goalies such as Semyon Varlamov and Sergei Bobrovsky have shown that it wouldn't hurt a team to put their stock into a backstop from the motherland.
Andrei Vasilevski is no different from the crop of the aforementioned players as the goalie has compiled a very impressive body of work that should help his value on draft day. Vasilevski started for the Russian Junior Team when he was only 15 years old and delivered arguably his best string of performances during this year's WJHC. Even though Vasilevski was pulled during Team Russia's 6-5 win over Team Canada and did not start the gold-medal game against Team Sweden, he put together very strong performances against the Latvian, Czech, and Swiss national teams. Vasilevski's 2-1 win over the Czech national team highlighted his performance at the World Junior Championships and the Russian netminder registered an overall .953 Save Percentage and 2.01 Goals Against Average.
While Vasilevski probably didn't like the way his WJC run ended in 2012, the goalie was able to put his skill sets on full display and illustrate why he is ready to make the transition to North American hockey. Vasilevski is more than capable of playing the butterfly style, but the goalie prefers to stand upright and protect his nearest post until he is forced get low and protect the ice around his crease. The Russian goalie possesses great balance, flexibility, and mental composure, all elements that will allow him to be successful at an NHL level. Quick lateral movements and a very formidable glove hand allow Vasilevski to stay cool while manning his position as he can smoothly switch from the butterfly style to the upright position.
One of the knocks against Vasilevski has been his stick handling, but it's safe to say that nobody is expecting the netminder to match the stick-handling abilities of goalies such as Martin Brodeur. At 6'3″, Vasilevski is a big and lengthy body to shoot at and he has the types of skills that will make him a hot commodity when the 2012 NHL Entry Draft rolls around.
Vasilevski was selected in the first round (7th overall) in the 2011 KHL Junior Draft by Salavat Yulaev Ufa of the KHL, but the goalie has spent most of his time playing in the MHL with Tolpar Ufa. Fellow Russian netminder Andrei Makarov will likely be selected in the 2012 NHL Entry Draft, but Vasilevski will undoubtedly be the first goalie selected in the draft come June. Vasilevski is mentally sharp and has the athleticism that a goalie needs to succeed in the modern-day NHL. If he decides that the NHL is the best choice for his career, Vasilevski (much like Varlamov and Bobrovsky) will reward the team that decides to put their faith into him.
Scout's Honour:
"Vasilevskiy is a terrific athlete with very good biomechanics. His balance points and strong core allow him to seal the ice with a very wide, but very powerful butterfly. This is going to make him look extremely attractive to many NHL teams. The word will spread and he will be highly touted."
– The Goalie Guild's Justin Goldman
"There's always several players who drastically improve their stock at the World Juniors and Vasilevski is testament to that theory this year. While the big goaltender has been one of the top goaltenders in the MHL this season, he really put his name on the map with a tremendous goaltending performance at the World Juniors where he split time with Andrey Makarov. Vasilevski has great size and has a strong net presence. He has good angles and squares up well to shooters and does a good job of challenging them by coming out of the net. The Russian factor is always a concern for NHL teams but on talent alone, Vasilevski is certainly deserving of a Top 30 pick."
– The Scouting Report's Staff
"On the European side of the net, Andrei Vasilevski's breakout on the big stage of the World Junior Championship will be remembered for a long time and earned him the top ranking. The gap between him and Sweden's Oscar Dansk has to be almost airtight though and the European pair may be the first two netminders drafted in June."
– The Pipeline Show's Guy Flaming
"Has been on scouts' radars since he started for Russia in the 2010 U-18 championships at 15 years of age, but he really turned heads with his spectacular play at this year's WJC, posting a scintillating .953 save percentage as a 17-year-old."
– TSN.ca's Grant McCagg
Statistics:
Bio/Interview(s)/Link(s):
International Tournaments:
Vasilevski played for Team Russia in the 2010 IIHF U18 tournament in Belarus and also suited up for Team Russia in the 2011 IIHF U18 tourney in Germany.
Participated in the U17 European Youth Olympic Festival (2010-2011) and the World Junior A Challenge in 2012.
Vasilevski also played in the 2011 Ivan Hlinka Memorial Tournament and was one of the bright spots for a Russian Team that sorely lacked a defensive presence.
Vasilevski's sterling performance during the 2012 U20 WJHC will be remembered by scouts and hockey fans alike as the Russian goaltender recorded two shutouts in the tournament and posted the highest save percentage for any U20 goalie (.953%)

.
Russian Roulette Factor:
"The Russian Factor" is definitely a concern with Vasilevski as some believe that the Russian goalie might opt to play in Russia rather than North America. However, Vasilevski is a fierce competitor and will most likely want to get to the biggest professional hockey stage to have a shot at winning Lord Stanley's Cup.
ETA:
2-3 Years
Risk-Reward Analysis:
Risk = 1.5/5    Reward = 4.5/5
NHL Potential:
Number 1 Starting Goalie
Strengths:
*See "THW Close-Up" section above.
Great composure under pressure.
Great flexibility.
Strong positioning and rebound control.
High athleticism.
Very quick with the glove hand as well as pads.
Covers a lot of ice when employing the butterfly style.
Mentally acute and not easily flustered.
Flaws/Aspects He Needs To Work On:
Could use some improvement with stick handling.
Fantasy Hockey Potential:
Goaltending: 8.5-9/10
NHL Player(s) Comparison:
Moves very well and efficiently in the crease, much like Carey Price.
Standup/Upright tilt has been compared to Nikolai Khabibulin.
Video(s):
[youtube http://www.youtube.com/watch?v=WrGmOjLNc4s]
Off The Iron (Interesting Notes):
Shares a name with tennis player Andrei Vasilevski, but neither athlete is related.
THW's The Next Ones prospect profile template design architect: Chris Ralph