As we near the end of November this is going to be the question that many Sharks fans begin to ask themselves if things do not begin to turn around soon. While San Jose is clinging to the eight spot in the Western Conference they still have the advantage of playing more games than any other team in the NHL. Recent roster moves have only proven this decent into mediocrity. Acquiring Brenden Dillon, waiving Adam Burish and recalling Matt Tennyson may only be the beginning of a long and arduous season. San Jose has been limited to under three goals in seven of their past nine games. The Sharks past five opponents were also five of the worst teams in the NHL and they managed only one victory. Things can't get any worse can they?
According to Plan?
Up until the Jason Demers trade a few days ago, the Sharks have not made many player acquisitions to their roster. Raffi Torres, Scott Hannan, Tyler Kennedy, Mike Brown, John Scott and Tye McGinn are the only players who joined the team during or after the 2013 season. None of these were major transactions. San Jose has been building from the inside while quickly parting from veterans over the past two years. Ryane Clowe, Michal Handzus, TJ Galiardi, Douglas Murray, Scott Gomez, Tim Kennedy, Marty Havlat, Brad Stuart, Dan Boyle and a few others have all left during this same time frame. Clearly the Sharks had plans to replace the roles these players filled but one has to wonder if everything is going as planned.
In 2014, the Sharks were one of the better teams in the NHL, among the top ten in goals for and goals against not to mention numerous advanced stat categories. This season however, San Jose finds itself below average in most statistical categories and on pace for an 86 point season which was not good enough for 8th place last year. Of course it only takes a few good games to turn things around but one has to wonder how San Jose is going to do it after such a mediocre start. Especially when you consider the fact that very few players are on pace to improve over their previous season.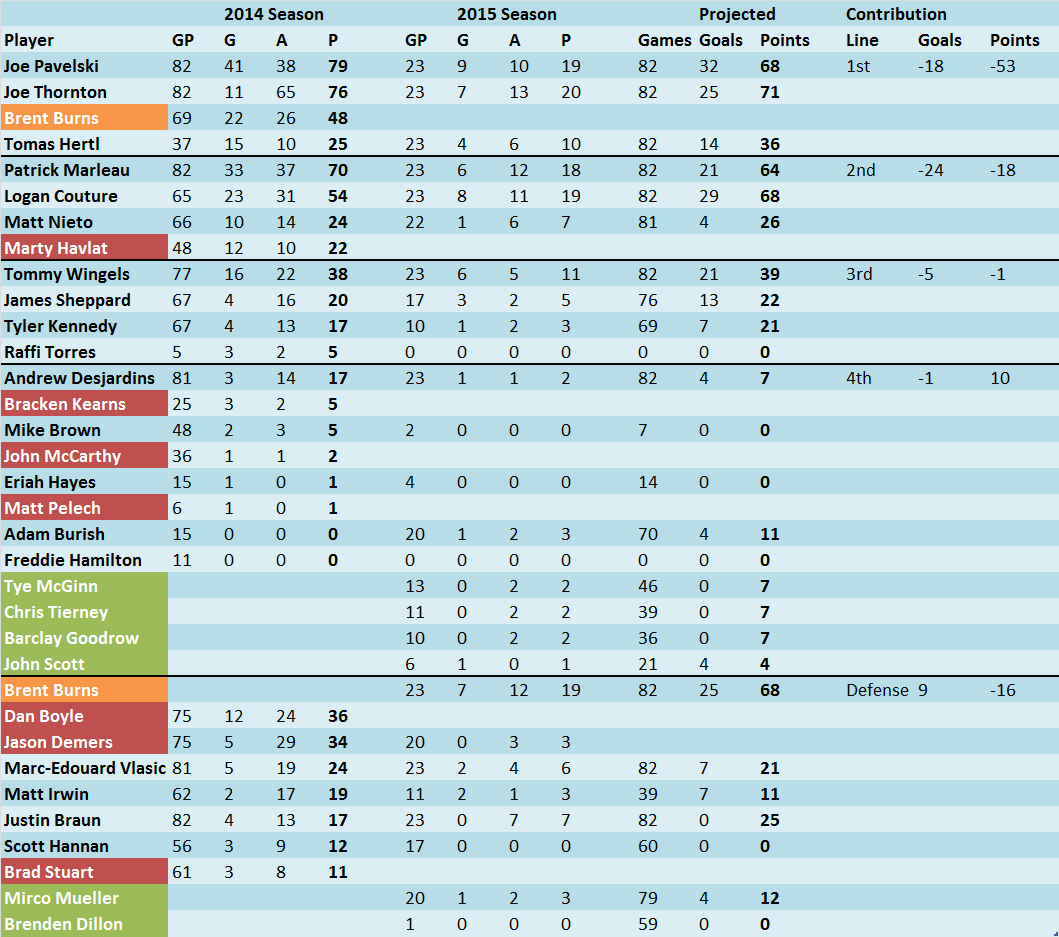 Holes Everywhere
There are some obvious discrepancies with projected numbers, such as Raffi Torres not playing any games but the overall premise is to address where the current team is heading. The path is rugged to say the least. The Sharks do not need to put up 2.92 goals per game to make the playoffs that much is certain. At the same time, San Jose cannot drop so far down the ladder that they give up as many goals as they score. While players such as Couture, Burns, Wingels, Braun and Kennedy are on pace to improve offensively it will only make up for players who take a step back. Coincidentally, players such as Mueller, McGinn and Goodrow are unlikely to fill the void left by those who no longer wear teal.
Including Jason Demers, players from the 2014 season no longer on the Sharks roster supplied 37 goals and 111 points. The new additions to the team this season are only on pace to contribute 8 goals and 37 points, hardly a substitute. Meanwhile, the roster players from the previous season are on pace to slightly increase their offensive output from the previous season by 11 goals and 6 assists. Of course this will only reign true if certain players like Brent Burns continue to play well with the puck. Offensively, San Jose's problems seem to be pinned solely on their new additions. Part of the problem is an inability to get depth scoring out of the bottom six but the Sharks lines are not contributing as successfully as last season.
Due to Burns departure from the forward position and the struggles of Matt Nieto and Tomas Hertl the top six will face major offensive struggles until something changes. If the Sharks decide to move Burns back to forward it may partially solve some of the offensive struggles up front but it would create a major hole on defense. A defense that despite Burns terrific offensive outburst is on pace to take a step back from last season. Imagine how much worse the blue-line will look without Burns on the power play. Most people agree that it is much easier to acquire a top six forward than a top four defensemen in the NHL today.
What Could Have Been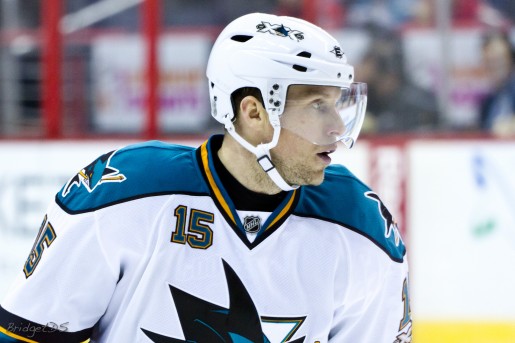 At this juncture in the season, the Sharks face numerous challenges as nothing is going right. Very few players look better or even on par to how they played in 2014 while the team as a whole looks like it is well on its way to missing the playoffs for the first time in over a decade. One has to wonder why or how the Sharks are inching their way closer and closer to a race for Connor McDavid. Perhaps it is because the trade for Brenden Dillon is the biggest acquisition since the summer of 2011 when San Jose made three trades with Minnesota. The Sharks traded away Dany Heatley, Devin Setoguchi, Charlie Coyle and a first round draft pick for Brent Burns, Marty Havlat, James Sheppard and a second round draft pick. Looking back these trades have effected both franchises in significant ways.
While Dany Heatley began to decline due to a few injuries, perhaps he would have continued to have high to moderate success in San Jose alongside Joe Thornton. The same and more can be said for Devin Setoguchi who was traded three days after signing a new contract. The Sharks would have found themselves in a tough situation financially due to Heatley's current contract but no player has been able to reproduce his scoring prowess. Although he was a liability defensively and less visible during the playoffs Heatley certainly was more useful in San Jose than Marty Havlat. Concurrently, Devin Setoguchi's numbers have been replaced by a combination of players but it never would have been necessary if he stayed in San Jose.
The Sharks traded away players, namely Christian Ehrhoff, to make room for Dany Heatley and in turn they traded away Heatley to make room for other players. A fitting end. While many Sharks fans, including myself, blamed the Sharks failures in 2010 and 2011 on Heatley perhaps that was not the heart of the matter. Even if it was true San Jose has done nothing to replace Dany Heatley and since his departure the Sharks have been unable to reach the Conference Finals. It may just be a coincidence but sometimes things do appear just as they seem.
In any case, what do you think about the Sharks current season?
Will they make the playoffs?
Was trading away Dany Heatley and Devin Setoguchi the right move?
Do the Sharks simply need to acquire another sniper like Heatley?