The Nashville Predators already boast a strong defense, so it came as some surprise when the club added veteran defenseman Barret Jackman in free agency.
However, there is something to the move as he brings a lot to the Predators.
RELATED: Barret Jackman Signs with the Nashville Predators
Depth
Nashville already has arguably the best blueline group in the league and Jackman adds to that. Their depth was tested when Shea Weber was lost to a sublexed knee cap in Game 3 of Nashville's first-round series against the Chicago Blackhawks. The Preds missed Weber's physical presence in the rest of the series.
Jackman would be an added option that could slide into a stay-at-home defenseman role if he's pressed into service. He may have declined in the last couple of seasons with the St. Louis Blues, but he still was a borderline top-four defenseman.
RELATED: Moving On From Barret Jackman
He won't be asked to do a lot of the heavy lifting like he did with the Blues the last few years as he's got Weber, Roman Josi, Seth Jones and others to shoulder the load.
Physical Play
I mentioned earlier that Jackman is a physical force on the blue line. Jackman was a rock in St. Louis for many seasons, and played a hard style.
The Predators have plenty of playmakers (Josi, Ellis, Ekholm), so adding a hard-nosed guy like Jackman makes sense to give some edge to the defensive group.
Jackman is also willing to drop the gloves and stick up for a teammate.
He's a big body at 6-feet 205 pounds, and could fit in with a partner like Jones or Ekholm. He likes to throw his weight around and can deliver the big hits when needed.
Our own Colin Fitts talked more about Jackman right after the signing when talking about the Predators' defense.
Physicality is one aspect the Predators' defense lacked, but another part of the game Nashville needed was a go-to penalty killer outside of Josi and Weber. The Predators have not had a pure penalty-killing defenseman since Hal Gill in 2012-13. With the addition of Jackman, he will be able to relieve Josi and Weber for much of their shorthanded duties.
Experience
Jackman has been in the league for 12 seasons and has been through the wars (he'd been associated with the club for 16 years). The Preds' defense has a good mix of experience and youth, but Jackman has played in 39 career postseason games.
Nashville made the playoffs for the first time in three seasons with a team that has some younger players. Jackman never made it past the second round with St. Louis, but that is a good number of playoff games to have under one's belt. The Predators have a good shot to go deep and could rely on Jackman.
Familiarity
One of the other aspects about Jackman coming to Nashville is that he moves over from Central Division rival St. Louis. He's familiar with a good number of players that were his teammates on the Blues.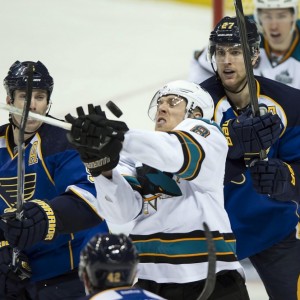 It could serve as motivation for Jackman to beat the club that he left and he could have some familiarity with the guys that played on the team with him.
The Verdict
This signing was a good depth signing that gives the Predators some more options on defense. It's less of a question mark than the Cody Hodgson signing was. Jackman won't be asked to be on the top pair as that's well established with Weber and Josi.
However, he'll make a solid contribution that could make the old adage about defense winning championships come true.
Dan Mount is a Nashville Predators staff writer for The Hockey Writers. You can follow him on Twitter, @DanMountSports.