The Stars will wrap-up their road trip (1-1) in Winnipeg tonight.  They remain 4 points behind Calgary for the last wild card spot.
Before we kick off the dog days of February I thought it might fun to take a look at the best players in franchise history by jersey number.  Since this will include "franchise" history Minnesota North Stars players from 1967-1993 will be part of the pool.  Jersey numbers worn by only 1 player such as Sergei Zubov's #56 and Chris Connor's #65 will be included/excluded depending on the player's production.
This will be the first of a 3 part series.  We will start with the Best #1-10 in Dallas Stars Franchise History, then #11-25, and finally #26-91.
I welcome any comments and/or endorsements for parts 2 and 3.
The Best In Franchise History To Wear #1-3
#1  Lorne "Gump" Worsley:  The elder statesman of the list.  A Calder Memorial Trophy winner (NYR) in 1952-53 and two-time Vezina Trophy winner (MON) in 1965-66 and 1967-68, Worsley closed out a Hall of Fame career winning 39 games for the Minnesota North Stars between 1969-70 thru 1973-74.
#2  Derian Hatcher:  Arguably the best defenseman in franchise history, Hatcher was also captain of the only Stanley Cup Champion team (98-99) in franchise history.  Hatcher, born in Sterling Heights, MI, was inducted into the US Hockey Hall of Fame in 2010.  Hatcher was a rare breed in that he could play an extremely physical brand of hockey while still chipping in offensively and being responsible in his own end.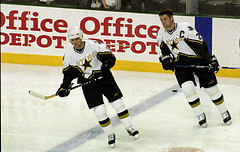 #3  Craig Ludwig,:  Luddy edges out former Stars defenseman Stephane Robidas for my #3 choice.  He was the consummate defensive defenseman.  He broke into the NHL with Montreal in 1982-83 and completed an impressive playing career with the Stars Stanley Cup Champion 1998-99 team.  Luddy also won a Cup with Montreal and is a co-host of the Stars pre-game show.  Luddy and Stars fans hope he is keeping the #3 seat warm for impressive Stars rookie John Klingberg.
The Best In Franchise History To Wear #4-7
#4  Craig Hartsburg:  Played on the same Canadian Junior team as Wayne Gretzky.  Hartsburgh was drafted #6 overall by the North Stars in 1979.  He represented the North Stars in 3 NHL All Star games and was team captain for 7 years.  Hartsburgh produced 413 points in 570 career NHL games.  He helped lead the North Stars to their first Stanley Cup finals appearance in 1980-81.
#5  Darryl Sydor:  Often underrated, the former LA Kings first round pick was a key member of the Stars top 4 defense pairings for 7 seasons.  He helped to shut down opposing forwards during the Stars 1998-99 Stanley Cup Champion run and went on to win another Cup with the Tampa Bay Lightning in 2004.  Sydor was a two-time NHL All Star.
#6  Trevor Daley:  A key member of the Stars current defense corps, Daley is 10th all time in franchise games played and has a career best 12 goals this season.  Daley represented Canada for the 2006 World Championships.  Daley is an assistant captain for the Stars.  Daley has been a + plus/minus player for 6 straight seasons on some weak Stars teams.
#7  Neal Broten:  A former member of the 1980 US Gold Medal hockey team, Broten had arguably the best NHL career of anyone from the "Miracle" Lake Placid club.  Broten played the majority of his career with the Minnesota North Stars scoring 923 points in 1099 NHL career games.  The two-time NHL All Star and US Hockey Hall of Famer had two stints with Dallas (93-95 and 96-97) and won the Stanley Cup with the New Jersey Devils in 1995.  His #7 was retired by the Stars in 1998.
The Best In Franchise History To Wear #8-10
#8  Bill Goldsworthy:  One of 4 players in franchise history to have his number retired, the North Stars retired his jersey in 1992.  Goldsworthy played 10 seasons with Minnesota.  He also played for the Boston Bruins, New York Rangers and Edmonton Oilers.  Goldsworthy is eighth in franchise history in points and fifth in career goals.  He played for Team Canada in the famed 1972 Summit Series appearing in 3 games scoring a goal and assist.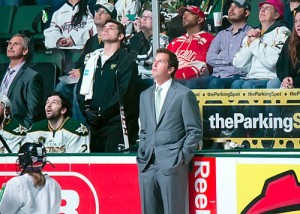 #9  Mike Modano:  Clearly the best player in franchise history and arguably the best American born player in NHL history.  Modano's number 9 was retired by the Stars in 2014.  The eight time All Star scored 561 goals and 813 assists in 1499 career NHL games.  He is the all time goal-scoring and points- leader among American-born NHL players.  He was drafted 1st overall by the North Stars in 1988.  Modano led the Stars to back-to-back Stanley Cup Finals appearances including the 1998-99 Cup Champion team.  Modano is a member of both the US Hockey Hall of Fame and the Hockey Hall of Fame.
Congrats to @9modano getting inducted in the #HHOF You were and are a true ambassador to hockey in Texas and someone who I aspire to be

— Chris Brown (@txbrownie) November 18, 2014
#10  Brenden Morrow:  Spent 13 seasons with the Stars including 6 and a half seasons as team captain.  A gritty two-way forward, Morrow has amassed 572 NHL career points over a span of 965 NHL games.  Since leaving the Stars in 2012, Morrow has had stints with Pittsburgh, St. Louis and Tampa Bay.  He was a member of the 2010 Team Canada Gold Medal Olympic Team.