This is the second post in a two-part series looking back on the Chicago Blackhawks' best draft picks of the 21st century. That column highlighted eight players that were drafted from 2001 to 2004. Before we lock in on this year's NHL draft, let's finish reminiscing about the organization's recent successes.
Niklas Hjalmarsson – 2005 Draft (4th Round, #108 Overall)
Hjalmarsson was chosen as part of Dale Tallon's first draft as the Chicago Blackhawks general manager. He is one of four players on this list taken by Tallon during the five drafts that he conducted.
After being selected by the Blackhawks, Hjalmarsson spent two years playing in Sweden before joining the professional hockey ranks in North America. During 2007-09, Hjalmarsson split time between the AHL's Rockford IceHogs and the Blackhawks. Hjalmarsson joined the Blackhawks full-time for the 2009-10 season and has been a core member of the club during all three of their Stanley Cup championships.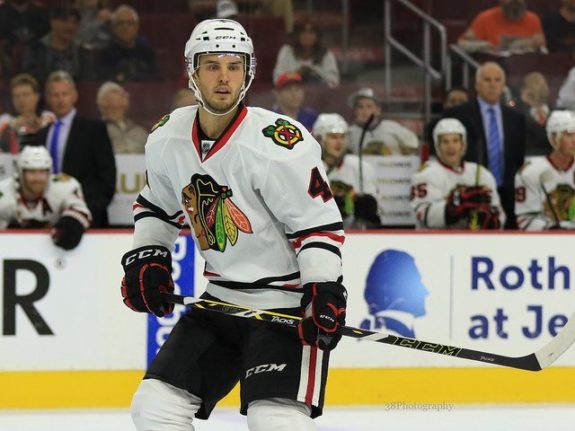 Hammer, Hjalmarsson's commonly-used nickname, is a gritty player. He has a knack for blocking shots, is solid in his own zone and periodically looks to make that stretch pass to generate an offensive opportunity. In fact, Hjalmarsson has blocked 1,155 shots since he became a full-time player in the NHL. That is tied for fifth most with his teammate Brent Seabrook over that time frame.
His scoring statistics don't jump off the page. He's recorded 23 goals and 120 assists during 623 regular season NHL games. He has 28 points in 128 playoff games. One stat that does catch the eye is that he's generated a positive plus-minus in every regular season except the minus-2 that he posted in 13 games during his 2007-08 inaugural campaign. Hjalmarsson is plus-109 over his regular season career and plus-22 in the postseason.
Jonathan Toews – 2006 Draft (1st Round, #3 Overall)
Toews is the first of two selections that changed the course of a franchise. Patrick Kane was the second of those two picks, who we'll discuss in a moment. Only Erik Johnson and Jordan Staal were taken ahead of Toews in the 2006 draft. As Tallon put it, he felt fortunate that Toews fell to the Blackhawks:
"We wanted Toews the whole time," Tallon said. "Of all the drafts I've been at, I had a sleepless night because I was worried he was going to go first or second. I don't know what we would have done if Toews hadn't been there. He was our guy. We were very lucky when he slipped to third." – Chicago Tribune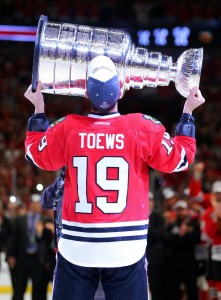 After the draft, Toews would go on to play his sophomore year with the University of North Dakota. Subsequent to helping UND make back-to-back Frozen Four appearances, it was all Blackhawks.
During his career to-date, Toews is a three-time Stanley Cup champion, Conn Smythe winner (2010), six-time gold medalist, Selke winner (2013) and six-time NHL all-star. He is one of only 27 members of the Triple Gold Club, which consists of players or coaches that have won an Olympic gold medal, world championship gold medal and the Stanley Cup.
Statistically, Toews has compiled 622 points (272 goals, 350 assists) over 717 regular season games. He's tallied 110 points in 128 playoff games. Those are good for 36th and 12th best among all active skaters. Perhaps most impressive is that Toews is second among all active skaters with a 56.8 regular season face-off win percentage. For those skaters taking more than 60 face-offs, he trails only Patrice Bergeron (57.1 percent).
Patrick Kane – 2007 Draft (1st Round, #1 Overall)
It was history in the making. For the only time in Chicago Blackhawks history, the franchise held the number one overall pick in the NHL draft. Re-live the moment for yourself:
Kane has developed into everything the Blackhawks could have hoped for when they made the selection. His resume includes three Stanley Cup championships, six NHL all-star appearances, the 2008 Calder Memorial trophy, a 2010 Olympic silver medal, the 2013 Conn Smythe trophy and an impressive 2015-16 season that resulted in Kane winning the Art Ross and Hart Memorial trophies as well as the Ted Lindsay award.
At the age of 28, Kane is already among the most elite scorers and best offensive skill players to ever don a Blackhawks sweater. He is sixth all-time in regular season franchise history with 752 points, trailing Doug Wilson (779), Steve Larmer (923), Denis Savard (1,096), Bobby Hull (1,153) and Stan Mikita (1,467). He is fourth all-time in Blackhawks postseason scoring with 123 points. Only Hull, Savard and Mikita have higher totals.
Among active players, he is sixth best in regular season points-per-game (1.02). He trails only Sidney Crosby, Evgeni Malkin, Connor McDavid, Alex Ovechkin and Jaromir Jagr. Any way you slice it, Kane is the prolific play maker that Tallon and company thought he would be when they drafted him from the London Knights a decade ago.
Marcus Kruger – 2009 Draft (5th Round, #149 Overall)
While Kruger will never stack up to the likes of Toews or Kane in terms of his skill set or significance to the overall course of the Blackhawks franchise, he has been a tremendous depth player for Chicago over the past six years.
As a two-time Stanley Cup champion (2013 and 2015), he has often slotted perfectly as a third- or fourth-line center. Kruger goes to the difficult areas of the ice and earns the hard minutes. He's been a valuable penalty killer for head coach Joel Quenneville over the years.
Kruger's effort and intangibles are more impressive than his statistics. Over 398 regular season and 87 postseason NHL games, he's tallied 105 and 16 points respectively.
Many suspect we have seen Kruger play his last game for the Blackhawks. He has been widely rumored to be on the move this offseason, either as part of the expansion draft or otherwise. While such a move makes sense due to salary cap constraints, the Blackhawks may initially have a difficult time replacing the depth at center and value he provides on the penalty kill.
Brandon Saad – 2011 Draft (2nd Round, #43 Overall)
A few weeks following the 2009 draft, Dale Tallon was demoted from general manager after he failed to properly issue qualifying offers to certain restricted free agents. The miscue cost the team millions in incremental contract expenses. Stan Bowman was promoted to replace Tallon.
At this juncture, only two of Bowman's draft picks qualify for this list. Both of those picks came during the 2011 draft, with the first being Brandon Saad.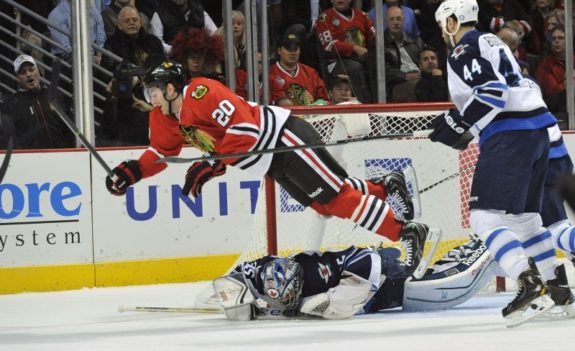 Saad spent the majority of his first season after the draft with the OHL's Saginaw Spirit. He did play in two regular season games and two postseason games for the Blackhawks at the tail end of the 2011-12 campaign. After spending the first part of the 2012-13 season with the IceHogs due to the lockout, he joined the NHL ranks for good when the shortened-season commenced that January.
In his three years with Chicago, the success that Saad's teams experienced would be hard to match. The Blackhawks won two Stanley Cups and came one goal short of making a third Stanley Cup Final. Saad established himself as a 20-goal and 50-point scorer, production that has carried over to his first two years with the Columbus Blue Jackets.
Parting with Brandon Saad at the age of 22 was difficult for many Blackhawks faithful. Outside of Toews and Kane, he is the best forward Chicago has drafted over the past 16 years.
Andrew Shaw – 2011 Draft (5th Round, #139 Overall)
As Shaw completed his first year with the Montreal Canadiens, the Blackhawks were hard-pressed to replace his style of play during the 2016-17 season. Shaw is an energy guy. He plays bigger than his measurables. He brings an edge to the rink that Chicago was lacking, particularly this past postseason.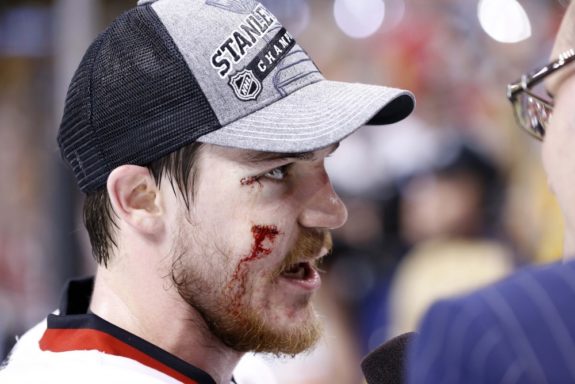 Shaw surprised a lot of people with the immediacy of his success, playing half the season with the Blackhawks during the year directly following his draft. That type of transition is rare in the modern-day NHL and is typically reserved for first-round picks.
In his five years with the Blackhawks, Shaw won two Stanley Cups, played in 322 regular season games and another 67 postseason contests. In those games he's tallied 135 and 37 points respectively. He recorded 29 points during his first season with Montreal and is entering the second of a six-year contract with the Canadiens.
Honorable Mentions
This list stops short of capturing a number of players drafted by the Blackhawks since 2001 that have experienced some level of success in the NHL. While they didn't make the list of Chicago's most impactful draft picks, there are three names that I would consider worthy of being honorable mentions.
Tuomo Ruutu was taken 9th overall by the Blackhawks in 2001. He recorded 346 points over 735 NHL regular season games. While he played his first four years with Chicago and the last three with the New Jersey Devils, the bulk of his statistical success came during his seven years with the Carolina Hurricanes. Persistent injuries derailed what could have been a more celebrated NHL career.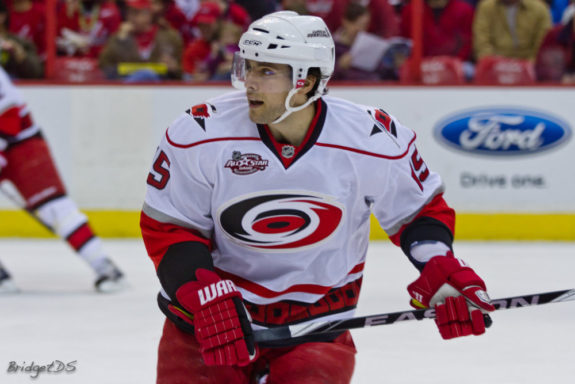 James Wisniewski was selected in the 5th round (#156 overall) of the 2002 draft. He played parts of four seasons with Chicago before being traded to the Anaheim Ducks in 2009. He ended up with a journeyman's career, playing 14 seasons for six different clubs. He recorded 274 points in 552 regular season games.
Kevin Hayes was taken 24th overall in the 2010 draft and feels a bit like the one that got away. After playing all four seasons with Boston College, the Blackhawks were unable to sign Hayes before their rights to him expired during 2014. As an unrestricted free agent, he signed an entry-level contract with the New York Rangers. During his first three seasons, he's produced 48 goals and 82 assists, as well as another 10 points in 34 playoff games.
The Next Generation
This list also excludes more recent draft picks that haven't played enough NHL games to allow for a determination as to whether the pick was successful. Notably, those players include Teuvo Teravainen (2012 – 1st round), Ryan Hartman (2013 – 1st round), John Hayden (2013 – 3rd round), Nick Schmaltz (2014 – 1st round), Graham Knott (2015 – 2nd round) and Alex DeBrincat (2016 – 2nd round).