When conversation emerges about Winnipeg Jets' captain, Blake Wheeler, one thing comes to mind: 100% effort.
"He's without a doubt the leader of this team," said Bryan Little. "With him, you know what to expect every day. He's going to bring his 100% effort and I think he's a great role model for our young guys."
Despite Little enjoying his eighth season as a teammate of Wheeler, one doesn't need more than a brief exchange with the Minnesota native to realize the determination and character he brings to the table.
"Looking at Wheels going 100% every shift makes us do it as well," said budding superstar, Nikolaj Ehlers.
Despite the 6-foot-5 forward on pace for career highs in both assists and points, he still isn't getting the recognition he deserves, which is nothing new for the 2004 fifth overall pick. One of the worst trades in recent history involved the 2014 U.S. Olympian as he was shipped along with Mark Stuart from the Boston Bruins to the Atlanta Thrashers in exchange for Rich Peverley and Boris Valabik.
While Peverley played a significant role in the Bruins winning their 2011 Stanley Cup, it is undeniable that they could have used the Plymouth product as a power forward for the next decade.
Five years after the trade, Wheeler was named the captain of the Jets on his 30th birthday.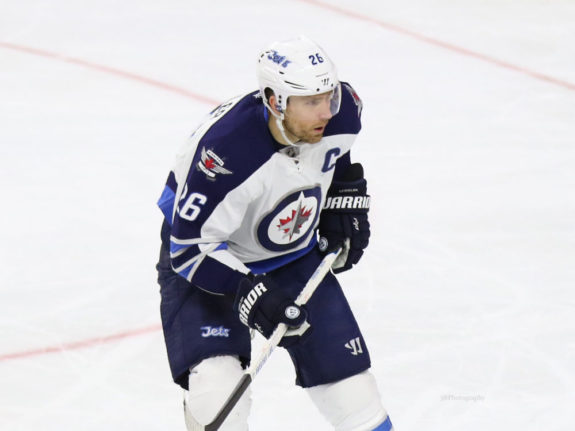 Over the past five seasons, Wheeler ranks ninth in total points league-wide with 336, more than Ryan Getzlaf, Anze Kopitar and Vladimir Tarasenko.
This season is the first time he has been named an All-Star in his career, but did manage to win the 2009 NHL YoungStars Most Valuable Player when he participated in the event which includes exclusively the league's best rookies. Participating in the 63rd All-Star Game is a distinguished honour, however, earning the NHL's most coveted award would be a monumental accomplishment and isn't out of reach for Wheeler.
Hart and Soul Player
While Wheeler's game is flying under the radar of some, others have begun to notice that the season after season results are no longer a fluke and his status should remain among the league's elite.
Frank Seravalli, TSN's senior hockey reporter and member of the Professional Hockey Writers Association, selected Wheeler as his mid-season Hart Memorial Trophy winner despite placing fifth in PHWA voting overall.
"Blake Wheeler has been driving the bus on everything the Winnipeg Jets have done this season," said Seravalli.
#NHLJets captain Blake Wheeler finished fifth in voting for the Hart Trophy in PHWA's mid-season awards. Wheeler appeared on 60 of 152 ballots and received three first-place votes. Nikita Kucherov placed first, Nathan McKinnon second and John Tavares third.

— Ted Wyman (@Ted_Wyman) January 26, 2018
He isn't the only knowledgeable hockey voice to have this opinion either. When asked what player he thinks will be the toughest opposition in the All-Star game's fastest skater competition, Connor McDavid singled out Wheeler.
The direction the game is heading, a premium is put on speed and a compliment from likely the fastest skater with the puck on his stick in NHL history is certainly high praise.
What it comes down to for the Hart Trophy is the definition it abides by being awarded to the "player judged most valuable to his team." Which is exactly why a duo of Tampa Bay Lightning forwards should not qualify.
This is to take nothing away from Nikita Kucherov or Steven Stamkos, who are unbelievable players in their own right, but a squad having two players in the top-five scoring leaders should not justify the award honour.
In other words, despite leading the league in scoring, how can Kucherov be the most valuable player on his team when the team also has another player only five points behind him? Not to mention the leading candidates for both the Norris and Vezina trophies in Victor Hedman and Andrei Vasilevskiy, respectfully.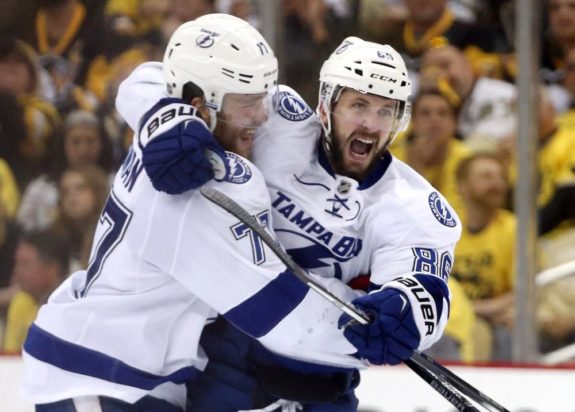 Wheeler is Captain Consistency
Wheeler exemplifies putting a team on his back as the Jets' first line centre, Mark Scheifele, who was having a Hart-worthy season of his own, went down with an injury in late December which will likely sideline him until early-March.
"That's my running mate, man," said Wheeler regarding Scheifele's injury. "That's part of my livelihood, a big part of what we do as a team. Irreplaceable."
Instead of doing what most teams do and recalling a centreman to replace the irreplaceable, head coach Paul Maurice decided to shift the Jets' leader to the middle, a position he hasn't played in over a decade.
In 12 games since Scheifele went down, the Jets are 8-2-2 with Wheeler attaining point-per-game status over that stretch.
If scoring isn't enough, the die-hard Minnesota Vikings' fan leads forwards in blocked shots and plays both special teams units.
General manager, Kevin Cheveldayoff wants to take it one day at a time, however, with Wheeler under contract for only this year and the next at a steal of a deal $5.6 million per season, their priority this summer should be crystal clear.
The Jets enter the All-Star break first in the Central Division, which is widely considered the toughest division in hockey, with Wheeler leading the charge scoring 18 points in 14 divisional contests.
Now with their next ten games at the MTS Centrem where Wheeler has contributed 33 points in only 21 home games, which is tied for the least amount of home games in the league, they will surely try to take advantage.