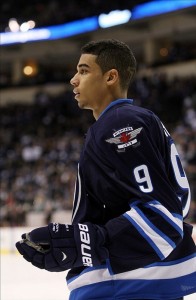 After several reports of problems between Evander Kane and his teammates, he was said to have been put on the trading block. While this occurred, the 'Kane-to-Buffalo' thoughts popped in every Buffalo Sabres fan's heads immediately.
Well, the Sabres got it done, but not without sending some important pieces back.
Now confirmed by both the Sabres and the Winnipeg Jets, Buffalo has acquired forward Evander Zane, defenseman Zach Bogosian and goalie prospect Jason Kasdorf in exchange for defenseman Tyler Myers, forward Drew Stafford, forward Joel Armia (AHL), forward Brendan Lemieux (WHL) and a 2015 first-round pick.
No, that's not the first-rounder the Sabres are hoping to get Connor McDavid or Jack Eichel with, it will be the lowest of the three first-rounders that Buffalo owns for 2015. The Sabres currenly have, along with their own, first-rounders from the New York Islanders and St. Louis Blues. According to Pierre LeBrun, the Jets were in talks with both Buffalo and the Vancouver Canucks on Tuesday night, but the Jets called Vancouver this morning to tell them they were currently pursuing a bigger deal.
What does it mean for the Sabres?
Well, the Sabres will be sending a slew of players off to Winnpeg, we already know that, but in a year that the first-overall pick is of prime importance for the future of the Sabres, maybe it isn't the worst thing.
But, in return, the Sabres will be getting a Kane who just underwent season-ending shoulder surgery. This works perfectly in their favor because adding Kane immediately might have haunted their hopes for the top pick. He had 22 points in 37 games this season (10 goals and 12 assists), but has exceed 40 points in each of the last three 82-game seasons.
In addition, Bogosian is no trade-stuffer. For a team that has lacked the ability to keep the puck out of their own net, the Sabres will be loving Bogosian's play for — at least a couple — years to come. At 24-years-old, he will look to be fitting in as Buffalo's third or fourth defenseman, definitely in the top-four. While losing Myers, Bogosian will be able to fill some of his holes with less 'shaky' play. Bogosian is playing his seventh NHL season and currently has 13 points (3+10) this season.
Word is Evander Kane is ok with trade to Buffalo. Chance for a fresh start. Looking forward to playing major role on rebuilding Sabres.

— Pierre LeBrun (@Real_ESPNLeBrun) February 11, 2015
What about the guys leaving?
Every big trade has some important pieces missing following the deal. The Sabres will be losing four players and a first-round pick, but in the end it looks to be worth it.
Off all the pieces leaving Buffalo, 2014 second-round pick Brendan Lemieux might be the most valuable. He has all the pieces in a great player, it's just his size that has kept him from getting any early shot in the NHL. But, if you take a look at the Sabres organization and the prospects coming in and out of it, they will be fine. Lemieux was a part of a system including players like Sam Reinhart, Mikhail Grigorenko, JT Compher and Jake McCabe. That's not including the guys like Rasmus Ristolainen and Nikita Zadorov already getting an opportunity in Buffalo.
The Sabres will also be losing prospect Joel Armia, who's gotten his fair share of chances of being called up to the NHL, but hasn't been able to produce at a consistent level in the AHL.
But, on the other hand, defenseman Tyler Myers and forward Drew Stafford are gone as well. Both players were originally drafted in the first round, and Stafford was the last remaining player from the Sabres' 2005-'06 and 2006-'07 Eastern Conference Finals teams.
He had seen two-straight 50-point seasons, including a career-high 31 goals in 2010-'11. But that was five years ago, since then, Stafford has struggled to not only produce but also stay in the lineup. Stafford has had a combined just 76 points in 166 games during the past three seasons.
For Myers, it's the same story. He's a guy that came out with fire in his rookie season, winning the Calder Trophy for the league's best rookie in 2009-'10. He recorded his highest point total of 48 points (11+37), but has yet been able to put together 40 points in the following five seasons. This season, in 47 games, Myers has just 13 points (4+9).
It's not like the Sabres gave up nothing, but they found the pieces that would make Winnipeg go through with the deal, while also feeling comfortable without those guys. This is another big deal by Sabres GM Tim Murray, which may become a strong suit during the upcoming trade deadline and offseason.
Evander Kane's goal scoring: Over past 3 seasons he's on par with Malkin, Staal, Hossa and Gaborik for EV Goals per 60

— Matthew Coller (@MatthewWGR) February 11, 2015