The city of Saint John, New Brunswick is situated on the Bay of Fundy, at the mouth of the Saint John River in Canada.  It is an industrial city with a rich history and a large Irish population.  Their  slogan is "Explore our past, discover your future."  Saint John is also home to the Sea Dogs of the Quebec Major Junior Hockey League (QMJHL) who currently lead the league with a 38-13-0-2 record.  The Sea Dogs are also the reigning champions of the Memorial Cup, the annual tournament that pits the champions of the three major Canadian junior hockey leagues, the Ontario Hockey League (OHL), Western Hockey League (WHL) and the QMJHL along with one host city.  The Sea Dogs roster features 10 NHL draft picks including four first rounders led by last year's number three overall pick, center Jonathan Huberdeau.  In goal for the Sea Dogs is the rather imposing 6′ 6″ 20 year-old Mathieu Corbeil, a fourth-round selection of the Columbus Blue Jackets in the 2010 NHL draft.  In a league better known for producing offensive stars than defensemen the goalies need to be able to withstand barrages, and so far Corbeil has been up to the task.  He sports a 29-9 record with a 2.42 GAA, .910 save %, and 5 shutouts.  On October 17 the Blue Jackets were forced to take advantage of the rarely used emergency recall rule to bring Corbeil to Columbus to backup Steve Mason.  The move was necessary due to a string of injuries to every other able-bodied goaltender under contract with the team.  Not one healthy goalie at the NHL, AHL, or even ECHL level in the organization.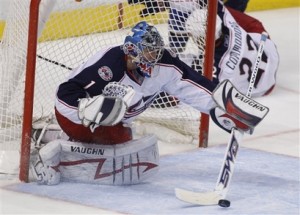 The problems in net for the Blue Jackets began long before the puck was dropped this season.  In 2008 the team was relying upon the oft-injured Pascal Leclaire and journeyman Fredrik Norrena between the pipes.  In early November Leclaire sprained an ankle and the team summoned a young, unproven Steve Mason to fill-in.  Mason ended up staying with the Jackets the rest of the year, ultimately winning the Calder trophy and leading the Blue Jackets to their first-ever playoff berth.  Despite his outstanding season, there were warning signs at the end of the year.  After a poor month of April to close the season Mason was simply awful in the playoff series against the Detroit Red Wings.  He posted an 0-4 record with a 4.27 GAA and .878 save % as the Jackets were swept out by the more experienced Wings by a combined 18-7 score.  It may be an understatement to say that Mason has been a disappointment since, however he has hit a new low this year.  Sporting a truly horrific 5-19-0-2 record with a 3.53 GAA and .881 save %.  The team struggles in front of him and appears to play tight as they simply have no confidence in him.  The team now has to figure out what they are going to do with Mason, who is signed for another season with a salary of  $3.2 million.  For three years now Scott Howson has allowed this team to go into the season with Mason as the presumptive starter, and for three straight years he has failed to produce wins.  It was understandable for Howson to allow Mason to continue as the starter after his poor sophomore season, most goalies have off years.  To allow Mason to continue on as the starter for another two seasons after that is poor judgement.
One of the few bright spots in this train wreck of a season has been the play of veteran goaltender Curtis Sanford.  Out of the league since 2009 and ostensibly signed to be the starter in Springfield and mentor young Allen York, Sanford has found himself thrust into the role of a starting goaltender in the NHL.  Sanford has provided reliably consistent NHL quality goaltending, something the Blue Jackets haven't had since Mason's rookie year.  The unfortunate aspect of Sanford's emergence is his age.  32 years old and 12 professional hockey seasons into his career Sanford has had issues staying healthy, missing games at both the AHL and NHL levels this season with various groin and back injuries.  An unrestricted free agent after this season, it is likely that Sanford is re-signed to backup whoever the Blue Jackets decide to start in net next season.  Along with his veteran presence Sanford is well-liked in the dressing room and by the fans; after particularly nice saves the Nationwide Arena DJ has taken to playing the theme song from the television show Sanford and Son.
Poor Allen York probably feels a bit like a yo-yo.  York has been recalled from Springfield to the NHL on three occasions and has also bounced back and forth between Springfield and Chicago (ECHL).  After a promising college career at RPI he has struggled at all three levels this season.  After this complete waste of a season in his development it is vital for the team to find a stable environment for York next season to allow him to develop.  Another wasted season is that of Mark Dekanich.  After spending the better part of three seasons playing in the AHL for the Nashville Predators, Dekanich appeared ready to play in the NHL.  Columbus general manager Scott Howson took a chance on Dekanich, signing him to a one-year contract with the assumption that he would challenge Steve Mason for the starting job.  Unfortunately Dekanich hasn't even suited-up for a regular season game.  After a preseason injury Dekanich was assigned to Springfield for conditioning, where he was injured again.  He has since undergone ankle surgery and is out for the rest of the season.  An unrestricted free agent after this season it is unclear what, if anything, the organization has planned for Dekanich.  The Jackets do have two other prospects in the pipeline as well.  Martin Ouellette who is playing at the University of Maine, and Anton Forsberg who is playing in Sweden.  Neither has shown themselves to be an elite player, though they are still young and developing.  To go three years without spending a low-to-middle draft pick on a potential goaltender is poor asset management by Howson.  Neither goaltender playing in Springfield right now (Manny Legace and Paul Dainton) are even signed by the Blue Jackets.
The current situation leaves the Blue Jackets with few options for the immediate future.  Next season they could choose from an underwhelming group of free agent goaltenders, explore trading for a proven goaltender in need of a starting opportunity (Schneider in Vancouver, Rask in Boston), or possibly even stand pat with Sanford.  While I don't see Sanford as a reliable starter, but he could be a solid backup or potentially split time with another goaltender in a 1a/1b type situation.  The situation with Steve Mason has seemingly reached its end, and a solution needs to be found.  Whether he is waived and buried in the minors or traded, he can't be in the organization's long-term plans.  With no high-end prospects in Springfield or Chicago the Jackets will need to see if Forsberg has high-end potential.  If he does bring him over from Sweden and put him in Springfield along with Mathieu Corbeil and a veteran (Dekanich?) to develop.  After the season York has endured I would put him in Chicago next season and keep him there.  Give the prospects some stability and a chance to prove themselves.  If injuries crop-up again a plan needs to be in place, not having any prospects or even team-signed veterans playing in Springfield is a poorly planned situation that needs to be fixed.  Many championship teams are built from the net out, right now the Jackets are being built with no care for the position at all.  For the team to turn things around, that viewpoint needs to change.