Wisniewski's Suspension
Following a 3-1 loss to the Washington Capitals the Columbus Blue Jackets are 3-2-1 heading into their final home preseason game on Thursday with the Minnesota Wild.  Tensions should be running high as the NHL today announced a surprising eight-game suspension for defenseman James Wisniewski as a result of a  hit to the head of Wild right wing Cal Clutterbuck.  New NHL discipline czar Brendan Shanahan released a video statement explaining the decision here.
While a suspension was certainly warranted, eight regular season games (total salary loss for Wisniewski: $536,585.36) for a play that resulted in no injury and a minor penalty seems a bit over-the-top.  The loss of salary constitutes the largest fine in NHL history in a league that has seen it's fair share of ugly incidents.  One thing Shanahan is doing that I applaud is the release of the video explanations.  Too frequently in the past the NHL has handed out suspensions and fines that were completely inconsistent from behind a shroud of secrecy rivaling the CIA.  There is certainly room to improve the disciplinary system and to help cut down on headshots, but eight games for a play like this is setting the bar rather high.  If Shanahan is seeking consistency how did a repeat-offender like Philadelphia Flyers forward Jody Shelley only receive a suspension of five regular season games for a much more dangerous hit last week?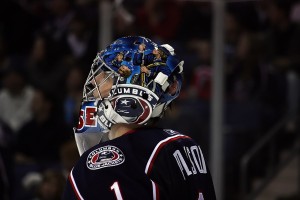 Mason's Stellar Play
Steve Mason played the entire game against Buffalo the 25th, turning aside 19 of 20 shots in helping the Blue Jackets to a 4-1 win.  Mason has looked more solid this preseason than he he did all of  last year, playing more upright and looking more confident.  Mason also looked good against the Capitals on the 21st, a game the Blue Jackets won 4-3 in overtime.  The Capitals scored two goals late to tie the game and force overtime, but one of the goals was mainly due to poor defensive coverage near the net.  This year the pressure will be on Mason to succeed, as General Manager Scott Howson went out and improved every aspect of the team outside goaltending.  With backup goaltender Mark Dekanich suffering a high-ankle sprain that will put him on the shelf for a few weeks, the pressure has already begun to mount.  If Mason is up to the task, this team could be headed for the playoffs for only the second time in franchise history.
Prospects Shine
Training camp and the preseason is an excellent time for NHL clubs to get a first-hand look at their prospects.  A few of the Blue Jackets prospects have outperformed expectations.  Maksim Mayorov, a 22 year-old Russian that has been in the Blue Jackets system for three years has come into camp on a mission.  He looks faster, stronger, and more determined than in previous years, and the results are impressive.  Mayorov has 2-2-4 so far in the preseason, and has been a very good two-way player.  I would be surprised if Mayorov didn't start the season with the Blue Jackets.  Also playing well on the wing is the diminutive and dynamic Cam Atkinson.  The Boston College product has exhibited excellent speed and vision, scored a goal, and is being trusted to play on the penalty kill.  Forwards Dane Byers and Ryan Johansen have also played very well.  It is obvious that defenseman David Savard has a bright future ahead of him.  In three games Savard has looked steady and dependable defensively, and has managed to score 1-2-3 and is a team-best +3.  Defensive prospects John Moore and Cody Goloubef have acquitted themselves nicely as well.