The Columbus Blue Jackets are down to their final 17 games of the 2022-23 regular season. Much of that time will be spent away from Nationwide Arena.
The Blue Jackets are coming off a 5-2 loss at home to the St. Louis Blues. Turnovers and mistakes doomed them. Once they fell behind 3-1, Thomas Greiss was able to hold the lead.
The Blue Jackets play their next five games on the road including their California trip. They play against the San Jose Sharks on Tuesday. That game could have potential draft lottery ramifications. This game has the 32nd place team playing the 31st place team.
However we begin Blue Jackets News & Rumors this week by discussing the signing of one of their top prospects.
Ceulemans Signed
On Tuesday, the Blue Jackets signed 2021 first-round pick Corson Ceulemans to his three year entry-level deal. The contract will begin in the 2023-24 season.
Meanwhile, Ceulemans will join the Cleveland Monsters on a tryout agreement for the rest of this season. He is expected to make his AHL debut Thursday night at Rocket Mortgage Fieldhouse against the Grand Rapids Griffins. You will recall this is the same path that Zach Werenski took before joining the Blue Jackets full time. He went on to win the Calder Cup with the Lake Erie Monsters.
---
Latest News & Highlights
---
Ceulemans spent the last two seasons at the University of Wisconsin. The Badgers had their season end at the hands of Michigan. Former Badgers' head coach Tony Granato was relieved of his duties after the season ended. All things considered, it was expected that Ceulemans would turn pro after the season.
The Blue Jackets are excited about what Ceulemans will bring to the table. Here's GM Jarmo Kekalainen on what he brings to the team.
"Corson Ceulemans is an outstanding young defenseman who excels at both ends of the ice and we are thrilled that he is beginning his professional career this spring. He combines size and strength with excellent mobility and a knack to produce offensively and we are excited about his future with our organization."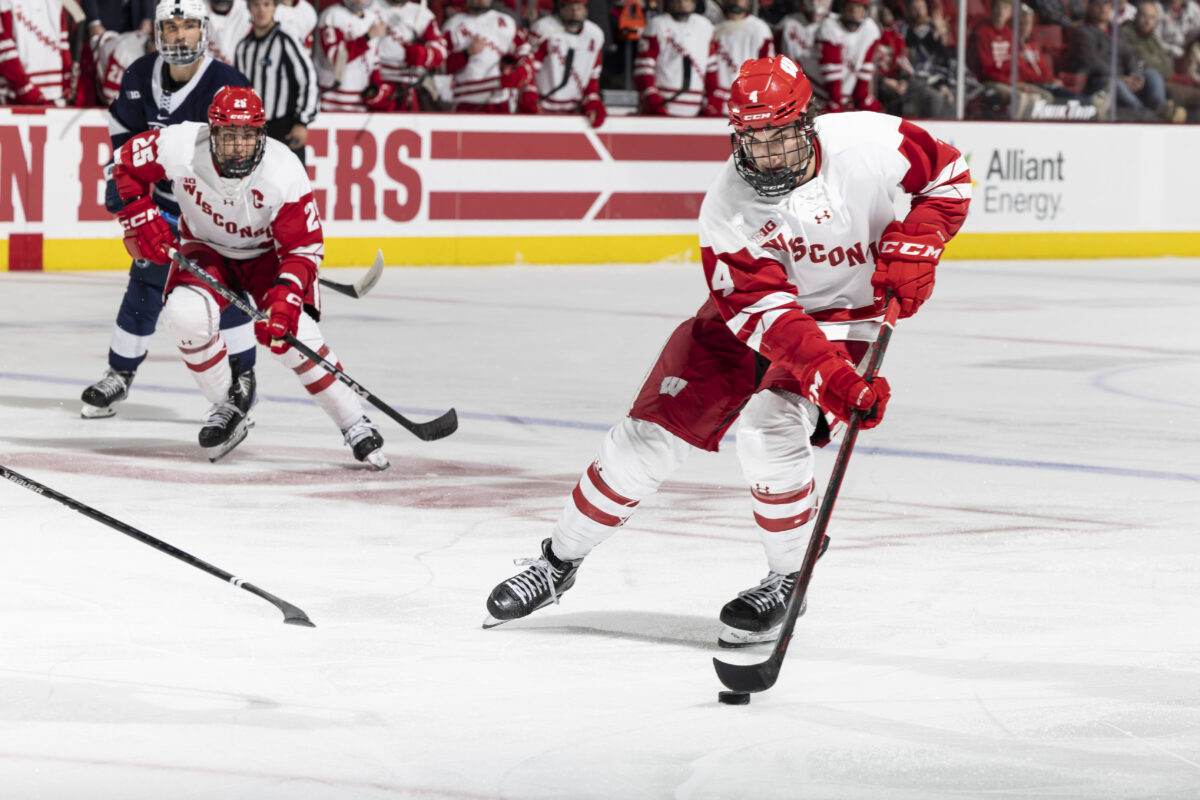 In watching a couple of Ceulemans' games, there were nights where he was the best player on the ice. Then there were nights that left you wanting more. That's pretty standard for anyone his age. The biggest question I have is how much did the culture around Wisconsin affect him? Many people wondered how much of a negative impact Granato had in his tenure.
When he's on his game, Ceulemans can impose himself. He has NHL size at 6-foot-2 and almost 200 pounds. He uses his mobility to his advantage and is a good puck mover. He's not quite the rover Werenski was in college, but he certainly doesn't shy away from creating offense.
You Might Also Like
There is no guarantee Ceulemans makes the Blue Jackets out of training camp next season. While the offense is intriguing, he will need to adjust to the pro game. This means making strides defensively. He will have to compete with guys like Andrew Peeke, Nick Blankenburg and Erik Gudbranson for playing time as all are righties.
For now, Ceulemans is in a good place to start his pro career. He jumps into a playoff race. The Monsters are just two points back of a playoff spot as we enter the new week.
Ceulemans was at Nationwide Arena on Saturday to watch the Blue Jackets/Blues game. Here is his interview with Dave Maetzold of Bally Sports Ohio. He discussed why he made the decision to turn pro now.
Merzlikins Back in Latvia
Later in the day on Friday, the Blue Jackets announced that goaltender Elvis Merzlikins would be temporarily away from the team. He has returned to Latvia to be with his family as his grandmother is seriously ill.
Daniil Tarasov was called up to the Blue Jackets to replace Merzlikins in the lineup. Michael Hutchinson got the start in net on Friday against the Blues. Expect this to be the duo while Merzlikins is out.
While it is not determined how long Merzlikins will be out, the team indicated the leave would be temporary. His last appearance came in the first period of last Tuesday's game against the Pittsburgh Penguins. He had to leave the game up 3-0 due to an illness of his own.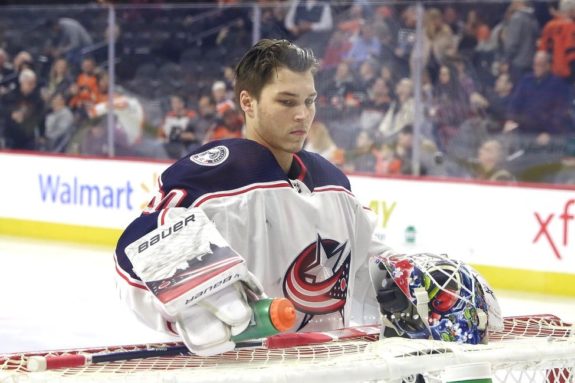 We wish nothing but the best to Merzlikins and his family in this difficult time. On Monday morning according to his Instagram, Merzlikins' grandmother has passed away. We express our sincerest condolences to his family on their loss.
Side Dishes
We could have our first mathematical elimination from the Stanley Cup Playoffs this week. The Blue Jackets enter Monday with 47 points. With 17 games left, they can max out at 81 points. As soon as they cannot overtake the Penguins and Islanders in the standings, the formal elimination becomes official. That could happen as soon as this week. Should the Blue Jackets lose all three California games in regulation, that would seal it. There are other ways too depending on other results. But it is that time of season.
Want to see a quirky schedule with a lot of travel? The Blue Jackets go San Jose, Los Angeles, Anaheim, Las Vegas, Washington before returning home for one game against the Islanders. Then they play in Montreal the night after followed by games against the New York Rangers and Boston Bruins. The game in Vegas is their fourth in six nights then have to go cross country to play the Capitals in their fifth game in eight days.
On a much more positive note, it was encouraging to see Zach Werenski and Justin Danforth each skating again. Werenski won't be back this season. However Danforth is making an effort to be available before the end. Players need to make an impression. Perhaps the effort Danforth is putting in will get attention within the Blue Jackets.
Guess who leads the Blue Jackets in goals? Patrik Laine does with 21. He's played 50 of the 65 games too. That's a 34-goal pace over 82 games. Can't deny the recent chemistry he's had with Jack Roslovic. But that power-play goal he scored Saturday night? That was a thing of beauty.
Trey Fix-Wolansky is fourth in the AHL with 62 points. He's had a remarkable season with the Monsters. He's on the short list of players who could see a call up by the Blue Jackets. But with the playoff race on, it will be interesting to see how that is handled. The same goes with Yegor Chinakhov.
Cole Sillinger has just two goals in 59 games this season. He hasn't scored since Nov 17 against the Montreal Canadiens. He's come close of late but hasn't been able to break through. Does he have a date with Cleveland upcoming?
The Blue Jackets will face Vladislav Gavrikov and Joonas Koprisalo on Thursday night in Los Angeles. You think they'll be motivated that night?
Finally, want to give a shoutout to the Blue Jackets' Marty Mulford, the VP of ticket sales and service. A fan from Florida took to social media and indicated that someone stole four pucks from them including a pair of game-used pucks. Thanks to the Blue Jackets' community helping to spread the word, Mulford responded to the fan by giving his phone number and email to see what he can do to make it right. In the end, that's what needs to happen in situations like these. It's important to make it right for a fan's sake. Good on Mulford. Good on the Blue Jackets. And good on the fans who helped spread the word.