Two of the newest faces on the Columbus Blue Jackets, acquired at the NHL trade deadline, are forwards Thomas Vanek and Mark Letestu. Both were brought in to bolster big needs as the Blue Jackets searched for point production (Vanek) and center depth with special-teams experience (Letestu).
As with any new acquisition, players have to adjust to new teammates, new cities, and new surroundings. For some, that is an easier process than it is for others.
Let's take a look at how Letestu and Vanek have adjusted to the Blue Jackets through their first few games.
Mark Letestu Fitting in Fast
His first game back seemed to be written in the stars. The player who never wanted to leave Columbus as a free agent was welcomed home with open arms by teammates and fans alike. He received a standing ovation from fans at Nationwide Arena, and his face said it all when he scored his first goal in his first game back with the team.
welcome back, mark letestu pic.twitter.com/rty6tjiAax

— Columbus Blue Jackets (@BlueJacketsNHL) February 27, 2018
Things have settled slightly since that game, but Letestu eats up nearly 11 minutes per night, including crucial special-teams minutes and key faceoffs.
Letestu said he has moved on from that game, too, because there are bigger goals to accomplish.
"It was nice that first night, but now I'm past it," Letestu said. "I'm trying to get myself within the group and find my place within the room, find my voice here and be part of it."
The "part of it" that Letestu refers to is the Blue Jackets' playoff push. Right in the thick of things, Letestu said his teammates are not nervous for the stretch ahead.
"There's no nervousness here—everyone's a pro," Letestu said. "These [past few] games, the buzz in the room is excitement. Being in the playoff race, with the trade deadline out of the way, now guys can focus. Every game is important. That's the time of year when you want to be part of things."
Letestu Brings a Fresh Perspective
On the California road trip, Letestu said he's also able to provide a "fresh set of eyes" to see what things the team can improve upon and how he can make a difference, despite his history with the team.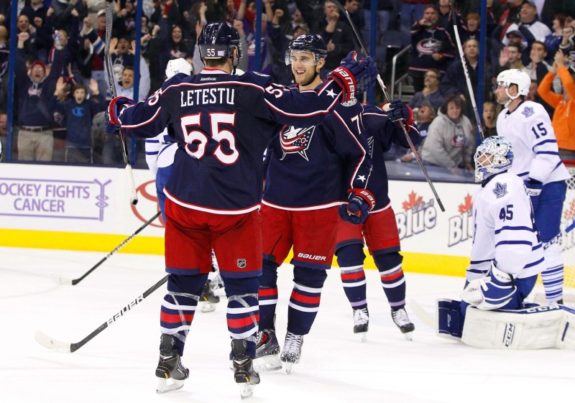 "Sometimes, a fresh set of eyes or a fresh approach can help things," Letestu said. "I don't pay much attention to what's happened in the past [in Columbus]. I think every game is new. New guys can certainly inject some new blood and kind of get away from the same old narrative that's gone on."
That old narrative? The Blue Jackets continuing to be an inconsistent team. That's something he hopes to help change with his on-ice performance.
And, although Letestu was sometimes a vocal leader in the locker room with the Blue Jackets his last time in Columbus, he said he is trying to navigate that space as best as he can since he is still "The New Guy" despite his past history with the team and his veteran status.
"For me, I have to be careful with that," Letestu said. "You don't want to be the new guy coming in telling everybody what to do. Certainly, my age and experience puts me in [a vocal leadership] position a little bit. At the same time, I'm trying to find my way into that room right now. Kind of pick my spots. There will come a time when I'll have to speak and hopefully take on that role."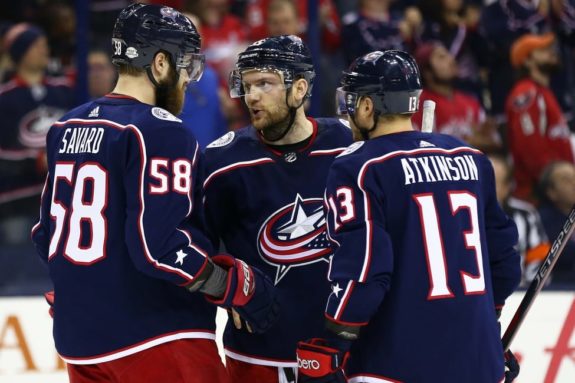 Even though Letestu is familiar with the players in the room, the Blue Jackets' systems are different from what he has experienced the past few years with the Edmonton Oilers.
"For me, it's a change in tempo," Letetsu said. "Here, the defensemen are really involved. The pace expected of us is a lot higher than where I was before. For me, that's the biggest difference I'm noticing. Obviously, a lot of the guys I am pretty familiar with, so the personnel stuff isn't much of a change for me."
However, that doesn't mean that Letestu doesn't have things to work on.
"There's some systematic stuff where maybe I'm making reads that I'm used to, just muscle memory stuff, that I have to consciously think about it and adjust on the fly," Letestu added. "I'm working at it. It's only been a few games. I'm trying to take in as much video and as much coaching as possible to try and change those little habits."
Thomas Vanek Struggling Early
The Blue Jackets brought in Vanek for his offensive firepower. Through 949 career games, Vanek has 738 points—and nearly half of those are goals. For a team that has struggled to score all season, he was a key Deadline Day acquisition.
However, in the first few games, things have not gone quite as expected.
"He fought it [in that first game], he really did," Blue Jackets head coach John Tortorella said. "He hadn't skated in a few days, and only had one practice with us. I think he's going to have to get used to the pace of how we're trying to play. [In his first game with us], it just looked like – and he is so good with the puck – it looked like he was just maybe a little nervous. I'm certainly not going to make an evaluation on the player after [a few games], especially with him just joining the team, and especially with sitting for a couple of days, practicing for 30 minutes and then playing a game."
That is important to keep in mind: Vanek is a 34-year-old who had several days off and was thrown into game action with his brand new teammates in an unfamiliar system, with an unfamiliar coach. The unfamiliar coach part created a stir on social media, when Tortorella's former players chimed in on Twitter:
😂😂😂 I'd want to hear the uncut version of it. https://t.co/m1UZZCexNs

— Marian Gaborik (@MGaborik12) February 26, 2018
Tortorella heard about that series of tweets and addressed those rumors firsthand.
"I'm sure [Vanek] has to get used to a number of things," Tortorella said. "People think that in five games here, I'm going to have him on the bench and yell at him, but I listened to some people who texted me after the deal, and one of them sticks out to me the most. He's a coach I have a tremendous amount of respect for, and he says [Vanek] is probably one of the best offensive players he's seen, from the blue line in."
Where Does Vanek Fit In?
Again, Vanek is a 34-year-old winger. He has not hit his career-high numbers since his first few highly-productive seasons. However, he does have a big role to play on this young Blue Jackets team that has struggled to score all season.
"We all know Vanek isn't going to be a Cam [Atkinson], a speedster, or anything like that," Tortorella said. "He's a savvy veteran that has great offensive skills. I want to give him an opportunity, but I have to balance that with the guys I have here now, too."
Tortorella said that while Vanek is a welcome addition, he has to figure out how and where to use his skills.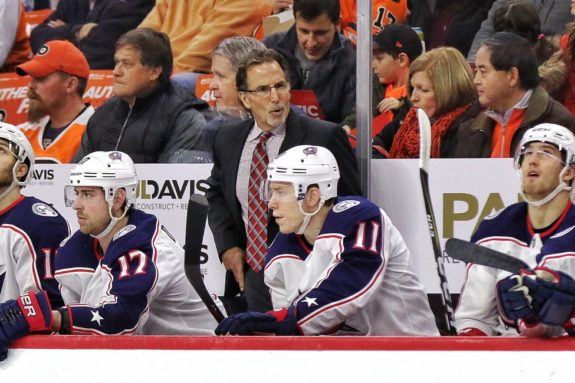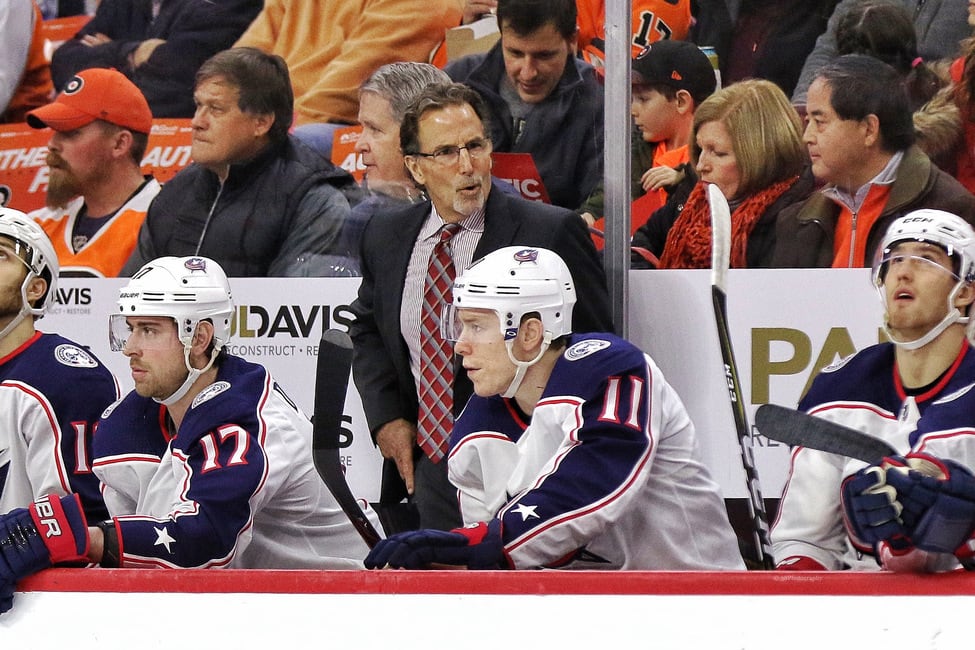 "I put [Vanek] on the first power-play unit [the first] night and I regretted doing that because the first power play had been going pretty well with one of our best players in the middle with [Pierre-Luc Dubois]," Tortorella said. "So now, Vanek will go to the second unit. I have to find my way through it here as far as what's best for him. He's a veteran guy, coming to a new team and doesn't skate for a few days… we're not going to make our judgments on [a few] games. I'm sure he's going to have to learn a little more about us as we go through it."
Longer Adjustment Period for No. 26
For Vanek, he said there will definitely be an adjustment period as he gets used to the style and speed of this young Blue Jackets team.
"Sometimes, [the adjustment period] goes quick, sometimes it takes a few games, like four, five, who knows," Vanek said. "When you're up front, and especially with the way I play the game, it's always nice to find a little chemistry [with your teammates] and [immediately] feel comfortable. I wanted to do something great right away and I think it's something that's tough. I have to settle down, take a breath, and be better."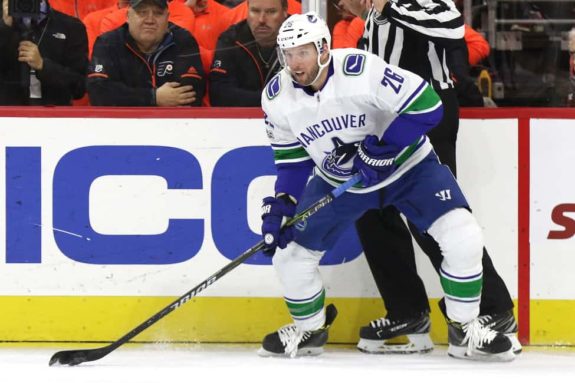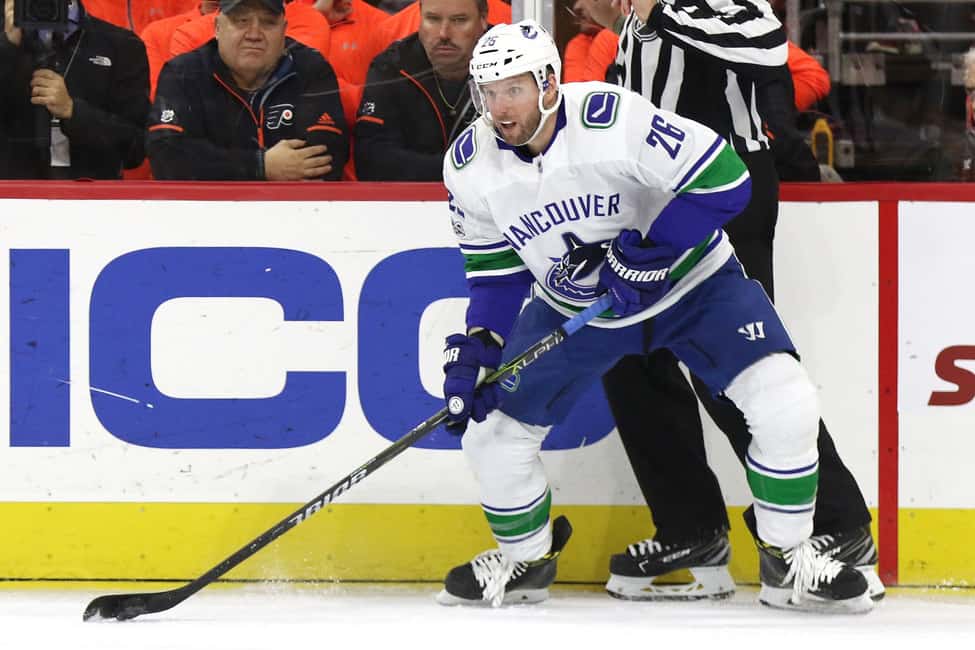 One thing Vanek has noticed early on is the talent level along the Blue Jackets' blue line—something he definitely was not used to.
"The defensemen here… there are so many good skaters on the back end here who are very skilled," Vanek said. "I knew about it, but seeing it is something different. How much they join, how much they impact the play. As a forward, that's great. We play an aggressive game here. Torts' system is for those guys (the defensemen) to get up the ice and join and make plays."
Vanek admits he knows he has made mistakes in these first few games. He said that comes along with new-team jitters, learning a new system and also being off the ice and out of sorts for several days. He is still trying to find his place.
"I think it was overthinking a lot of times," Vanek said of a few 'questionable' plays. "For me, right now, even when I'm not on the ice, I'm trying to learn their habits before I'm out there. I have caught myself overthinking a few times about what guys were going to do and where I should go. Once those things come more naturally, the games will be easier. Hopefully, the more I play and the more I get into it, things like that will come naturally and I'll know where to go."
The Blue Jackets hope Vanek will find that chemistry and his footing soon as they push toward the playoffs. They will need him and Letestu to be at their best in the thick of the playoff race.