The Boston Bruins biggest offseason task has been taken care of, though it didn't come without some concern. The team announced Thursday morning, just ahead of training camp, that forward David Pastrnak had agreed to terms on a six-year contract extension with the team worth $40 million, giving him an annual cap hit of $6.67 per season until he's 27 years old. This was easily the team's top priority heading into the offseason given how well Pastrnak performed last season at 20 years old in just his third NHL season.
To the credit of Bruins' general manager and Don Sweeney, the contract that Pastrnak eventually signed comes in as a definite win for the Bruins and their management team. Though Pastrnak's contract may be comparable to other players who signed contracts as restricted free agents in recent years, there's no denying that he could have very easily earned upwards of $7 million per season. Still, Sweeney stood his ground and made a deal work, even if the lengthy wait earned him criticisms throughout the process.
Comparable NHL Contract Extensions
When looking at the landscape of NHL contracts handed out over the last few seasons to players with comparable production to Pastrnak heading into their first contract following their entry-level deals, the Bruins got their young winger locked up to a very good deal. A group that features talents such as Jonathan Drouin, Filip Forsberg, Mark Scheifele, Sean Monahan, Johnny Gaudreau, Vladimir Tarasenko and most recently Leon Draisaitl, the talent levels are unquestioned. The contracts, however, vary from $6 million per season to a whopping $8.5 million per season.
Tarasenko Setting the Bar Heading Into the Offseason
Given Pastrnak's production at 20 years old, he could have easily warranted a contract similar to that of Tarasenko's – a contract that is worth $60 million over eight seasons with a cap hit of $7.5 million despite the fact that Pastrnak made his NHL debut at a much younger age than Tarasenko. The Blues forward didn't debut until he was 21 years old in the 2012-13 season when he scored eight goals and 19 points in 38 games. Following up that campaign with an excellent sophomore season, Tarasenko scored 21 goals and 43 points in 64 games and looked like a potential superstar in the making.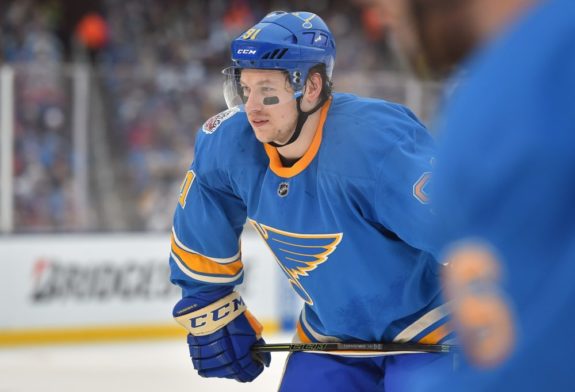 In his third season at 24 years old, Tarasenko exploded with 37 goals and 73 points in 77 games, earning him that huge pay raise in the process. Though the Russian winger was 24 at the time of his real breakout, his timeline still matched Pastrnak in terms of his third NHL season being far-and-away his best. Still, age likely had a lot to do with the ultimate number Tarasenko signed for as he earned significantly more than comparable players. For the Bruins, signing Pastrnak to a deal worth less than Tarasenko's shouldn't have been too difficult to swing – things are never easy in professional sports, however.
Draisaitl's Contract Throwing a Wrench in the Bruins' Plans
Unfortunately for the Sweeney and his team, Peter Chiarelli – the former general manager of the Bruins who originally drafted Pastrnak in 2014, signed his two best players to astronomical contracts this offseason. It was a domino effect of sorts as Connor McDavid's $12.5 million annual cap hit led to Draisaitl seeking a deal north of $8 million annually. In the end, he was paid $8.5 million per season over an eight-year term. That deal, however, gave Pastrnak and agent J.P. Barry an opportunity to negotiate for even more money than was originally expected.
Given the production of both Pastrnak and Draisaitl to this point in their young careers, it could be argued that they are similar talents worth similar dollar value. While Pastrnak is a superb talent on the wing, however, Draisaitl's value is inherently higher simply because he is a top-tier center talent who hasn't yet turned 22 years old. With that, Pastrnak's closest comparable for contract negotiations this offseason shouldn't have ever been Draisaitl. Instead, the contracts handed out to Drouin and Forsberg reflected a better starting point.
Better Comparables in Drouin and Forsberg
Scoring 21 goals and 53 points at 21 years old, Drouin broke out with the Tampa Bay Lightning last season before being traded to the Montreal Canadiens. Within hours of the trade, Drouin signed a six-year contract extension worth $33 million that comes with a cap hit of $5.5 million annually set to kick in this season. The third-overall draft pick from 2013 has immeasurable talent and immediately set the tone for the 2017 offseason with his extension. While Drouin's deal is a good starting point, Forsberg's might be the best player for purposes of comparing production and contracts.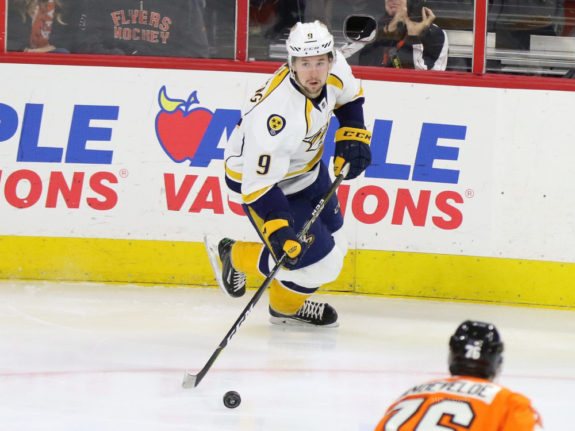 Though Forsberg only played in a combined 18 games at ages 18 and 19, his age-20 season saw a breakout year of 26 goals and 63 points in 82 games. In a contract year in 2015-16 at 21 years old, Forsberg scored 33 goals and 64 points and was the focal point of the Predators' offense. Durability and dynamic play have been the stories of Forsberg's play to date as he's skated in all 82 games in each of the last three seasons, scoring at least 26 goals and 58 points each year.
Showing that he can produce with consistency makes Forsberg all the more valuable – it's something the Bruins are hoping they can replicate with Pastrnak who has proven to be just as dynamic offensively as Forsberg. Signing his deal one offseason after Forsberg likely led to Pastrnak earning the additional $4 million over the length of the contract, an unavoidable fact that Sweeney dealt with admirably.
Pastrnak Impacts More Than Just Offense
While Pastrnak's breakout season featured offensive dominance throughout the season, Pastrnak is more than just an offensive threat when he's on the ice. An efficient two-way player, Pastrnak demonstrated the ability to be matched up against opposing team's top lines and proved more than capable of holding his own – something he hadn't shown as much in his first two seasons due to his size, despite being 6 foot 1. In terms of possession metrics, Pastrnak ranked among the best players in the league throughout the entire season. Playing alongside Patrice Bergeron and Brad Marchand – the two top Corsi players throughout the 2016-17 season, as well as David Krejci at various points in the season, Pastrnak finished as one of just four players with a Corsi-For percentage above 60 percent with Pastrnak, Marchand and Bergeron rounding out the top three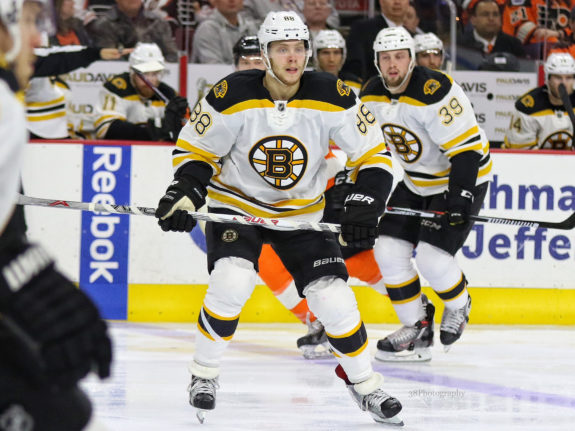 Few players on the Bruins looked as good all-around last year as Pastrnak did. Doing so at just 20 years old is a testament to his ability and the potential that he possesses as he continues his development with the team that drafted him in 2014. While the Bruins weren't able to lock Pastrnak up to an eight-year term – they weren't expected to lock him up with that term regardless, they still came away with a win as they locked up one of the NHL's best young talents for a very reasonable cap hit.
Sweeney Getting the Job Done
Though Sweeney couldn't lock up Dougie Hamilton to a long-term contract, trading away the young blueliner just one month into his tenure as the general manager of the Bruins, he made his mark with this signing. With Pastrnak being reported to have interest among KHL teams, as well as on the trade market and even with offer sheets, Sweeney kept his cool. He didn't panic and ultimately signed a potential cornerstone player for the Bruins for at least another six years. It's probably time to start trusting Sweeney and everything he's doing to build a contender in Boston.