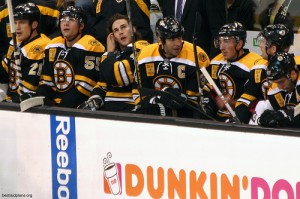 By Mike Miccoli and Wayne Whittaker, Boston Bruins correspondents
How can we describe the first half of the season for the defending Stanley Cup Champions? Eventful? Entertaining? Something else?
After a 3-7 start, the Boston Bruins got off to one of their most reckless winning streaks in recent history. It didn't take long for them to rise back to the top of the standings after that much-talked about hangover. On the home stretch, the Bruins are now looking to carry that same momentum to the finish the season strong and go into the postseason with confidence.
THW's Boston Bruins correspondents, Mike Miccoli and Wayne Whittaker have come up with what to look for as the Bruins begin to enter the second half of the season. While we really don't know what will happen, we can give you ten storylines that should be watched carefully.
First, here are Mike's storylines…
1. Benoit Pouliot continues his upward trend towards "Seventh Player" status
Think about the Boston Bruins' yearly award given to the player who exceeds expectations. Last year, it was Brad Marchand who surprised many by rising above his projected fourth-line status into a more crucial role playing alongside Patrice Bergeron and Mark Recchi. Two years ago, the Seventh Player Award was given to Tuukka Rask who took over as the starting goaltender job from Tim Thomas. This year? Well, that's hard to say. Was there really a surprise player on the Bruins roster who exceeded expectations? Someone who really shined when no one was expecting them to?
Not quite–but Benoit Pouliot is really close.
Pouliot went from being a healthy scratch on opening night to playing a pretty consistent role on the third line and contributing to the power-play. But way before his time in Boston, he was seen as a lazy paper. The former 4th overall draft pick in 2005 bounced from Minnesota to Montreal searching for a place in lineups. For now, it seems like he found it in Boston.
Sure, he's had some pretty rough games but he's also been a good cog that could be moved up (or down) the lineup based on depth changes. The biggest vote of confidence comes from his coach, Claude Julien, who bravely nabbed Pouliot to shoot fifth in the shootout back on November 23 against the Buffalo Sabres, one game after a third-period benching. The result? He won the game for his team. Pouliot has one assist in his last six games, but look for him to continue to make progress as the NHL starts its second half of the season.
2. Tuukka Rask takes over the starting job from Tim Thomas
Take away all of the extracurricular unrelated to the game of hockey and look at the facts: statistically speaking, Rask is having a better year than Thomas. That's not to say that Thomas isn't having a very good year (he is) but more so that Rask has grown into a reliable goaltender that has been lights-out in goal. Rask currently has a .936 save percentage and a 1.88 G.A.A., including an impressive winning streak from December 10 – January 16, a span of eight games, where he allowed only six goals.
Maybe it's part of the natural progression, but as long as Julien continues to ride the hot goaltender, there's a chance that Rask sees a lot much more playing time. As for Thomas, he just hasn't looked as sharp, especially after allowing three or more goals in his last eight starts. Rask is the younger option for the Bruins, though time may indicate that the ice is beginning to tilt in Rask's favor.
3. Multiple Bruins could score 30+ goals for the first time since 2002-03
Since 2002-03 season, the days of Glen Murray, Joe Thornton and Mike Knuble, there hasn't been a Bruins team with multiple 30+ goal scorers. This could finally change. With 33 games left to play and multiple candidates to reach that platform, this could be the year the Bruins finally achieve some individual goals.
As of Thursday, Tyler Seguin (19 goals), Milan Lucic (18), Brad Marchand (18), Nathan Horton (17) and Patrice Bergeron (15) could all be considered for contention. However, each player has had their ups and downs after coming back from All-Star breaks. If we look at last year's totals, only Horton (14) would be able to score more than 30, a feat he's only accomplished once in his eight year career. The totals of goals-scored by Lucic (10) and Bergeron (6) last season also indicates a drop in production after the break while, in their rookie seasons, Marchand scored eight goals and Seguin scored just four.
Hard to predict, but this is the closest some of the Bruins have been in quite awhile.
4. The Bruins hunt for their first President's Trophy since 1989-90
Julien describes the team's current streak as a bit of a slump, though when the Bruins are on their game, they're as good as any team in the NHL. The hunt for the President's Trophy, awarded to the team with the most points at the end of the regular season, will be a highly contested one since the top 10 teams in the NHL are separated by only seven points. The Bruins are right there, though with so many contenders, it might be a tough one to nab.
5. The best Bruins hockey is yet to come
…maybe.
Okay, I get that nothing will top that run from November 1st until the end of December, but you have to hope that the funk that the team is currently in gets snapped–and fast. Last season, we saw the Bruins come together and form a cohesive unit that was highlighted by an incredible six-game winning streak on the road that featured games against Vancouver, Calgary and Edmonton. The second-half of the season featured great wins over Dallas, Montreal and Philadelphia.
And then there was that whole postseason. Yeah…let's hope there's more to come.
Here are Wayne's five storylines…
6. Boston adds depth on offense and defense
It's funny how a couple of injuries and/or suspensions can drastically change the landscape of the Boston Bruins.
Last season the Bruins unrivaled depth helped them capture the Stanley Cup, and while the majority of the roster remains intact, there are some weak spots on the depth chart. The most glaring deficiency is on the blue-line, where the Bruins are forever one injury away from depending on Steven Kampfer.
The market being as unpredictable as it has been in recent years, it would be useless to guess who Peter Chiarelli may try and target. Having said that, it wouldn't be overly surprising for Chiarelli and Co. to make a move prior to the deadline on February 27.
7. Timmy keeps his starting job
I'm going to disagree with Mike here. I think Tim Thomas will be Boston's #1 goalie come April.
Through the 32 games he's played, Thomas has posted 21 wins, a 2.15 goals against average, and .938 save percentage. Tuukka Rask, who has been sensational all season, is certainly looking like Boston's goalie of the future. However, Thomas doesn't appear to be willing to give up his role just yet.
8. Joe Corvo: One and done
Let's see now, in Peter Chiarelli's never ending search for the elusive "puck-moving defenseman", they Bruins have gone through Tomas Kaberle, Dennis Wideman, Derek Morris, Matt Hunwick, and now, Joe Corvo.
Perhaps the answer is already in their system, specifically last year's first round pick Dougie Hamilton. Boston will have to wait to find out, but one thing is certain- Joe Corvo isn't the answer.
To be fair, Corvo's offensive numbers have been respectable: 2 goals, 17 assists through 49 games. It's his defensive lapses that are most concerning. It's unlikely that the Bruins will be able to move the defenseman at the deadline, so they may be forced to keep Corvo in the bottom defensive pairing throughout the rest of this season and the playoffs.
9. Chris Kelly wins Seventh Player award
Prior to this season, Chris Kelly's career high in goals was 15.  At just over halfway through the 2011-2012 campaign, Kelly has 14 goals (24 pts.).
Since coming to Boston from Ottawa just under a year ago, Kelly has helped the Bruins in more ways than one. His defensively responsible game fits perfectly within coach Claude Julien's system, but his leadership and recent sharpshooting outburst have been welcome additions to the black and gold.
None of this should come as a surprise, since Kelly was a consistent performer and unquestioned leader of the Senators throughout his career. However, as far as going above-and-beyond expectations is concerned, Kelly fits the bill.
10. Early-round exit or repeat?
This may sound like a bit of a cop-out, but Boston's season will end one of two ways: an early round exit, or another parade.
Can the Bruins find inspiration to continue playing Championship-caliber hockey? Will they have the endurance to withstand another two months of war in the post-season? If they're able to advance to the Conference Finals, I can't imagine any team being able to match the swagger and momentum Boston will carry. The real danger lies in the journey through the early rounds.
There will be seven Eastern Conference playoff teams that would be all too happy to dethrone the reigning champs. Boston won't be able to play the Underdog card, and won't draw sympathy from anyone outside of New England.
On the bright side, the Bruins will likely win the Northeast Division. They'll once again be in the Eastern Conference's top three teams, and they'll most likely have home-ice advantage. We'll have to wait and see if they can take advantage of it.
For more Bruins updates, news and commentary be sure to follow Mike and Wayne on Twitter.
Mike Miccoli covers the Boston Bruins for The Hockey Writers and has been a credentialed member of the media for all Bruins' home games for the past five years. As a former player, coach and official, Miccoli has been around the game of hockey since the age of three. Along with his work on THW, Miccoli has also been published in the New England Hockey Journal, Improper Bostonian magazine and on BostInno.