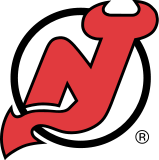 There is a lot of very justified talk about the Devils offensive potential this season. Zach Parise, the newly named captain, is back and healthy after missing most of last season with a knee injury. Ilya Kovalchuk is looking to continue last year's strong second half, and the new coach, Pete DeBoer, favors a more aggressive, attacking style.
But in the NHL, scorers and playmakers like Parise and Kovalchuk can be vulnerable. The great Edmonton Oilers teams of the 1980's, chock full of talented, skill players like Gretzky, Messier, Kurri, and Coffey, always carried feared enforcers, like Dave "Cementhead" Semenko and Marty McSorley, to keep the other team honest when one of the Oilers' stars were on the ice.
Last season, the Devils rarely carried a pure enforcer. Pierre Luc Letourneau-Leblond (really, could there be a less tough sounding name in hockey?) saw action in just two games for the Devils in 2010-2011, logging 21 penalty minutes. Leblond, a true tough guy (despite his name), spent the majority of the season with AHL Albany before being traded to the Calgary Flames last summer.
The lack of an intimidating enforcer last season (David Clarkson, although a pretty tough guy in his own right, isn't a true enforcer) hurt the Devils. Teams didn't have to tread lightly when putting checks on Kovalchuk or Patrik Elias, and Parise spent most of the season injured.
This season, the Devils will put what could be their toughest line ever on the ice. Left wing Eric Boulton was signed to a two year deal in the offseason. He will team up with center, Brad Mills, and Cam Janssen, a former Devil also signed in the offseason.
Boulton, 6'1" and 225 lbs., is a pure enforcer, logging 87 penalty minutes and only 10 points in 69 games for the Atlanta Thrashers last season. He has a well deserved reputation as a guy who will drop the gloves whenever necessary, and was part of the reason Ilya Kovalchuk was successful when they were both in Atlanta.
Janssen was drafted by the Devils in the 4th round in 2002 and played parts of two seasons in New Jersey before playing in St. Louis. He registered 131 penalty minutes and only 4 points in 54 games for the Blues last season. Ironically, Janssen, who is 6'0", 210 lbs., had one of the more memorable scraps in recent NHL history against Letourneau-Leblond – a 2:50 slugfest on  March 20, 2010 in Newark: http://www.hockeyfights.com/fights/93506
Rounding out the line is center Brad Mills. Mills saw action in only 4 games with the Devils last season, but his toughness and physical presence won over head coach Pete DeBoer this preseason, and he earned a spot on the roster.
The Boulton-Mills-Janssen line won't break any scoring records this season, but their presence on the team will ensure that Parise, Kovalchuk, and the Devils other scorers will get a fair chance to put the puck in the net this year.