Brendan Lemieux THW Close-Up:
Date of birth: 3/15/1996
Place of birth: Denver, Colorado
Ht: 6'1″     Wt: 209 lbs
Shoots: Left
Position: LW
NHL Draft Eligibility: 2014
Twitter: @blemieux22
THW The Next Ones Rankings (January 2014): 42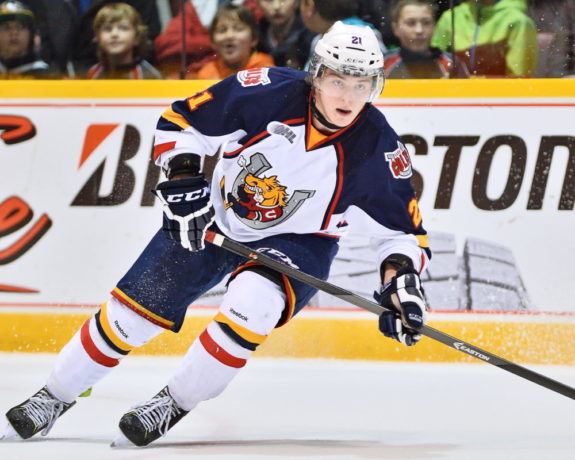 Other Rankings:
THW War Room Rankings (April): 38
Future Considerations: not ranked
Craig Button: 51
CS Final Rankings for North American skaters: 28
***
Brendan Lemieux gets in opponents faces and beats them physically and psychologically. He certainly had a decent mentor to learn from – his father, Claude. Brendan fights for his teammates each shift and is a hard-nosed player. But don't let the pest demeanor fool you, Lemieux is a polished offensive player as well.
Lemieux blows past defenders with his acceleration and speed. When he has the puck on his stick, if he's got a step on you, you're not going to catch up to him. He was tied for 3rd on his junior team in scoring and 1st in penalty minutes. Brendan has a great snap shot which is quick and accurate.
He makes his home in the corners and in front of the net where he scored a good majority of his 27 goals this season. A fearless competitor, there will be many teams wanting Lemieux's services because of how valuable he'll be during NHL games.
Where Will He End Up In June:
Lemieux is probably going to be a 2nd round pick.
Scout's Honor:
"'Feisty' is a word that shows up a lot when talking about Lemieux, as are 'agitator' and 'pest.' He's the type of player that you love to have on your team and want to absolutely destroy if you have to play against him. At the same time, Lemieux has a strong offensive upside with a good shot and a quick release. Lemieux also plays a very good cycle game and also makes smart passes to his teammates.

In addition to his strong offensive talent, Lemieux plays very well in the dirty areas of the ice. Find a battle for the puck along the boards and Lemieux will be in the middle of it; need a guy to go muck it up in front of the net, you have a ready volunteer; want a guy who can finish in those spots as well? Lemieux is there for you. The place where Lemieux's game is weakest is in his own zone. His defensive game definitely needs to improve before he jumps to the NHL level as he can be caught puck watching often."
"Brendan Lemieux is definitely Claude's son. He's a chip off the ol' block and plays the game the same way his father does. His compete and intensity levels are off the charts. If he loses the puck, he's going to go through a wall to get it back. He's certainly not the fastest player on the ice, but he's a very effective forechecker because of his anticipation and because of his strength along the boards. Again, despite a lack of elite speed, he beats defenders to loose pucks on the dump and he beats them to the front of the net for rebounds because he wants it more than they do. Obviously, at the next level, sheer will won't win him races to the puck, so that's something he's going to need to work on. Improving his first few steps and top gear would also help him offensively too and allow him to generate more chances on net drives. His biggest asset offensively is his ability to play the crease. He's got terrific hands and is a master of the redirect. He feeds off the battle in front of the net and when combined with his 6'1, 200lbs frame, that makes him a very tough tie up for defenseman trying to clear the crease. His shot and the quickness of his release definitely improved this year, but will need further improvements in order to carry over his goal scoring prowess. Even though he was consistent all year, he also got better as the season went on and finished on a high note, scoring 12 in his final 16 (including the playoffs). I think he probably sneaks into the late first and just can't see him falling despite some skating concerns."
Brock Otten – OHL Prospects
Statistics:
International Tournaments:
Lemieux played for Team Canada in the Ivan Hlinka Tournament where he won a gold medal.
Bio/Interview(s)/Links:
Interview with HockeyProspect.com
Interview with the National Post
Profile on Last Word On Sports
ETA:
2-3 years
Risk/Reward Analysis:
Risk: 1/5   Reward: 3.5/5
NHL Potential:
2nd/3rd line agitator with nice offensive potential
Strengths:
Speed
Snapshot
Playmaking
Aggressiveness
Plays in the dirty areas
Chirping
Flaws/Aspects He Needs To Work On:
Defensive play
Fantasy Hockey Potential:
Offensive: 7/10    Defensive: 2/10
NHL Player Comparison:
– NHL comparison: Chris Kunitz
Videos:
***
THW's The Next Ones prospect profile template design architect: Chris Ralph