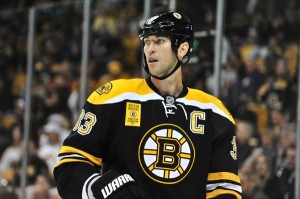 The Boston Bruins reached the pinnacle of hockey last season, winning the Stanley cup in a thrilling seven-game series against the Vancouver Canucks, so naturally they were expected to suffer a bit of a slump to start the year.
Though they hardly lost anyone from their lineup like Chicago did the year before, 43-year-old Mark Recchi was the only major piece to leave the team, they fell farther then many expected to start the season. Boston was at the bottom of the conference as recently as Halloween.
Now they have won four in a row including Thursday night's win against the surprising Edmonton Oilers. The Oilers went into the game three more wins and eight more points in one more game, but the Bruins showed they are a much better team than the standings show with a convincing 6-3 win.
The Bruins remain one of the top defensive teams in the NHL, but they still struggle to score goals. Now that Marc Savard's career is likely over, they no longer have that point-per-game player so they have to score by committee. Tyler Seguin has been producing all season and now the rest of the team is coming to life as well. Last season's leading scorer Milan Lucic now has a five-game goal streak and is on a goal-per-game pace in his past eight. Nathan Horton and Brad Marchand have combined for four goals and eight points in the past two; this after posting four goals and nine points in the first 10 games.
Tim Thomas, Tuukka Rask and the defense have been solid all year, so it was only a matter of time before things began to click. And there was no need for worry because the Bruins have been built better than any other recent champion for consistent, long-term success. The Bruins didn't need to lose anyone important and they remain very deep throughout the lineup. They may not dominate a playoff series, but they are a difficult group to knock out as evidenced by their playing in, and winning, three Game 7s last season.
Their three previous playoff appearances all ended in Game 7, so now that they have the confidence to get past that hurdle, they are going to be a force. Thirteen players are signed through next season and while some players, especially Tyler Seguin and Tuukka Rask, are going to get a big bump in pay, GM Peter Chiarelli is one of the top managers in the league and will keep damage minimal.
This is a blue collar team who can really only defeat themselves. Chicago Blackhawks defenseman Duncan Keith admitted after they were eliminated that it was hard to stay motivated the season after he won the Stanley Cup and gold medal. With Claude Julien guiding the ship and Zdeno Chara leading by example every night, that won't be an issue in Beantown for quite a while.
A native of Monroe Township, NJ, Tim received his Bachelor's Degree in Contemporary Journalism from Endicott College in Beverly, MA. A Flyers fan growing up, he has gone to numerous events including each installment of the Winter Classic, the Stanley Cup final and the 2010 Olympics.
In addition to The Hockey Writers, Tim also writes for The Good Point and interned with The Hockey News from Jan. to May 2011, contributing to their book Hockey's Most Amazing Records. Outside of hockey, Tim enjoys reading and watching movies and extreme sports such as snowboarding and skydiving.