Bryan Bickell, playoff hero. Bryan Bickell, dead weight. Those are the two sides of the ambiguous 28-year-old from Canada. After outplaying his three-year contract worth $1.625 million during Chicago's 2012-13 Stanley Cup-winning season, Bickell earned himself a hefty new four-year contract to the tune of $16 million. Now, 'Hawks general manager Stan Bowman, although I'm a bit partial, is the best in the business. However, in my mind, the Bickell contract belongs right alongside Dave Bolland's new deal with the Florida Panthers amongst the worst NHL contracts in recent years, and here's why: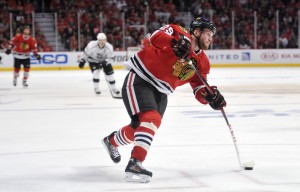 Small sample size
Bickell turned a lot of heads around the league when he posted 17 points in 23 games during the 2013 playoffs. However, if Bowman dished out $4 million on the basis of one year's playoff performance, that would be absurd. Prior to restructuring his contract, Bickell had played in 220 career regular season games with the Blackhawks and accumulated 40 goals and 90 points. Not quite $4 million worth. His playoff history, excluding his 2013 performance, was not much more spectacular. Four goals and seven points over 15 games for a guy enjoying his first few years in the NHL isn't terrible, but is it $4 million worth? I don't think so. His 2013 playoff performance was one for the ages, but much too small a sample size to give him that much money.
Cap troubles
With excellence comes offseason frustration, and no GM or team knows that better than Bowman and the Blackhawks. After capturing the franchise's first Stanley Cup since 1961 in 2010, Bowman dealt away Dustin Byfuglien, Kris Versteeg, Andrew Ladd, Colin Fraser, and Ben Eager. Those five combined for 54 goals, or nearly twenty-five percent of the goals that season. Goaltender Antti Niemi also left Chicago for San Jose. This offseason is more of the same, especially after Chicago made Jonathan Toews and Patrick Kane the richest men in hockey history with twin eight-year, $84 million extensions.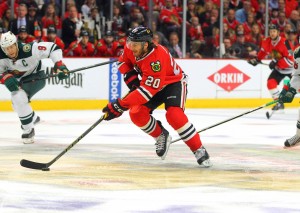 Currently, the 'Hawks are in the red at $2,216,795 over the cap. They were able to fill a hole at second-line center fairly cheap when Brad Richards agreed to a one-year deal at $2 million, but obviously, still need to shed cap. That is where Bickell comes into play. His $4 million cap hit would (1) put the Blackhawks back in the green and (2) give Chicago some space to resign guys like Brandon Saad or Marcus Kruger, who are in the final year of each of their respective contracts. This might be a bit difficult to accomplish considering Bickell has a modified no-trade clause attached to his contract, but it is manageable. There are teams around the league that would be willing to take on all, or at least part of the three years that remain on Bickell's contract.
Bickell is replaceable
What Bryan Bickell brings to the table is a fair amount of skill combined with his main attribute, physicality. He has found a nice balance between producer and enforcer, something that is not easily attainable in hockey. So, Chicago can go one of two ways. The first option would be to replace the skill factor with a guy like Teuvo Teravainen. The 19-year-old prospect from Finland has shown tremendous playmaking ability, already has a couple NHL games under his belt, and comes at a bargain price just south of $850,000. It has been established that Teravainen is a major piece in the 'Hawks future plans and to add to his value, he has played professionally at both center and wing. Therefore, he could fill the void at left wing, should Bickell depart, or center after Richards, 34, leaves or retires. Teravainen is more than capable of putting up 15 points over an 82-game season, which would equal Bickell's total from last year in the regular season.
The other option would be to replace Bickell's physicality. Brandon Bollig (92 PIM) is no longer a thought after he was dealt to Calgary for the 83rd overall selection in last month's NHL Entry Draft. One player that comes to mind is American Hockey League veteran Jared Nightingale. The 31-year-old is a bruiser and has accumulated 854 PIM in 387 career AHL games. Last season, he captained Chicago's AHL affiliate in Rockford and tallied four points with 114 PIM.
Perhaps the most intriguing choice for Chicago would be to go for broke and throw 2013 first-round pick Ryan Hartman into the fire. Hartman has spent the last two seasons playing for the Plymouth Whalers of the Ontario Hockey League, where he accrued 211 points, including 48 goals, over 108 games.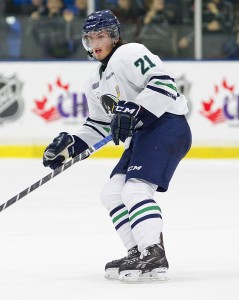 Despite his 5'11" stature, Hartman also packs a punch. He also added 113 PIM in that span. The West Dundee, Ill. native might be the lone option that can bring both skill and physical play potent enough to make up for Bickell's absence, should he be willing to move to the left side.
Verdict
The majority opinion is that Bickell will not be moved this year. In my mind, Bickell's regular seasons of mediocrity fail to make up for his playoff heroics and his time in Chicago should be nearing an end. Some players just are able to flip a switch when it counts, but to me, that is not enough.