After a successful 2010-11 season (35 points in 35 games) that was cut short by a  torn quadriceps tendon that sidelined him for most of the campaign, Sabres fans expected great things from Roy and their newly revamped line-up. The acquisition of steady blue liner Robyn Regehr, along with the signatures of talented UFAs Christian Ehrhoff and Ville Leino to expensive long-term contracts, held great promise  in Buffalo-land, and the Sabres were 10-5 after 15 games. However, injuries to key players such as Jochen Hecht, Ryan Miller, Tyler Ennis, Tyler Myers and Christian Ehrhoff, along with the uninspired play of key offensive cogs like Roy, Drew Stafford, Brad Boyes and new acquisition Ville Leino have played a major role in the Sabres's failure to keep playing good hockey. The team has slipped to the 11th position in the Eastern Conference standings, going 8-13-5 for 21 points in its last 26 games!
While team captain Jason Pominville (43 points) and star winger Thomas Vanek (40 points) have been steady point-producers all-season long, Roy has been inconsistent and  unproductive scoring only 8 goals and adding 16 assists for only 24 points in 40 games, on pace for only 48 points over a full season. Now Roy, 28, is battling a shoulder injury and is going to be a game-time decision for tonight's match-up against division rivals, the Toronto Maple Leafs. The injury was initially supposed to force Roy out of action for an extended period of time.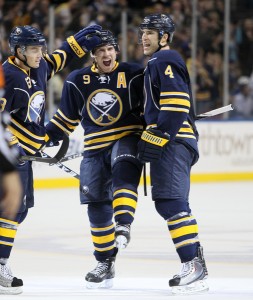 Despite his offensive struggles, Roy could become a hot commodity, along with line-mate Drew Stafford who scored 31 goals last season, right before the NHL trade deadline at the end of February. Several reliable sources, including HNIC reporter Elliotte Friedman, report that GM Darcy Regier is dangling Derek Roy as a trade bait to jumpstart his team before the play-off race. The Anaheim Ducks are believed to have looked at both Roy and Drew Stafford when General Manager Bob Murray was in town in late November. The Ducks GM has stated that all his players, save Teemu Selanne and Saku Koivu, are available at the right price, which has lead to speculations that the two teams are talking about a blockbuster trade.
Roy is drawing a lot attention because he only has one more year to his contract at a salary of $5.5 million, but with a reasonable cap hit of only $4 million, which can easily be fit under the cap. From 2006-07 to 2009-10, Roy recorded an average of 70 points and 80 games per year, which is pretty hard to come by in today's NHL.
The native of Ottawa would certainly interest teams such as the Minnesota Wild, the Chicago Blackhawks and the Nashville Predators, which all lack depth at center and are vying for a playoff spot.
What would you offer for Roy is your team was looking for a quality pivot down the stretch?
Follow me on Twitter for more updates on the NHL and hockey in general.