In what is rapidly becoming a summertime tradition, General Manager Jim Nill and the Dallas Stars had another great July, acquiring winger Patrick Sharp and defense prospect Stephen Johns from Chicago and goalie Antti Niemi from San Jose via trades, and signing free agent Blackhawks defenseman Johnny Oduya to a two-year deal. The newest Stars have generated considerable buzz (not to mention ticket sales) in Big D, and NHL.com's E.J. Hradek and Dan Rosen are both bullish on the team. After all the moves Nill has made over the past three summers, how close is Dallas to another Stanley Cup? Let's start by looking at how NHL champions are made.
Building a Stanley Cup Winner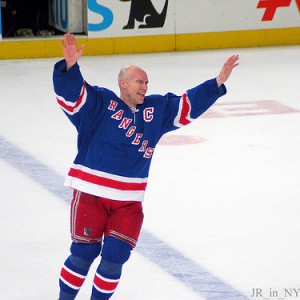 Hockey is full of construction references: key players are referred to as franchise "cornerstones," management speaks of building their team "brick by brick," and so on. The last twenty-one Stanley Cup champs have common traits which tie in nicely with the construction theme. Just like the average building, each of these Cup winners had a minimum of four cornerstones and plenty of good, solid bricks, which were held together with mortar and topped by a capstone.
Cornerstones
Cornerstones are elite players, or good players who perform at an elite level in the playoffs. In general, the cornerstones consist of two forwards, one defenseman, and a goalie (though goalies aren't as critical as you might think; it's more important to have a minimum of one elite defenseman among four or more cornerstones total). The Blackhawks are a prime example, with Toews, Kane, Keith, and Crawford anchoring the team. The trend runs at least as far back as the 1994 New York Rangers, who were led by Messier, Kovalev, Leetch, and Richter.
Bricks
In addition to the cornerstones, a Cup winner must have solid walls, the "bricks" of which Blue Jackets President John Davidson speaks. In general, these are the bottom-six forwards and bottom-four defensemen. Bricks are a mix of savvy veterans and hungry kids. They don't have to be flashy, but they can't be a liability, either. "Solid," "steady," or "reliable" are adjectives often used to describe bricks.
Mortar
In order to hoist the Cup, a team must have a few players who have already "been there, done that." The last Stanley Cup champ with no prior winners on the roster was the 1989 Calgary Flames. The "Cup veteran" element is undoubtedly why the Rangers acquired Viktor Stalberg and Jarret Stoll this summer. Think of their leadership and understanding of the effort required to win as the mortar holding the entire structure together.
The Capstone
Once the cornerstones and walls are in place and bound together with mortar, teams making a push for hockey's ultimate prize need one more element: a capstone. A "capstone" player is the final piece of the puzzle, that one addition necessary to turn a contender into a champion. The Stars' signing of free agent Brett Hull in the summer of 1998 is a prime example, as is the Los Angeles Kings' 2012 trade deadline acquisition of Jeff Carter.
Where is Dallas in the Construction Process?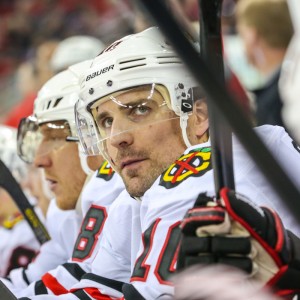 The Stars head into the 2015-16 campaign with a roster featuring two elite forwards, Jamie Benn and Tyler Seguin, and a budding elite blueliner in John Klingberg. Provided Klingberg doesn't fall victim to the dreaded "sophomore slump," he fits the bill as Dallas' cornerstone defenseman. Jim Nill is counting on the Lehtonen-Niemi tandem to provide a dependable net presence. Without elite-level goaltending (which, again, isn't necessary to win the Cup; see Fleury in '09, Niemi in '10, and Quick in '14), the Stars need another skater to become the fourth cornerstone. Who will step up? Here are the likely candidates:
Patrick Sharp – at 33, Sharp's prime scoring years are behind him. His shooting percentage of 7.0 last season was well below his career average of 11.4%. However, a rebound to just 10.0% could easily mean a 25-goal season, and he's expected to make the Stars' power play among the most lethal in the league. Also key, his three championship rings more than check the "mortar" box.
Jason Spezza – Spezza had a good, if unspectacular, first season in Dallas, potting 17 goals despite shooting a full five points below his career average. If he and Sharp find chemistry on the second line, Spezza's second year with the Stars could flirt with the "spectacular" label.
Valeri Nichushkin – injuries reduced the Russian right wing's sophomore season to an 8-game blip, placing a giant question mark over the upcoming campaign. Will we see more of the 18-year-old kid, who showed flashes of incredible talent but too often seemed awed by, and deferential to, his linemates, or will we see a confident 20-year-old who is capable of dominating a game a la Benn or Seguin? In 2015-16, Val could score 20 goals…or he could score 40; he's got that much potential.
Note the absence of Johnny Oduya from that list. He's simply not a cornerstone-level player, and Nill didn't sign him to fill that role. Oduya's mission is to be both brick and mortar, stabilizing the Stars' blueline with his veteran, Cup-winning experience.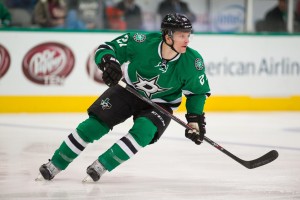 Speaking of bricks and mortar, the Stars have plenty of both. Roussel and Eakin offer a mix of snarl and offensive flash on the third line, while Fiddler anchors the fourth line and kills penalties. On defense, bottom-two pairings of Oduya-Nemeth and Jordie Benn/Jokipakka-Demers may not strike fear in the hearts of opposing forwards, but they will frustrate them. As for mortar, Dallas' roster features six players whose names are engraved on the Cup: Moen, Seguin, Sharp, Oduya, Goligoski, and Niemi. Bricks and mortar? Check and check.
And the Capstone is…?
Unlike July of 1998, when Brett Hull joined the Stars and was instantly (and correctly) hailed as the "final piece of the puzzle," identifying a capstone player in August of 2015 is not an easy task. Seventeen years ago, the Stars already had five cornerstones (Modano, Nieuwendyk, Zubov, Hatcher, and Belfour) in place, rock-solid bricks (Lehtinen, Carbonneau, and Verbeek, among others), and a whopping eight former Cup winners on the roster. Adding Hull to that team all but made the Cup a foregone conclusion.
By comparison, the 2015 Stars have good bricks and plenty of mortar, but just three identifiable cornerstones. Perhaps Sharp or Nichushkin will become the fourth, while Oduya, by solidifying the blueline and mentoring the younger defensemen, proves to be the capstone. Perhaps Antti Niemi takes over the crease and plays as he did for the Sharks in 2012-13, posting a playoff save percentage of .930 and a GAA of 1.87. Or maybe the Stars' capstone spent most of last season in Cedar Park. It's equally possible the final piece of the puzzle hasn't been acquired yet. Without question, Jim Nill has assembled a playoff team, but…are they a Cup contender? Only if the final cornerstone and capstone players reveal themselves over the course of the 2015-16 season. Will that happen? I suspect Nill is just as curious as Stars fans are about the answer to that question.