The National Hockey League's trade deadline can be a stressful time for everybody – coaches, scouts, media, management and, above all else, players. Players from virtually every background and experience level have been moved approaching each year's deadline, and a big trade can be a time of upheaval for both players and teams alike.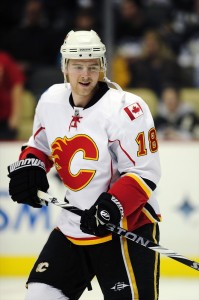 Matt Stajan is no stranger to big trades. The Calgary Flames center has only been traded once in his career, but it was a doozy. Roughly five years ago, he was part of one of the largest trades in Flames history: Calgary sent Dion Phaneuf, Keith Aulie and Fredrik Sjostrom to the Toronto Maple Leafs for Stajan, Jamal Mayers, Ian White and Niklas Hagman on January 31, 2010.
Five years later, Stajan is the only player in the Flames organization remaining with ties to that trade.
"It was tough," reflected Stajan on the uncertainty of the trade deadline and the ensuing trade out of Toronto. "You know, I think looking back it's all a big blur, but I think you try to focus on playing hockey but there's so much going on, you know… you're moving away from your family and trying to figure all of that stuff out, living out of a hotel. In Canada, the media coverage is a lot more than if you're going to an American team. It was a crazy time, for sure."
Heading towards the trade deadline players tend to have an idea of the lay of the land. However, some uncertainty can occur when a player is a pending free agent, as Stajan was in 2010. Based on how contact talks had progressed, Stajan had an inkling that he may be moved at some point. He was a bit surprised at the specific timing of the deal, though.
"I was expecting if I was to get traded it would be closer to the deadline, because it happened a month before the trade deadline and I was a pending UFA," said Stajan. "It definitely caught me by surprise on the day it happened. The timing of it I was not expecting, it was an off-day. You're sleeping in, you don't expect to go to the rink or do anything, you're just trying to get away from everything for a day. It just kinda hits you."
Nowadays, quite often players find out about trades via Twitter or sports television channels like Sportsnet or TSN. In Stajan's case, he was informed of the transaction the old fashioned way – by a call from the team's general manager.
"Brian Burke called me. He was the GM of Toronto at the time," recalled Stajan. "They're straight up. 'We want to call you before everything hits the media outlets,' because obviously that morning once it hit the media it was everywhere. They just thank you for your services and the way you played and wish you well, tell you its part of the business, and then you go pick up your gear at the rink and that's pretty much the last you see of that organization."
As often occurs in trades, Stajan received a welcome call from the then-Flames general manager, Darryl Sutter, as well as then-Flames captain Jarome Iginla and a few other members of the organization. And then, it was off to join the team. Stajan made his debut with the Flames the day after the trade, February 1, in Calgary against the Philadelphia Flyers.
One of the toughest parts of being traded are the smaller, daily things. Athletes are often creatures of routines and habits, and changing organizations often means living away from your family in a hotel, leaving close friends in other cities and organizations, and having to learn a new day-to-day routine. Focusing on playing the game can help ease a player into a new environment and help them establish a role in their own team and a comfort zone in their new locker room.
"The hockey world, all the guys are good guys," said Stajan, "But still, you've got to find that comfort level."