The body's not even cold yet, but that hasn't stopped idle speculation from heating up as to just what went wrong with the 2017-18 Montreal Canadiens. More specifically, speculation as to who were the main culprits.
The People vs. Pacioretty and Price
Whereas some interpreted general manager Marc Bergevin's post-mortem press-conference comments as an attempt to pass the blame, some took him at his word. Case and point, Michel Bergeron of Le Journal de Montreal wrote in his column on Saturday that, "in light of [Bergevin and owner Geoff Molson's comments] it is safe to say that the attitude problem in the locker room of the team comes from two players: Carey Price and Max Pacioretty."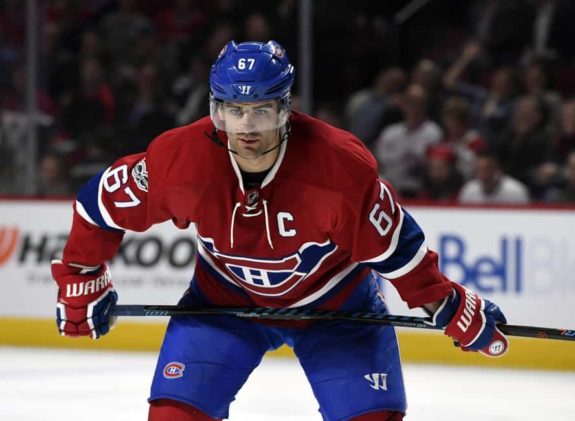 The so-called attitude problem is of course a reference to Bergevin's opinion that, "with a better or different attitude, we don't have 40 losses." Meanwhile, his comments that make it safe to assume Pacioretty and Price are the team's problem children? Anyone's guess, really, because the columnist in question conveniently failed to include quotes to that effect in the piece. In actuality, the GM seemed to defend Pacioretty at the press conference saying there wouldn't be a captaincy change.
Regarding Price, Bergevin did admit he had an off year. However, not only is that a not surprise to about 95% of Montreal (allow for a discrepancy of +/- 5%), everyone else on the team had an off year too (with a few notable exceptions). Bergevin didn't even just single out Price. He also singled out defenseman Karl Alzner, whose name was curiously absent from Bergeron's piece.
At best, the column was incomplete, leaving it up to the reader to connect the dots (supposedly on their own) to the pre-determined conclusion that a team-wide negative attitude can only originate from the team's best players. At worst, it was irresponsible and succeeded only in drumming up an organizational shift at Pacioretty and Price's expense. Seeing as Bergeron conveniently immunized Jonathan Drouin from blame despite his bad season due to him not being a part of the leadership corps, it's hard not to think the worst here and assume someone has a hidden agenda.
No Case Against Pacioretty, Price
Regardless of the optics, it's critical not to stoop to the same apparent level, though. There is absolutely no proof that Pacioretty and Price had anything to do with the non-playoff finish, beyond their horrible seasons. Why not just leave it at that? Why bring attitude into the mix, especially when Pacioretty did nothing but openly declare his desire to stay in Montreal as the Habs were cleaning out their lockers.
Granted, that's with notable exception to an arguably sarcastic, negative response to a reporter asking if Pacioretty would return without the captaincy. However, seeing as he's under contract for one more season, whether or not he returns is kind of out of his control. Taken in context, the exchange paints a different picture, doesn't it?
#Habs Pacioretty says in 10 years he has never had a negative interaction with a fan in Montreal. He says heat and criticism comes strictly from the mainstream media (but didn't acknowledge talk radio and social media).

— John Lu (@JohnLuTSNMtl) April 9, 2018
Pacioretty vs. Subban
If all this sounds familiar to you, it probably should as defenseman P.K. Subban suffered through similar mudslinging. In fact, many in the media still cling to his off-ice, larger-than-life personality as why he had to go, as there was no way the Habs would ever win with him in the line-up. Two seasons later, that argument is hanging by a thread with the Nashville Predators having come within two wins of a Stanley Cup last spring and secured a Presidents' Trophy this past campaign.
Ironically, Pacioretty figured into many conspiracy theories as one of the key figures who wanted Subban gone. Just like it wasn't right then to blame Pacioretty without any evidence backing up such a Machiavellian narrative, it's wrong now too.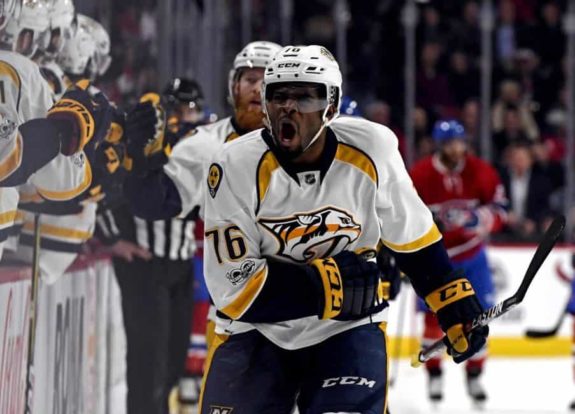 Was there a negative attitude in the team's locker room? Who knows? Probably, seeing as the team went 29-40-13 and was effectively out of the playoff race by the start of the new calendar year. That doesn't mean any one (or two) player(s) were to blame. It means the whole organization was. That includes Drouin and that includes Bergevin and Molson.
It's easy for the Canadiens and the media to scapegoat in situations such as this, especially a guy like Pacioretty when he already had one foot out the door at the trade deadline. In contrast, as Bergevin's comments at the press conference would indicate, it's hard to not want to minimize your responsibility in creating this mess. Where there's smoke there may be fire, in other words.
Nevertheless, while it's absolutely 100% clear where the buck stops in this organization, witch hunts only seek to divide. Scorching this thing to the ground, while an attractive sentiment, accomplishes very little when it's been established Bergevin will be back next season. It's best then to just move on and leave the stick work to the actual professionals.
The question is who are they, not who's to blame. It's unfortunate circumstances like these that the real ones will reveal themselves in time. Patience is what's needed, especially in a potential rebuild situation. Not a stake burning.