The future is bright for 20-year-old Montreal Canadiens defenseman Victor Mete. It could just conceivably be postponed though, even if only for one season.
Mete vs. the Canadiens
In that way, Mete's career trajectory might be a microcosm of the upcoming Canadiens 2018-19 season, which is looking more and more like one on which fans will want to press the fast-forward button.
That all signs are pointing to a non-playoff season is only one factor currently working against Mete. Granted, both general manager Marc Bergevin and owner Geoff Molson have gone on record as saying the goal is to contend for a playoff spot.
Just as a reminder, knowing fully at the time Shea Weber would be out until mid-December, Marc Bergevin still insisted that the goal next season is for the Canadiens to make the playoffs.

— Аrpon Basu (@ArponBasu) July 5, 2018
However, under the assumption the Habs, who didn't make any notable off-season improvements in the wake of the Shea Weber surgery news after finishing 28th overall, aren't actively looking to compete, Mete might be better served playing in the American Hockey League.
Mete was undeniably one of the Habs' better defensemen last year, but that doesn't mean he was a world-beater by any stretch. Mete exceeded expectations by first making the team out of training camp and then getting in 49 games with the Habs. He's projected as being an offensively capable, mobile defenseman though, meaning his seven assists (zero goals) in that span can't really be considered a success.
So, why did the Habs keep him up? The theory is they felt sending Mete back to the Ontario Hockey League wasn't best for his development, because he was simply too good for junior. As a then-19-year-old, Mete wasn't eligible for the AHL, which only lets in major-junior players who are 20 by Dec. 31 of that hockey season.
Mete vs. Juulsen
So, this is the first season Mete can be sent down to the minors. As he's waiver-exempt, the Habs wouldn't risk losing him either. Both he and Noah Juulsen are the only defensemen currently projected to make the Habs that fit into that category. Either one could be sent down to make room for Michael McCarron, Nikita Scherbak, or Mike Reilly, each of whom would have to be exposed if they were cut instead.
The reason this train of thought doesn't apply to Juulsen is simple: Even though Juulsen only has 23 games of NHL experience to Mete's 49, he actually has more professional experience overall, having gotten a taste with the St. John's IceCaps in 2016-17. Juulsen is also a right-handed defenseman, and shots like his are in short supply on the Habs, especially with Weber injured.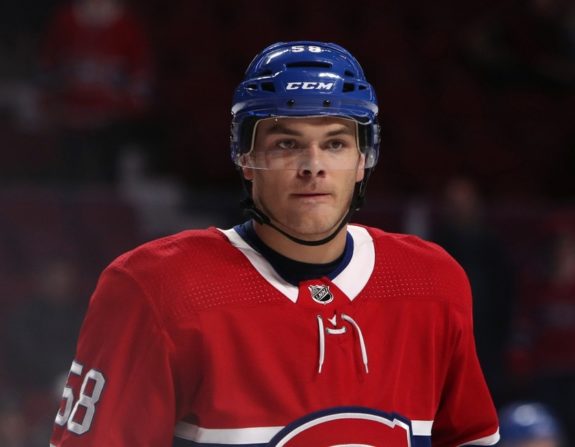 Meanwhile, the Habs have three separate lefties, excluding Mete (Reilly, Karl Alzner and David Schlemko). While the left-handed Jordie Benn might play on the right to compensate for the loss of Weber, sending Mete down would open a spot for the newly signed Xavier Ouellet, who would also have to go through waivers.
It should be noted that, while Ouellet is new to Habs fans, he isn't to the NHL. Ouellet has 141 games of NHL experience, including 45 last season, during which he also scored seven assists, like Mete. By any rational measure, Ouellet has just as much of a right to make the Habs (assuming the effort level during training camp is there).
Really, the only argument against sending Mete down is that his upside is too great. However, with the coaching overhaul of this past summer and Joel Bouchard at the helm of the Laval Rocket, it's not like his development in the AHL is seen as being at risk. Demoting Mete is a way to assure him of a regular shift, when he was a healthy scratch by the Habs on numerous occasions and only played over 20 minutes five times.
In a league where top defensemen regularly play above 25 minutes and Mete is seen as being one of the best options on the left side for the Habs, the evidence suggests the Habs themselves don't see it, at least right now. In fact, Mete's most common partner last season was Schlemko, who has earned an admirably lengthy career up to this point, but almost purely as a depth defenseman.
Cutting vs. Keeping Mete
Of course, one can assume Mete would be in line for a boost in responsibility with the Habs during his second professional season. The only way that would benefit the Habs and him in the long term though is if he'd be allowed to make mistakes without fear of negative repercussions.
Unfortunately, little about the Habs' bench culture either under Michel Therrien or Claude Julien suggests that as being a likely possibility. That's only truer with the news the Habs are eying a playoff spot, if you take it at face value. And, if you don't, what's the harm in bringing along one of the Habs' top prospects on defense slower?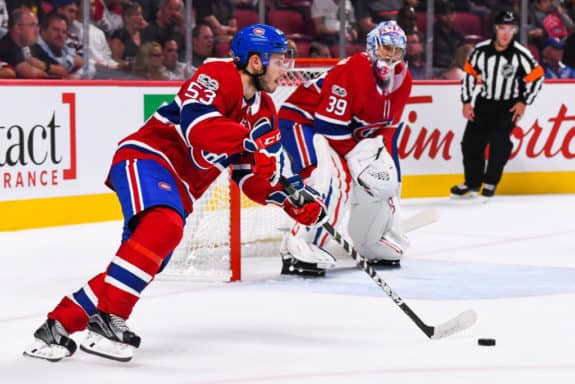 Cutting Mete might not be a popular decision, but it would be for the best. It checks the following two boxes, after all: More guaranteed ice time for Mete and good asset management on Bergevin's part. During a season in which Bergevin's job is theoretically on the line, it's ironic how he might be doing just that by cutting Mete and making the Habs weaker overall.
If it so happens that a 20-year-old Mete will make or break the Canadiens this year though, maybe the playoffs shouldn't be the team's primary goal. Helping players like Mete get to the point where they break games instead should be. He shouldn't be the one to make the Habs as a result… in more ways than one.