Sometimes there can be too much of a good thing, even for the Montreal Canadiens, who have fallen on hard times. The bad news is obvious: They are looking down the barrel of a third non-playoff finish in the last four seasons. The good new is that the team's prospect pipeline, which got somewhat replenished at this past NHL Entry Draft, is pretty packed.
Granted, it's not all with blue-chip prospects, but there is a great deal there, especially when it comes to young talent on the precipice of the NHL. The unfortunate downside is there isn't enough room. The consequences of which are relatively dire: Use it or risk losing it.
Not only do the Habs have a great deal of fringe NHL talent, but a huge portion of it is waiver-eligible. So, once training camp starts, the waiver period opens (12 days before the season starts) and players are cut and sent down… well, the Habs will have a lot of hard decisions to make.
Here are the top 10 fringe prospects/ minor-leaguers the Habs could lose, ranked in order of how likely they are to make the team:
10) Byron Froese (C)
The notion that center Byron Froese had a break-out season last year is a slight misconception. While he scored a career-high three goals and 11 points, he did so as a fourth-liner on a team that wasn't at all deep, especially down the middle.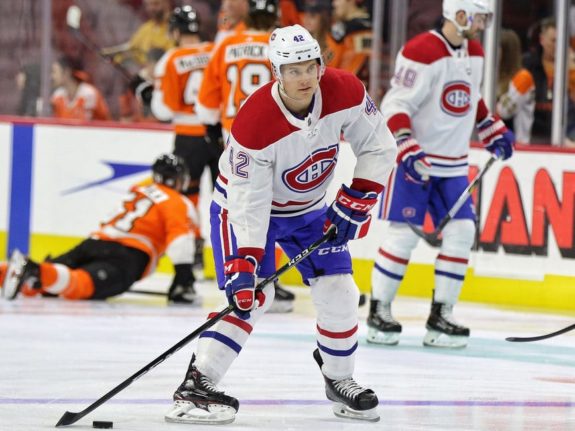 Truth be told, the 48 games he dressed for were off the career-high 56 he did for the 2015-16 Toronto Maple Leafs… which finished last in the league. There's definitely a trend there. Seeing as the Habs have openly claimed to have greater aspirations next season, it's not looking good for Froese.
It's not meant as a slight, but, as a 27-year-old who has yet to establish himself as anything other than a depth forward in this league, Froese is likely destined for the Laval Rocket (if another team doesn't pick him up off waivers). He'll likely stay around long enough to be in the discussion for one of the last forward spots on the team, but there are more valuable players the team will rationally focus on keeping.
9) Brett Lernout (RD)
Defenseman Brett Lernout got in 18 games with the Canadiens last season, which was a step up. Unfortunately, his production suffered a downtick at the American Hockey League level, as he scored just 8 points in 56 games (down from 16 in 74 the previous season).
Granted, Lernout's not necessarily there to score points. His projectable 6-foot-4, 214-pound frame hints at a defensive powerhouse, one that unfortunately hasn't been able to put it together yet. He needs more time in the minors. As a 23-year-old, he's still got some left, even if it's running out.
8) Kerby Rychel (LW)
Kerby Rychel is one year older than Lernout and is faced with much the same situation: real estate that's quickly running out as far as his career runway is concerned.
Still, as a former first-round pick who was just acquired by the Canadiens (in last year's Tomas Plekanec trade), he's probably regarded as being slightly higher in the pecking order. He did have a reasonably productive second part of the season anyway, both with the Rocket (eight goals and 12 points in 16 games) and with the Habs (one goal and two points in four games).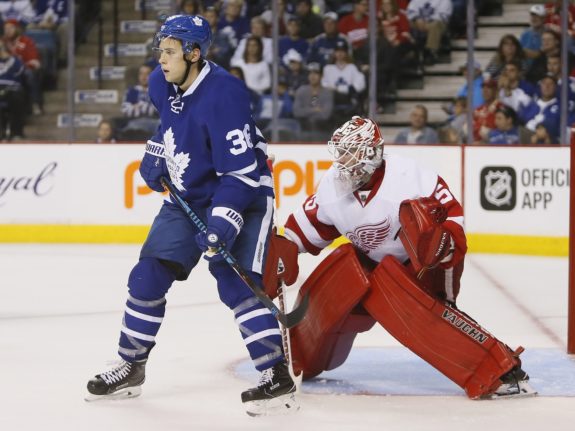 There's no doubt Rychel doesn't hold the same luster as he used to, but he does have the potential to be one of the top call-ups should injuries arise. The deck is stacked against him beyond that.
7) Rinat Valiev (LD)
Also coming back in the Plekanec trade, Rinat Valiev is ranked higher than Rychel for several reasons: He's one year younger, is bigger (6-foot-3, 215 pounds) and plays one of the positions at which the Habs are the weakest as a left-handed defenseman.
His point totals leave something to be desired, but he does have significant upside. It's just a matter of whether he gets the chance to live up to it as a Hab or with another team, should he be picked up off waivers.
6) Xavier Ouellet (LD)
A regular on the Detroit Red Wings blue line over the last few seasons, who fell out of favor there, Xavier Ouellet still places high on this list. That's because there are clearly high hopes surrounding the local product, who grew up in Terrebonne (but was born in France).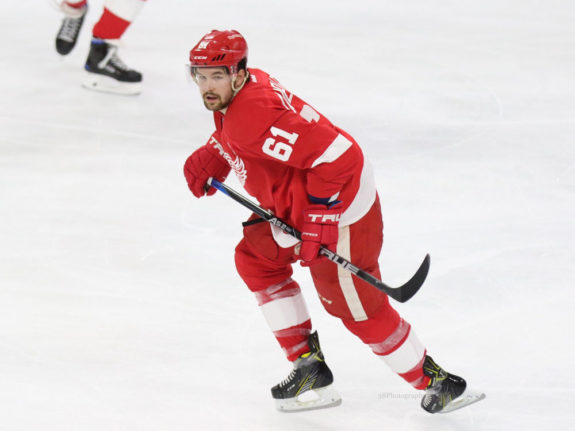 At 25, he's far from a spring chicken as far as prospects are concerned, but, as a former second-round pick, the potential is there. He may just be taking longer to reach it. The Habs must be banking on that to certain extent, having gone to the trouble of signing Ouellet. He'll still be a restricted free agent next summer, so the Habs will retain his rights, assuming they don't lose him via waivers first.
5) Michael McCarron (RW)
There's an outside chance former-first-round-pick Michael McCarron makes the team out of training camp. With the team's injury troubles, there's potentially a spot on the fourth line for a right-winger to be won anyway.
It remains to be seen whether the Habs believe that's the best spot for the 6-foot-6, 230-pound forward, though. After all, there had been hopes he'd have developed more of a scoring touch by now. The Habs don't seem to know what they have in the 23-year-old, though: a Milan Lucic-type (Lucic from like five years ago, anyway) or a grinder on whom they might have wasted a first-round pick.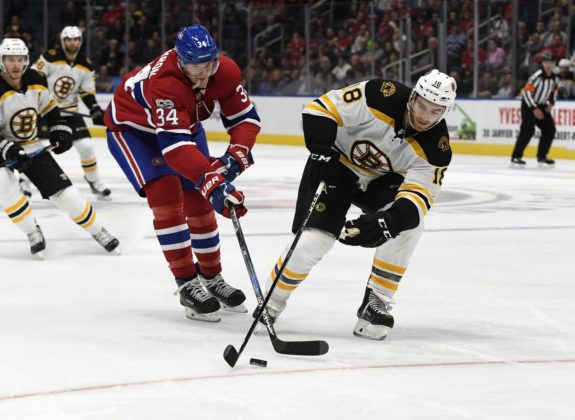 At this point, maybe the best they can hope for is a player similar to fellow-former-first-round-pick Brian Boyle, who, himself, only reached the NHL on a permanent basis as a 25-year-old. So, not all hope is lost, as a big-bodied 30-point guy can still be of use to the Habs. The trick will be keeping him in the fold for the purposes of properly developing him though, as that's true of every other team in the league.
4) Jacob De La Rose (C)
There is little denying the Habs value center Jacob De La Rose. That or they really didn't Alex Galchenyuk, seeing as the De La Rose got slotted in down the middle ahead of the latter in a top-six spot when injuries arose despite possessing close to zero offensive acumen. That's reflected in his point totals up to now: 19 points in 119 games.
Nevertheless, it's the defensive awareness of the 6-foot-3, 210-pound forward that the Habs seem to truly cherish. He's regularly gotten dressed at the NHL level in each of the last four seasons because of it. There's no reason to believe the status quo will change now. All things considered, he's a good bet to make the team out of training camp as a 13th forward if not the team's regular fourth-line center.
3) Matthew Peca (C)
De La Rose will have direct competition from newcomer Matthew Peca. The 25-year-old has already displayed greater offensive prowess, albeit in only the AHL and limited action at the big-league level, with seven points in 20 career games with the Tampa Bay Lightning.
Nevertheless, Canadiens general manager Marc Bergevin signed him for a reason and expressed confidence that fans would see him with the Habs this season. Granted, that may have just been to deflect away from the fact Peca was the team's second-best free-agent acquisition this past July 1, behind Plekanec, who's far from a marquee name himself at this stage of his career. There's no denying Peca's potential to be an effective bottom-liner though, even if that's probably as high as his ceiling goes.
#Habs Bergevin says he expects UFA acquisition Matthew Peca to play in Montreal this coming season.

— John Lu (@JohnLuTSNMtl) July 1, 2018
2) Nikita Scherbak (RW)
It took a while, but Nikita Scherbak finally lived up to his potential last season, even if it was just in the AHL. He dominated by scoring 30 points in 26 games, earning a call-up and the same amount of games with the Habs (four goals, two assists).
There is little doubt Scherbak is the type of players NHL teams target when looking at the waiver wire: He's still only 22, has a significant pedigree as a former first-round pick and seems to be putting it together as we speak.
As a result, it's the Habs' responsibility to make it hard for other teams to get their hands on him. Whether it's a matter of gifting Scherbak a roster spot out of training camp or finding a suitable trade partner, the Habs cannot afford to lose Scherbak for nothing, even if only from an appearances standpoint.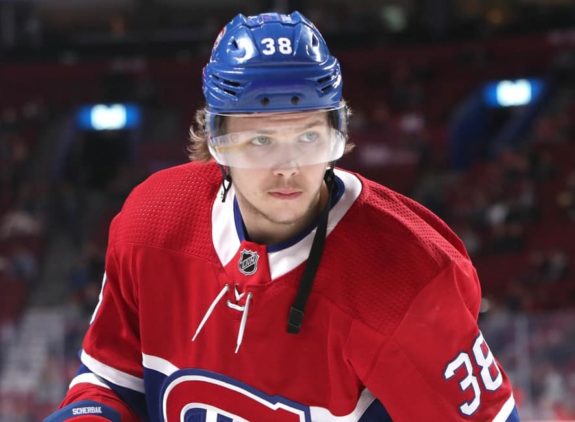 That Scherbak probably needs top-six (or power-play) ice time to be effective probably makes a trade the likelier option, as, even with injuries, the Habs have few spots to give on one of their scoring lines. That doesn't take away from Scherbak's potential, though. It would just bring the Habs' priorities into question.
Scherbak is a young scoring forward on a team that didn't score a lot last year and should be looking to give their younger players more of a chance. That should be especially true this coming season, which by most accounts should at the very least be a transitional year if not a full-on rebuilding one. Sometimes the right parts to do it with are under your nose.
1) Mike Reilly (LD)
In terms of sheer potential, Mike Reilly should not be listed as the No. 1 option here. However, because of the position he plays, at which he displayed relative poise in 19 games with the Habs last season, the 25-year-old could end up being a key piece for them now and in the future. He even has a shot at lining up on the team's top pairing.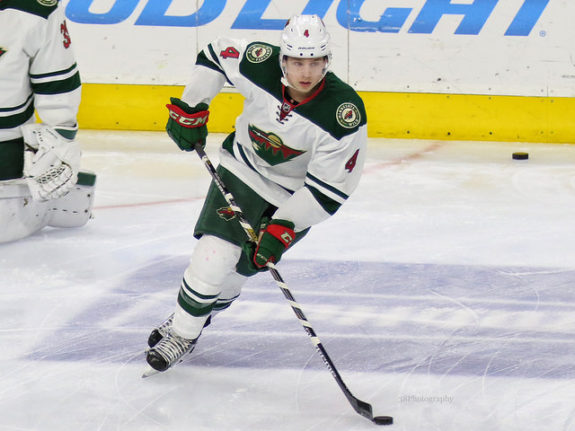 Sure, that's due to a lack of alternative options, but the left-handed defenseman at least rivals Karl Alzner in terms of defensive effectiveness and Victor Mete in terms of offensive capability right now. Seeing as Mete is waiver-exempt, Reilly at least has one thing going for him due to his waiver-eligible status. Whereas the Habs can send Mete down to the AHL (and couldn't last year, because he was 19) to open up another spot, they can't with Reilly, not without maybe losing him.
While Reilly doesn't have the track record to be handed a spot out of training camp on name alone, the feeling is he's got the tools to earn one and the Habs don't want to risk losing him. That's not something they can necessarily say about the other players at his position like Alzner due to his contract or David Schlemko due to generally unimpressive play. As a result, as long as Reilly shows up, he's likely got a spot on this team.