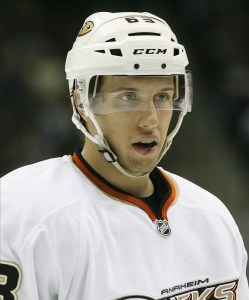 After losing three games and scoring only two goals combined, it was a relief seeing the Canucks' 4-0 victory over the Philadelphia Flyers.
Not only was it a high scoring win, but it also saw a now rare goal by Nick Bonino, a solid power play, and a shutout for Ryan Miller.
However, the game still did raise some questions about the Canucks' performance. Right out of the gate, Philadelphia dominated the play, racking up five shots before the Canucks even had one — and outshooting them 6-3 before Nick Bonino scored to put the Canucks up 1-0. In the end, Philadelphia outshot Vancouver 30-22.
As well, the level of competition was not high. Three of the Canucks' four goals came against Ray Emery, who — including this game — in his last three games has under an .800 save percentage. As well, the Philadelphia Flyers have now been shutout two straight games — this was not a win against a great team. All the teams that beat the Canucks on their three game losing streak are higher in the standings than the Flyers.
With that being said, these are the teams the Canucks need to beat — if they should beat them, they need to beat them — and that's what they did. Not only did they beat the Flyers, but they also played a high scoring game.
Although it was against a weaker team, it could provide the spark the Canucks need. They can take the momentum gained here and hopefully they will gain traction in their upcoming games, including games against better teams.
The real key is consistency. The Canucks need to start stringing together some wins again, and scoring on a more consistent basis. It's not enough to win three, and then lose the next three — they will need re-establish a winning record for the second half of the season.
It won't hurt, as well, that Dan Hamhuis is coming back soon — perhaps tonight, and that should make a notable difference, as the Canucks have been playing without their probable best defenceman for 22 games.
Tonight's game against the Carolina Hurricanes will provide a good test for the Canucks. Like the Flyers, this is a team they should beat — and score. In their previous matchup, the Canucks scored four goals.
Should the Canucks win, it would be reasonable to think that the Canucks' positive momentum could help them in games against better teams, including the next two — against the Florida Panthers (who beat them in the three game skid) and the Tampa Bay Lightning.
In the next few days, one way or another, it's likely that we will see the character of the true Canucks.