Canucks Regime Change In Vancouver
This past off season brought a surprising regime change in Vancouver. Rumors of Canucks' ownership flirting with former player Trevor Linden proved to catch fire when Linden was picked to become Vice President and boss of hockey organizations for the franchise. The hiring of Trevor Linden brought both criticism and positivity.
Linden is one of the most loved players in the team's history yet possesses no previous NHL managerial experience. Linden's first move was hiring former Bruins' assistant general manager Jim Benning to be the Canucks' new GM. In Benning's first off season as general manager he's made rapid controversial changes to his coaching staff and roster.
Among the big moves made by Benning he's traded fan favorite Ryan Kesler, signed two key free agents in Ryan Miller and Radim Vrbata and completely revamped the Canucks' coaching staff. The Canucks enter this season with their third head coach in three seasons.
Trevor Linden on hiring Jim Benning
"I can't say that he was the guy I wanted because I hadn't spoken to Jim in 25 years," Linden said. "After the first interview I really felt we did share a lot of the same visions and values and what it takes to win and win consistently."
Imagine Sam Elliot as a hockey coach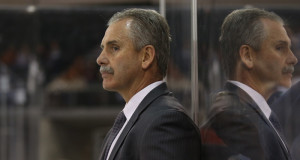 Benning's choice to be the Canucks' head coach is little known Willie Desjardins. The 57-year old Desjardins had previously coached the Texas Stars to an AHL championship and turned down the Pittsburgh Penguins' head coaching job to come to Vancouver.
Considered to be quiet, reserved and described to be the anti-Tortorella. Desjardins has been coaching in amateur and professional hockey across the globe for over 30 years.
Holding an impressive resume the Canucks' new head coach boasts WHL, Memorial Cup and AHL Championships. Desjardins has also collected head coach of the year honors from both leagues.
Desjardins has the reputation as teacher having earned the nickname "Whiteboard Willie" in his time as head coach with the Medicine Hat Tigers. It's said that he's big on visual learning and used to carry a whiteboard and notebook with him on the ice to illustrate what he wanted out of his players. Desjardins has been given a lot of credit for his ability to develop youth while creating a family like unity and atmosphere on his teams.
This is a statement from Jim Benning on Desjardins' hiring.
"Willie Desjardins has won at every level and we believe he'll be an excellent fit as we strive to return to the playoffs and build with youth for long-term success," said Jim Benning, General Manager, Canucks Sports & Entertainment. "Willie is a great teacher, motivator and communicator; his teams have competed with a style of play we believe will help us compete in our division and in the playoffs. With Willie's leadership behind the bench we look forward to bringing back this team's winning qualities and our fans' passion and excitement for the Canucks."
On the play style Desjardins plans to employ with the Canucks.
"We want to be an entertaining, high-paced, fast team." – Desjardins — Vancouver Canucks (@VanCanucks) June 23, 2014
[Read this great article on Willie Desjardins' coaching style from THW writer Andrew Jow. ]
Was Lidster the lynch pin?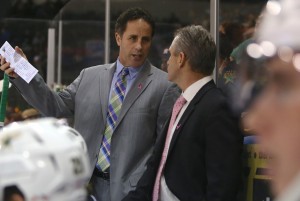 One of the most fascinating stories of the Canucks' new regime is how new head coach Willie Desjardins turned down a seemingly better team and opportunity with the Pittsburgh Penguins to come to Vancouver. There seemed to be some last minute wheeling and dealing. It was reported that the Vancouver Canucks swooped in and signed Desjardins the night before the Penguins were going to extend their offer.
Also it's been reported the lynch pin of the whole deal may have been Canucks' new assistant coach Doug Lidster. Reportedly Desjardins would not have been able to bring Lidster with him to Pittsburgh nor be able to assemble his own staff for the Penguins. Lidster also reportedly has a close relationship with the new Canucks' boss Trevor Linden. Both Linden and Lidster were teammates and former Vancouver Canucks together in the early 90s. It is speculated that Doug Lidster was the key component to bringing Desjardins to Vancouver.
The 53-year old Lidster has spent the past two seasons working as Desjardins' lone assistant with the American Hockey League's Texas Stars, who won the Calder Cup last season. Lidster has also worked with Desjardins as assistant coach with the Medicine Hat Tigers of the Western Hockey League. 
Trevor Linden on his philosophy for the organization and his new hires.
"One of my goals since coming onboard here was to create a real synergy between myself, the general manager and the head coach," said Linden. "With Jim Benning we have a guy with no ego who is super hardworking, he's been at it a long time, lots of experience, and Willie fits right into that. You walk into a room with those guys and there are no titles, it's just down to business.

"To create that situation within our hockey operations department will translate through our team and Willie is a real passionate guy, loves the game and real supportive of his players. It's an exciting announcement, it's a great day, his name has been talked about a lot in this market for a long time and we're just thrilled we're able to get him here."
The Dallas Connection
Rounding out the coaching staff is Glen Gulutzan who was hired last season as an assistant coach and will be retained for this year. Gulutzan is another Dallas convert as the Stars' former head coach before coming to Vancouver. New Canucks head coach Willie Desjardins had worked previously as an assistant coach under Gulutzan during their time with the Stars. Before coming up to the NHL Glen Gulutzan had a distinguished general managing and coaching career in the ECHL boasting a coach of the year award and several successful seasons for the Las Vegas Wranglers.
An American, A Swede and a French Canadian Walk Into a Bar…
One of the most intriguing things about the new regime is the Canucks signing of former Vezina winning goaltender Ryan Miller. The Canucks have had an arduous frustrating history with goalies. In the Gillis regime the team was embittered with a goalie controversy. In this controversy the team found itself with two elite goaltenders in the veteran Roberto Luongo and the youngster Cory Schneider. Through a year long series of unfortunate events the team wound up trading both star goalies while trying to ride young netminder Eddie Lack who couldn't hold up to the workload.
One of the first things new GM Benning did was to sign 34-year old veteran goaltender Ryan Miller to a 3-year 18 million dollar contract. This signing has brought mixed reactions from the Canucks' faithful. Some feel Eddie Lack can handle the number one job while others have a negative opinion of Miller's public persona. Canucks general manager Jim Benning is betting that Miller can regain his top goaltending form displayed during his time with Buffalo. Miller will also be counted upon to provide stability for a team likely to see many changes and growing pains over the next few years.
Working with Ryan Miller and Eddie Lack this season will be one of the most respected goalie coaches in the game, Roland Melanson. The first full time goaltending coach in Canucks' history Melanson came to the Canucks from the Montreal Canadiens organization. Melanson is credited with developing some of the best goaltenders in the game. Melanson is also credited for helping Roberto Luongo immensely during the bumpy stretches of his tenure in Vancouver.
The biggest story out of Vancouver this season will likely be Miller's integrating into the Canucks organization and his play down the stretch. Also there is a possibility that Miller could be outplayed by backup netminder Eddie Lack who displayed flashes of brilliance last season.
The key will be Melanson ability to get consistency and the most out of his goaltenders' games.